Sheet Pan French Toast for Four
| January 4th, 2023
Less fussy and messy
---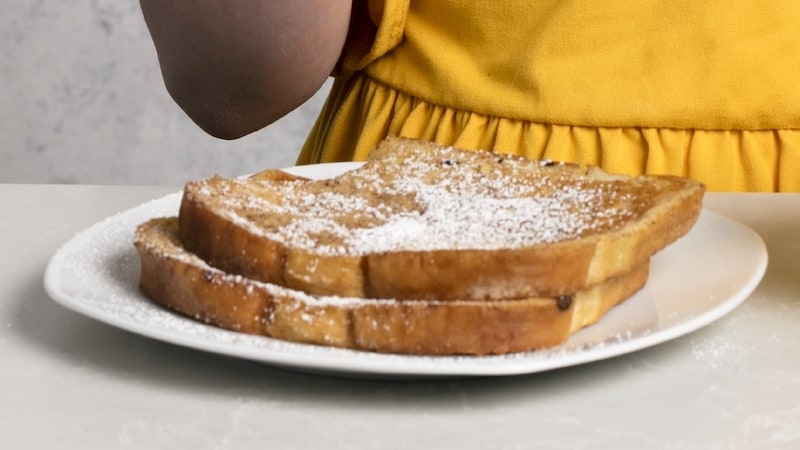 This French toast recipe offers advantages over typical preparation methods: it's easy to make and serves four in one fell swoop, so everyone – including the chef – gets their Sweet Pan French Toast hot and fresh.
---
Some say French toast gets its name from pain perdu, which is French for "lost bread" (since it's a great recipe to help use up stale bread that otherwise might be "lost" or thrown away). But this custardy breakfast and brunch dish has been called all sorts of other names: everything from eggy bread to German toast to poor knights of Windsor! No matter what you call it, it's one tasty breakfast.
We developed this recipe to work with a very specific kind of bread: supermarket pre-sliced white bread that measures 4 by 6 inches and is 3/4-inch thick. (The size of the slices is the key to soaking up the right amount of custard on the baking sheet.) If you want to use whole-grain sandwich bread, you will need a little more custard. The whole-grain breads are drier, so they absorb more of the custard.
To use whole-wheat, oatmeal, or multigrain sandwich bread instead of the white bread, use 4 eggs and increase the milk to 1 1/3 cups. Make sure the slices measure about 4 by 6 inches and are 3/4-inch thick to ensure that they soak up all the custard on the sheet before baking.
Sheet Pan French Toast
Serves 4
Ingredients:
Vegetable oil spray
3 large eggs
1 tablespoon vanilla extract
2 teaspoons packed brown sugar
1/2 teaspoon ground cinnamon
1/4 teaspoon salt
1 cup milk
2 tablespoons unsalted butter, melted and cooled
8 slices hearty white sandwich bread
Directions:
HEAT AND GREASE: Adjust 1 oven rack to the lowest position and second rack 5 to 6 inches from the broiler element. Heat oven to 425 degrees. Spray a baking sheet well with vegetable oil spray.
WHISK: In a large bowl, whisk eggs, vanilla, brown sugar, cinnamon, and salt until well combined and sugar is dissolved, about 30 seconds. Add milk and melted butter and whisk until combined.
POUR: Pour egg mixture into the greased baking sheet.SOAK: Place bread slices in two rows on the baking sheet. Working quickly, flip each slice in the same order you placed them on the baking sheet. Let bread sit until slices absorb custard, about 1 minute.
BAKE: Bake on lower rack until bottoms of slices are golden brown, 10 to 15 minutes.
BROIL: Transfer baking sheet to upper rack and heat broiler. Broil until the tops of the slices are golden brown, 1 to 4 minutes (watch carefully to prevent burning!).
Serve with butter, maple syrup, sliced fruit, confectioner's sugar … or whatever floats your French toast boat.
---
Candied Bacon complements the ultimate breakfast spread
Panettone Oven-Baked French Toast Pudding
---
For 25 years, home cooks have relied on America's Test Kitchen for rigorously tested recipes developed by professional test cooks and vetted by 60,000 at-home recipe testers. The family of brands – which includes Cook's Illustrated, Cook's Country, and America's Test Kitchen Kids – offers reliable recipes for cooks of all ages and skill levels. See more online at www.americastestkitchen.com/TCA.
© 2022 America's Test Kitchen. Distributed by Tribune Content Agency, LLC.