Shrubs: Old-Fashioned and Modern
| January 7th, 2019
A revival in cocktails and refreshing non-alcoholic drinks
---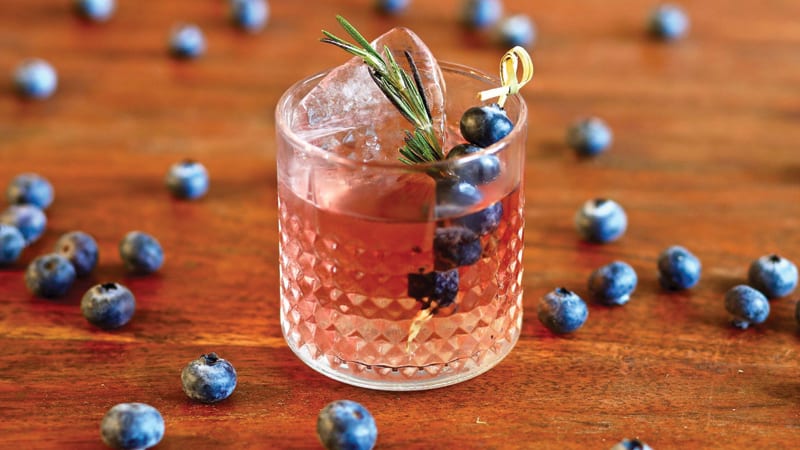 Back in the day, our foremothers knew that adding sugar and vinegar to fresh fruit and letting the concoction transform into a sweet, vinegary liquid served several purposes. First, the process offered another way to utilize excess fruit when too much ripens at the same time. In addition, the resulting liquid made a delightful beverage base that could mask the taste of foul liquors and add the health benefits of fruits. Today, it's still refreshing and tasty when mixed with soda water or in cocktails.
Michael Dietsch, author of Shrubs: An Old-Fashioned Drink for Modern Times, says that the word comes from the Arabic word sharāb, meaning beverage – the same root as for sherbet, sorbet and syrup. The fruity, vinegary drink arose in Turkey and Persia as a non-alcoholic beverage enjoyed by teetotaling Muslims. It's been called "the world's first soft drink, arising in a pre-refrigeration era when the only way to preserve fruit juices was to douse them heavily with sugar, alcohol, or vinegar," Dietsch says.
The beverage spread, eventually reaching early America, where it was sipped by Thomas Jefferson, Martha Washington, Benjamin Franklin and other colonists. Those recipes combined with what colonists knew as fruit vinegar.
To the uninitiated, a vinegar-based drink may lack appeal. Sure, we use vinegar liberally in food – barbecue, dressings, pickles, slaws and salads – but in beverages? Don't knock it till you've tried it!
As with early shrubs, contemporary versions use fruits, herbs, flowers, spices, vegetables and other natural ingredients. They can be sweet, savory or sour. Enjoy them in soda or tonic water, with sparkling white wine or with liquors such as rum, bourbon, gin, tequila and vodka.
And hey! Hear the exclusive interview with Meredyth Archer from Mother Shrub right here!
---
DIY
A typical shrub recipe uses equal parts fruit, sugar and vinegar, but the proportions can be varied to personal preference. Dietsch prefers using two parts fruit to one part sugar and one part vinegar, to let the main ingredient shine. Use recipes such as those in his book to establish your base, then experiment with different proportions and other ingredients.
Cucumber Shrub
From Shrubs: An Old-Fashioned Drink for Modern Times. Dietsch recommends pairing this with gin, such as a teaspoonful in a martini; it adds a refreshing touch of flavor to soda or tonic water.
 2 large cucumbers
½ cup white wine vinegar
½ cup apple cider vinegar
½ cup sugar
1 teaspoon kosher salt
Add cucumbers to blender. Blend until pureed. Press puree through a fine-mesh strainer into a medium bowl. Add cucumber juice, both vinegars, sugar and kosher salt to a jar or bottle. Shake very well to combine. Refrigerate.
---
LET SOMEONE ELSE DO THE WORK
Look for pre-made shrubs, including three made right here in Virginia, at specialty food stores or online. Each website includes cocktail and mocktail recipes for putting their products to best use.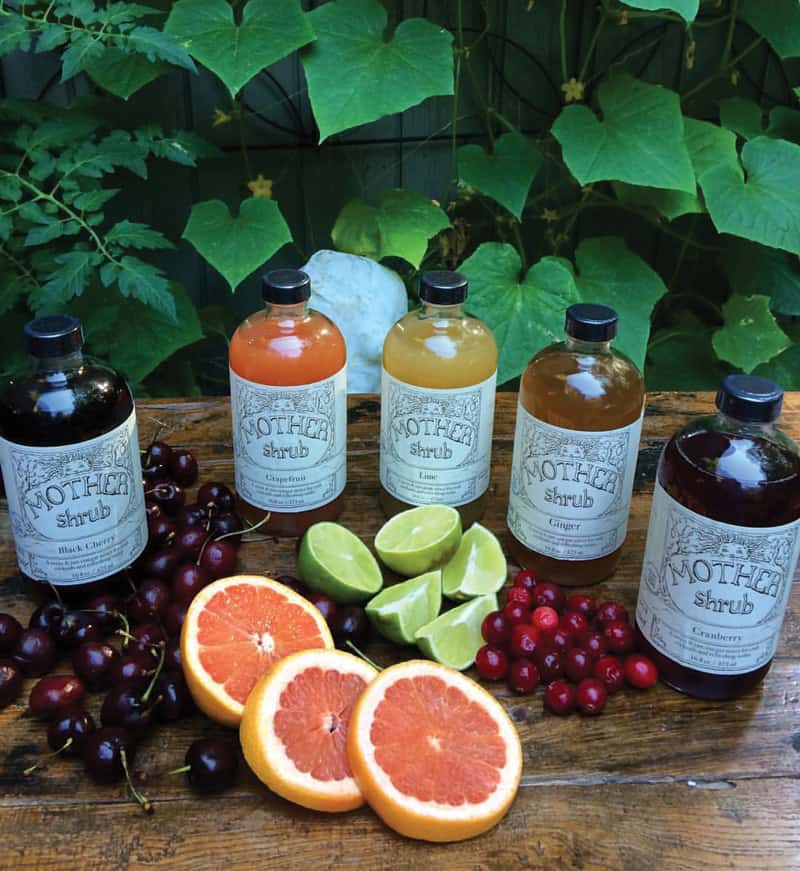 MOTHER SHRUB. Inspired by her grandmother's sweetened vinegar drink and a recipe in an old family cookbook, Meredyth Archer founded Mother Shrub. Her product won the award for Best New Overall Product at the 2016 Virginia Food & Beverage Expo. Flavors include black cherry, ginger, cranberry and lime. MotherShrub.com
Cherry Bomb
1½ ounce rum or vodka
1½ ounce Mother Shrub Black Cherry
Orange flavored seltzer
Orange wedge and mint for garnish
Add rum and black cherry shrub to a tall ice-filled glass. Top with flavored seltzer water. Gently stir and garnish.
Make It a Mocktail: leave out the rum and stir. Delicious with any flavored seltzer.
Learn more about Mother Shrub from owner Meredyth Archer on her BOOMER Wednesday interview on Richmond Boomtown Radio.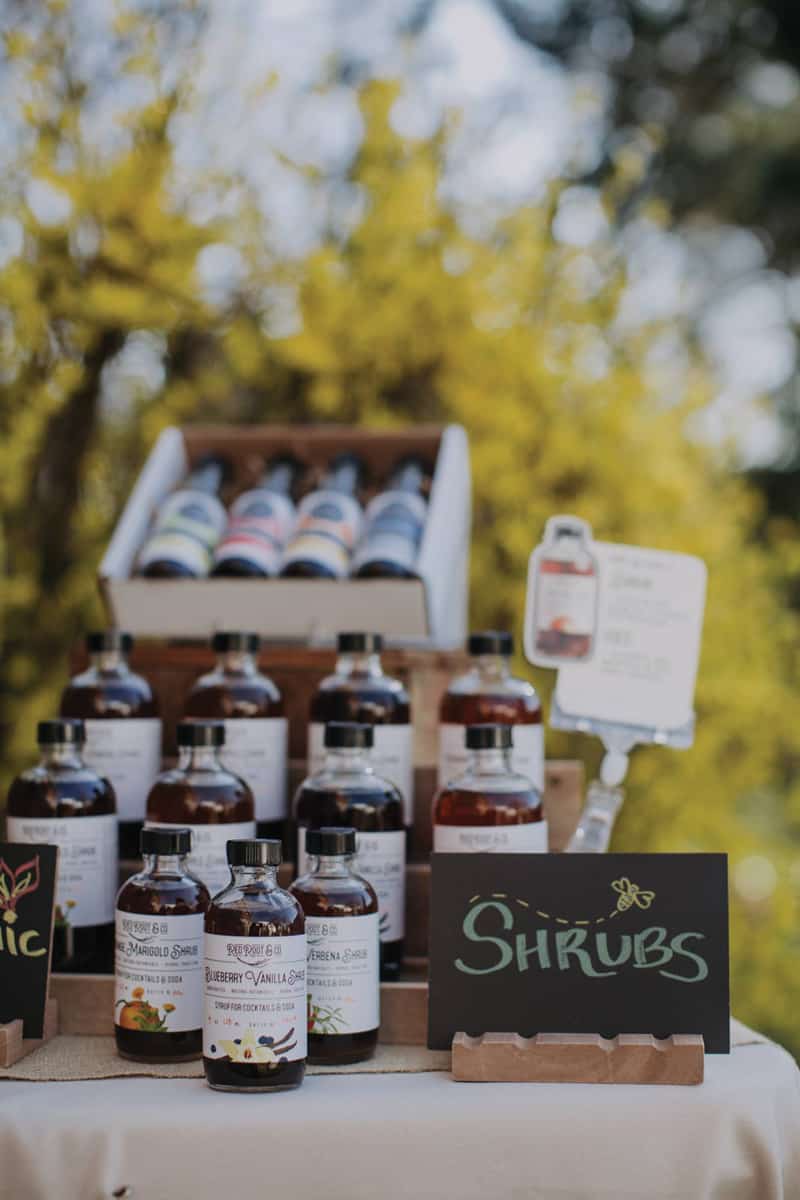 ELEMENT SHRUB. These creative flavors start with organic apple cider vinegar and add natural flavors. Look for Blueberry Rosemary and Chai Pear (both 2018 Good Food Award winners), Pineapple Turmeric, Cranberry Hibiscus and more. ElementShrub.com
Thankfully Smashed
5 cranberries
5 fresh sage leaves
1½ ounces reposado tequila
¾ ounce Cranberry Hibiscus Element Shrub
¾ ounce simple syrup
¼ ounce fresh lime juice
Muddle cranberries and sage with simple syrup. Add lime juice, shrub, tequila and ice. Stir until chilled and then give a quick shake and strain into a rocks glass over new, clear ice. Garnish with fresh sage.
RED ROOT & CO. Handcrafted foods from this rural Shenandoah Valley business include botanical House Bitters and unique shrubs – think rhubarb verbena and orange marigold. Their garden-to-palate and forest-to-palate products highlight local, organic and/or fair trade.
Smoke of the Bear 
2 parts bourbon
1 part Red Root Ginger Apple Shrub
1 part fresh lemon juice
dash of bitters
Shake and strain. Drink straight up or on the rocks.