Smartphone App – Finding Humor in the Madness
| April 1st, 2022
Greg Schwem says, 'I have no more passwords left to give'
---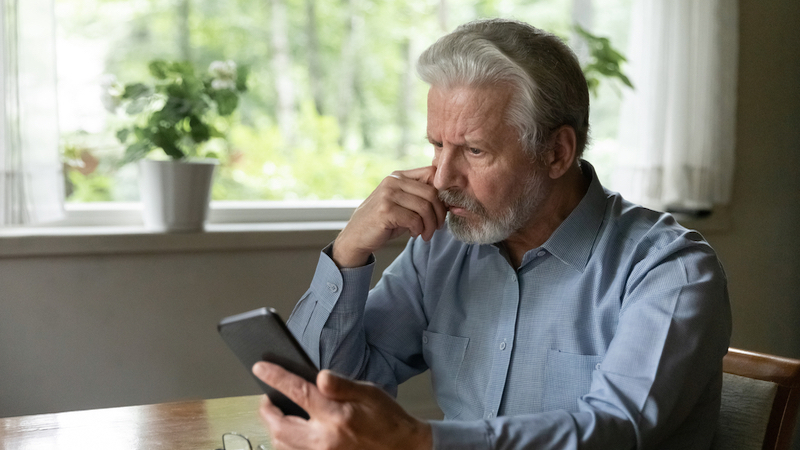 "Hello! Thank you for downloading our app, which is guaranteed to take up valuable memory on your phone and ensure that, if you ever have a problem with our company, you now have the tools to solve it yourself. Which is why, on our website, you will not find any kind of contact information; only the sentence, 'Most issues can be solved by downloading our app.'"
"First, we need a username. Sorry, that name is not available. Nor is that one. Or that one. 'Bootyliciousgranddad'? As weird as it sounds, even that one has been taken. 'Greg79450854' is available. Congratulations."
"Now, please enter a password. It must contain one capital letter, one number, one special character you never knew existed on your keyboard, and another special character you create simply by pressing, simultaneously, 'control/option/shift/return/command/function/tab/CAPS LOCK/>/<.'"
"That password is weak. Please try something stronger. May we suggest, 'Pwb8*)@?!sV'?"
"Now, please re-enter the password. Sorry, the passwords didn't match. Please check the spelling and be reminded that certain characters do look alike, particularly the ones we suggested for you."
"Success! If you have not yet thrown your phone against a wall in anger, you are ready to use our app. Almost. First, we need to verify that you are you and not some robot that is capable of completing the username and password steps. Please retype the following characters: 0oO1liImnmmnmnnOo0."
"Please click here to request another series of characters that look like they came from an eye chart at your optometrist's office. You have four more attempts."
"Whew. You did it on your last try. Way to go! Now you just need to click on every square containing the color white."
"Try this one. Click on every square where you see a road."
"Close enough. You have successfully installed our app. Now, please download the latest version, 15.0.7.3.2, which we released while you were trying to find the roads. Please close all other apps on your phone while the installation takes place. The new version will be installed in approximately 13 minutes. Or three hours. Or two days if your internet connection sucks."
"Your app is now up to date. You may sign in."
"First, we need your credit card information and a scanned government issued ID. This could be a passport, driver's license, Social Security card, or anything else that could make your life a living hell if hackers stumble across it. But that isn't going to happen. Rest assured; we NEVER share your personal information with outside sources. And we're serious. That's why we capitalized 'NEVER.'"
"Now it's time to link your credit card information to your digital wallet. Click here to establish a digital wallet. You might want to walk away from your phone for a few minutes, because establishing a digital wallet means creating another username, password and avatar. Spend this time away from your phone by going to another device and Googling, 'What is an avatar?' Or just beat your head against a wall."
"Make sure you store your digital wallet login information separately from where you keep your other password information. If you cannot access your digital wallet, you will NEVER be able to retrieve the funds you placed there during a night of drinking with your friends because Steve told you it was time to start investing in cryptocurrency. By the way, Steve did not offer to pick up the check. What does that tell you about crypto?"
"Please check your inbox for a verification email. Simply click the link and you will be able to use our app. If the email does not appear between 30 seconds and 24 hours, please check your spam folder. If you do find the email in your spam folder, please add our address to your 'contacts' folder so we can send you periodic updates about changes to the app. If you have questions, our chat bot is here to help."
"Please be advised that our chat bot only knows how to say, 'Refer to your app.'"
---
Greg Schwem is a corporate stand-up comedian and author of two books: Text Me If You're Breathing: Observations, Frustrations and Life Lessons From a Low-Tech Dad and the recently released The Road To Success Goes Through the Salad Bar: A Pile of BS From a Corporate Comedian, available at Amazon.com. Visit Greg on the web at www.gregschwem.com.
© 2021 Greg Schwem. Distributed by Tribune Content Agency, LLC.

---
Like laughing? Check out more Schwem, Boomer articles on laughter or the baby boomer humor of Randy Fitzgerald.
---
As an Amazon Associate, Boomer Magazine earns from qualifying purchases of linked books and other products.