Sous Vide Cooking: A Crazy Way to Cook
| April 19th, 2017
A review of the 'Complete Sous Vide Cookbook: More Than 175 Recipes with Tips & Techniques,' Chef Chris McDonald (Toronto)
---
The method seems preposterous until you examine the concept more closely – by slowly heating food in sealed plastic bags submerged in hot water, you create mouthwatering masterpieces that are moist and juicy, tender, flavorful and consistently cooked.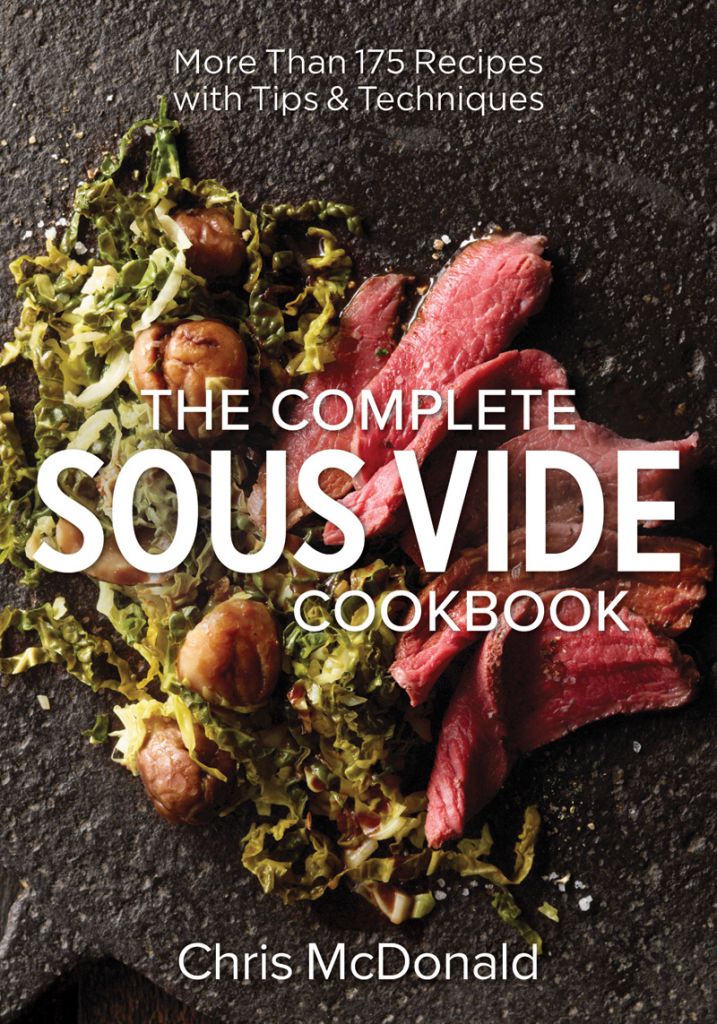 Though not new, the sous vide cooking method has moved from professional to home kitchen, thanks to the affordable devices now on the market and the home cooks who have learned their secrets.
The benefits of sous vide have contributed to its popularity. The long, slow cooking method means you can prepare and clean up ahead of time. Its tenderizing benefits make it ideal for budget cuts of meat. Vegetables better retain their nutrients. And the sealed packages allow for freezing bulk meats in portioned packages or preparing ahead of time and transporting to campsite, beach house or boat.
Still skeptical? Consider steak preparation. Season a 2-inch-thick rib-eye with salt and pepper, place in a bag (add herbs if desired), vacuum-seal the bag and place in a preheated 134-degree pot of water (higher temps for more well done). Cook for one to four hours for a medium steak that turns out consistently pink all the way through – not overdone on the outside and just right in the middle. Remove, pat dry and sear on the grill or stovetop – just long enough for a perfectly browned crust on this perfectly pink, amazingly juicy and tender steak.
Convinced? Then you'll want Toronto chef Chris McDonald's new cookbook, The Complete Sous Vide Cookbook: More Than 175 Recipes with Tips & Techniques. Two-thirds of the recipes target meat, game, poultry and fish – after all, the method seems magical in its ability to craft tender, juicy meat and poultry. The remainder of the book guides the reader in creating tastier vegetables, eggs, sweets, sauces and sundries.
Besides Chef's helpful introduction to the method, each recipe contains tips – sometimes sous-vide specific but often targeted to portions, preparing ahead, ingredients and other professional guidance – and provides measurements in both metric and U.S. imperial systems.
CRÈME BRÛLÉE RECIPE
From The Complete Sous Vide Cookbook: More Than 175 Recipes with Tips & Techniques; Makes 4 servings
Crème brûlée is always the most popular dessert on restaurant menus, and it's easy to make at home using your sous vide device. Small canning jars make the perfect portion size – you can torch the sugar and serve them right in the jar. Bring the prepared dessert to a dinner party along with your torch and look like a hero.
Tips
I recommend using brand-new jars that have not previously been heat stressed.
To make uncooked custard ahead: Prepare through Step 2. Transfer mixture to an airtight container, cover and refrigerate for up to 2 days. Proceed with Step 3.
To make cooked custard ahead: Prepare through Step 4. Refrigerate for up to 3 days. Proceed with Step 5.
Preheat hot water bath to 176°F (80°C)
Four 4-ounce (125 mL) glass canning jars, with lids
Fine-mesh sieve
Propane or butane torch
Ingredients
1 cup              whole milk                                         250 mL
2⁄3 cup          heavy or whipping (35%) cream        150 mL
2                  egg yolks                                               2
1                        whole egg                                       1
2 tablespoons            granulated sugar                  30 mL
1 teaspoon                 vanilla extract                       5 mL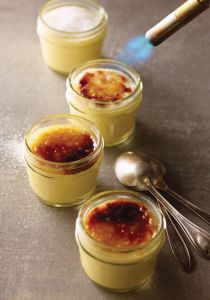 ¼ cup                         granulated sugar, divided    60 mL
Directions
In a small saucepan, combine milk and cream. Bring to a simmer, stirring, over medium heat. Remove from heat.
In a medium bowl, whisk together egg yolks, egg, 2 tbsp (30 mL) sugar and vanilla, until well blended. Gradually whisk in milk mixture. Strain through fine-mesh sieve into a liquid measuring cup. (To make uncooked custard ahead, see Tips)
Pour equal amounts of mixture into jars, leaving ½ inch (1 cm) headspace. Wipe rims of jars thoroughly to ensure a good seal. Add lids and turn just until snug. Immerse jars in preheatd hot water bath and cook for 50 minutes. (To make cooked custard head, see Tips, at left.)
Remove jars from bath and let cool for 20 to 30 minutes. Refrigerate for 1 hour or up to 3 days.
When ready to serve, open jars and spread 1 tbsp (15 mL) sugar evenly over surface of each custard. With torch at full blast, holding it 2 to 3 inches (5 to 7.5 cm) from surface, wave it over sugar. Keep torch moving constantly to avoid blackening sugar — you want a deep golden brown. Each custard will take about 2 minutes to complete. Let cool for 3 to 4 minutes, then serve.
For a nice Southern main dish, check out this buttermilk fried chicken recipe.