Souvenirs Keep the Joy of Travel Alive
| June 2nd, 2021
Tangible reminders of time exploring or simply enjoying life with loved ones
---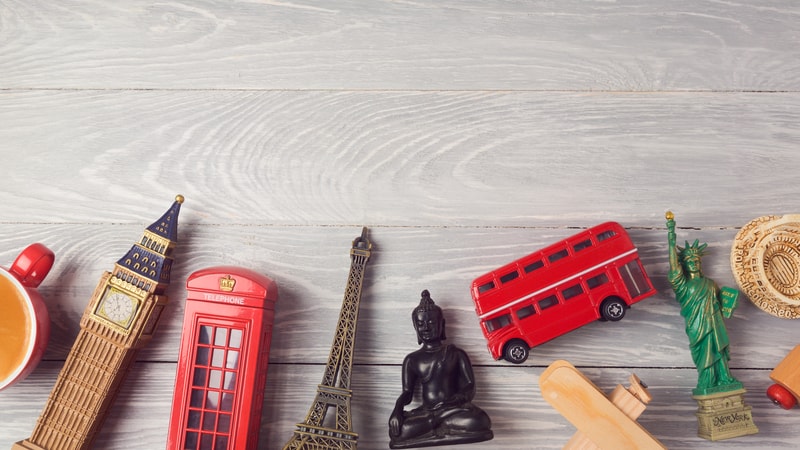 Souvenirs preserve and unlock memories from distant trips and adventures.
It could be a plate, a small token or a rock from a beach that sparks a moment of nostalgia and yearning for places long gone. As lockdowns and travel restrictions swept the world, all we had left of our wanderlust was our souvenirs.
A brief history of the souvenir
Having been around since the early days of humankind, where souvenirs were used as trophies of war, or defeat, think mammoth tusks and rock spear heads.
Moving through the centuries, souvenirs were used to show off to rich and wealthy friends about the places they had been to and seen. The boomed in popularity during the 'grand tour' years where young men would travel the continent to 'better themselves' much like an early gap year.
Souvenirs then became popular as we recognise in the late 1800s, after a clever marketing from the American silversmiths. They popularised the commemorative spoon by creating a story that people were collecting spoons from every country they went to.
Now, you can find souvenirs for basically anything, from shot glasses, plates and phone cases.
The memories souvenirs create
For some of us, souvenirs can be small and simple, such as a postcard or they can be grand gestures. Your engagement ring could be a souvenir of a place you visited where you got engaged. A simple twist of a ring, or a dust of a novelty can be the key to unlocking memories of years gone by. We asked some of our friends about souvenirs they held dear.
Mary's Menus – memories of exceptional food
Mary, 67, from Wisconsin told us she'd been collecting menus from various restaurants she'd visited.
"When ever I go to a new state, I always try and visit the best rated restaurant in the town I'm in and collect a menu from the restaurant. As well as a reminder of the meal I ate, it's like a step back in time to food trends.
Over the years I've collected a hundred or so menus, and I keep them all in a chest! I'm not too worried if my children or grandchildren get rid of them one day, it's a bit of fun for me now."
Golf balls – Rick's collection of his best putts
Rick from Birmingham, Alabama, said he'd been collecting golf balls from every course he visited.
"I keep them in a big jar in my hallway! It's a decorative piece, and each ball is a reminder of a different course, and different holiday! I must have gone through about three vases now, twice because I had too many golf balls, and once because my young grandson accidentally knocked them over while toddling around and they went everywhere. That took a lot of cleaning up, I can tell you.
---
Columnist Randy Fitzgerald recalls a trip to Venice – and an amusing non-souvenir!
---
"Now I'm getting to the point where going abroad isn't something I can do as much, so friends and family bring me golf balls from far flung places, I've even got one from The Els Club in Dubai!"
Souvenirs are treasures of the past
We honour our emotional connections with the places we've been through the objects we collect. That ashtray or that tiny work of art from a street vendor becomes more precious than gold — it encapsulates every minute of discovery on that adventure.
Kitty Bates is a digital content writer and regular contributor to travel & lifestyle publications, including the blog of Elvetham Hotel, a historic country house hotel in Hampshire, England.