Sportable
| January 20th, 2020
Transformative programs for kids and adults with disabilities
---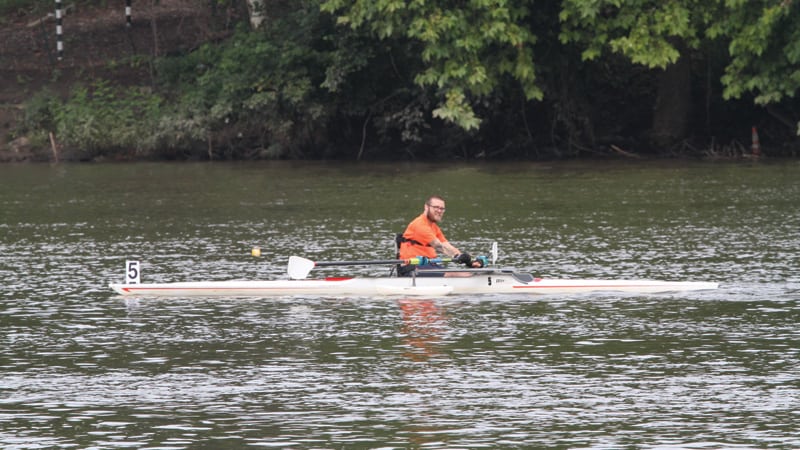 "Feels like I'm flying." That's how the testimonial video on Sportable's home page begins, and it hooks you immediately. Everyone wants to feel freedom – and all of us in RVA can, regardless of our abilities or our disabilities, thanks to those who are Giving Back thanks to Richmond's only adaptive sports club.
Sportable, a nonprofit founded in 2005, allows those with physical disabilities the opportunity to play competitive sports on a weekly basis. There are 13 different sports programs, archery to swimming, basketball to soccer. "Most of our athletes don't have access to sports," explains executive director Hunter Leemon. "We provide the framework of a team and team goals. It's amazing to see them accomplish what they didn't know was possible."
Josh Sloan did it all as an able-bodied person. Everything from snowboarding to mountain biking, is how he described his very outdoor sporting lifestyle. But after a 2014 spinal cord injury at age 23, Sloan turned to Sportable as a way to get back outside and be active.
"To play a sport, it requires volunteers to help with the adaptive equipment and the trained staff to understand my needs as an athlete," explains Sloan. "Rugby, cycling, rowing and kayaking. Sportable has helped me become active in all these sports and to get my own equipment."
CARRYING THE TORCH
Sloan didn't stop there. A little more than two years ago, he became Sportable's volunteer and outreach coordinator. "It's cool. I have a holistic view of what we do," he says excitedly. "I see the time, energy and effort that go into running our sports, and then I can also see and experience our programs as the end user. It's really valuable having this unique perspective as I promote Sportable to new athletes, volunteers and sponsors," says Sloan.
Sportable has nine paid staff along with a core base of 100 to 150 volunteers who provide an amazing 340 days of athletic programming annually to 500 athletes. When you check out Sportable's volunteer calendar, you quickly understand that this nonprofit relies heavily on volunteers. Some days there are multiple adaptive sports programs taking place across the area. "If you understand the sport, such as soccer or basketball, that's what's important. We can teach you about the disability," coaches Leemon.
VOLUNTEERING FOR THE CAUSE
All volunteers complete a training program that equips them to be successful. The training takes about two hours and includes how to work with those who have physical disabilities or visual impairments, including how to use adaptive sports equipment and how to transfer athletes from everyday wheelchairs to sports chairs. Sportable volunteers must be at least 14 years old, register online and commit to volunteering once a week for a season. All of the sports seasons typically run six to 10 weeks.
One of the most powerful volunteer opportunities is working with youth. For the first time ever, these children are just like their able-bodied friends. "These kids can compete as part of a team like their peers. We're able to give them that opportunity," gushes Leemon, a father himself to son Oscar. "Kids playing soccer and basketball. It's awesome."
Make someone's day awesome in 2020 by becoming a Sportable volunteer. And don't be surprised if the awesome day you make is your own!
---
WANT TO HELP? 
SPORTABLE, Richmond's only adaptive sports club, provides adults and youth who have physical disabilities and visual impairments the opportunity to play competitive sports such as soccer, basketball, rock climbing and swimming.
TO HELP: Volunteer to assist at weekly practice sessions or annual events, including the Sportable Rising Stars Basketball Tournament, Jan. 11-12. Make a donation at Sportable.org.
CONTACT: Visit "Volunteer" at Sportable.org to check out volunteer opportunities, register as a volunteer and sign up for the newsletter. For questions, email Josh Sloan, volunteer and outreach coordinator, at josh@sportable.org.
LOCATION: Athletes compete and practice at various venues across the metro area including Richmond, Chesterfield and Henrico.
---
Looking for other ways to get those warm fuzzies? Check out BOOMER's Giving Back page!