Supporting the Richmond Craft Cocktail Scene
| January 30th, 2017
In this Masters of the Mix, we sit down with Bobby Kruger, general manager of local event venue, the Hofheimer Building.
---
It is quite possible local bartender Bobby Kruger has crafted a cocktail or three for you, perhaps behind the bar at Julep's early in his career or at Bistro 27.
Kruger was an integral part of forming the current craft cocktail scene in Richmond. And since he started bartending at 21 years old, he has taken a unique path to his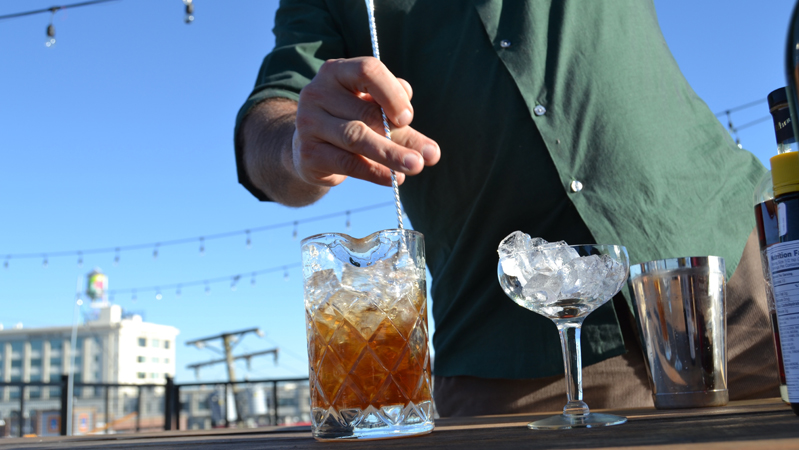 dream career. He has served in all types of jobs relating to the field – from bartender and bar manager at Julep's New Southern Cuisine and Bistro 27 to self-employed libation consultant, to general manager of Belle and James and now the historic Hofheimer Building.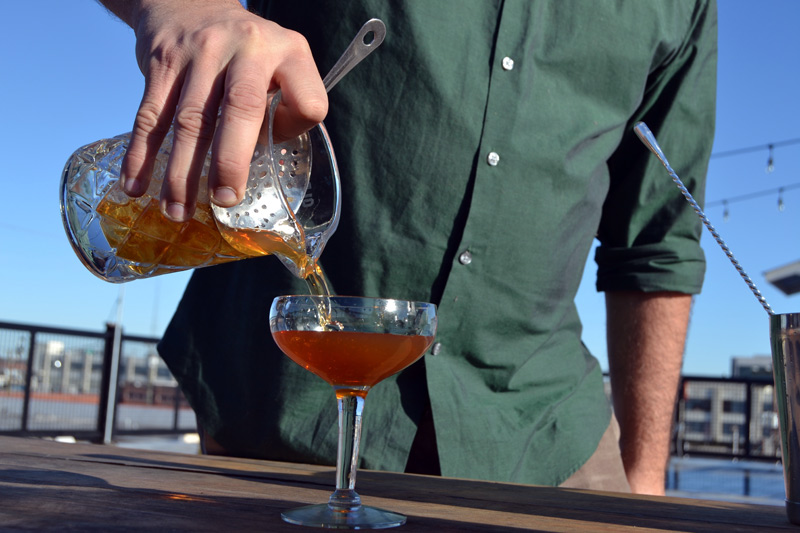 Over the years, Kruger has witnessed the craft cocktail scene develop and evolve.
In 2004, he said he "got his feet wet" at his first-ever bartending gig at Chez Foushee, serving up drinks at a catering-style bar. At the same time, he worked at Julep's, where he later became bar manager. Kruger said Richmond didn't really have a craft cocktail scene during this time. His position at Julep's allowed him to discover his own style while combining flavors to create unique cocktails. Because Kruger managed the bar, he said he was able to find his own style and in a way, make up his own rules regarding mixed drinks.
Kruger first fell in love with the craft cocktail scene when visiting a friend in Manhattan. "I just really fell in love with not just the drinks, but also the vibe," he said. After a few trips to New York City speakeasies – Milk and Honey and Please Don't Tell – he was inspired to help build a craft scene in Richmond.
In 2006, he transformed Julep's after-dinner scene to a speakeasy vibe. "For a short period of time, I think we were probably the only people in town pushing the envelope on craft cocktails at all," Kruger said.
As general manager of the Hofheimer, he isn't able to mix up drinks as often as he used to. He said he misses it, so on occasion, you may find him behind the bar in the Hof's VIP area whipping up craft cocktails. Occasionally he'll get the opportunity to craft a beverage menu when the Hof holds special events and parties, such as for their Valentine's Day party.
The Draw of Bartending
For Kruger, his passion for bartending was accidental. He only began serving up drinks to pay for college. But once he landed behind a bar, he recalled, "I loved the instant gratification of making something that somebody really enjoyed and having them being able to tell me right then and there what they liked about it."
Kruger also really enjoyed the ability to connect to people on a different level and build relationships over a common interest – cocktails.
He may not have expected to pursue bartending, but he said he truly loved it.
Although Kruger is rarely behind the bar these days, being the general manager at the Hof is also rewarding, just in a different way, in part because he creates jobs for people.
He also loves this position because it still allows him to build relationships – one of the main reasons why he loved being a mixologist. The only difference now is that he's building relationships with his employees rather than with the customers. Developing relationships is what really matters to Kruger, and he's met some of his closest friends while bartending.
Favorite spirit: Mezcal
Kruger likes its smoky flavor. Perfect for the wintertime.
Go-to cocktail: Negroni: "[A] beautifully balanced cocktail"
Favorite cocktail: Vieux Carré
Be your own bartender with these recipes from Bobby Kruger:
Naha-Hattan (A Manhattan variation inspired by the lovely Japanese city of Naha)
2 ounces bourbon (recommended: Woodford Reserve Double Oaked)
.5 ounce soy-brown sugar cordial (recipe below)
2 dashes walnut bitters
Garnish: seared pineapple cherry skewer (recipe below)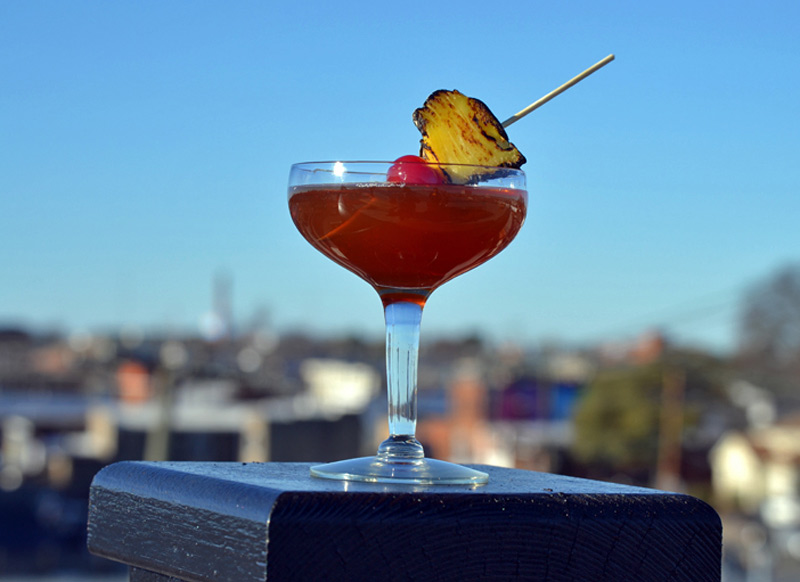 Put all liquid ingredients in a mixing glass (a pint glass works fine in a pinch). Fill the glass with ice (crack the ice first if the cubes are large). Stir for 100 revolutions. Strain into a coupe or martini glass. Top with seared pineapple cherry skewer.
Soy-Brown Sugar Cordial
5 parts brown sugar
5 parts hot water
1 part soy sauce
Mix all ingredients together in a pot. Bring to a boil
Remove from heat
Bottle once cool
Seared Pineapple Cherry Skewer
1 pineapple cube
1 Luxardo Maraschino Cherry
1 wooden skewer
Put pineapple cube and cherry on skewer. Dip the skewered fruit in soy brown sugar cordial. Sear the skewered fruit for 30 seconds per side. Remove from heat and allow to cool.
Bourbon Manhattan
2.25 oz Four Roses Small Batch bourbon
.75 oz Dolin Rouge Vermouth
2 dashes Angostura Bitters
1 lemon peel garnish
Add all ingredients to an ice-filled mixing glass, shaker tin, or pint glass. Stir for 100 revolutions and then strain into a chilled coupe and garnish with a very large lemon peel. Twist and express the peel over the top of the beverage before placing in the cocktail.
Additional Notes from Bobby Kruger
"If you really want your Manhattan to stand out, focus on tweaking your recipe to pair with the specific whiskey you are using. Vermouth and garnish are not one-size-fits-all and should be paired to the whiskey accordingly. In this instance, I adjusted my ratio to reflect that the whiskey was a little lower in proof than the high-proof rye whiskey I usually default to for a Manhattan. I dropped the amount of the vermouth and went with a fruitier option so that I could keep the ABV up while still having a high fruit profile. I went with the lemon peel as a garnish to balance the heavy cherry notes of Dolin Rouge and to complement the leather and toffee notes in the Four Roses Small Batch."