Self Giving: Susan Dubuque
| November 2nd, 2018
Donating a kidney to a stranger in need
---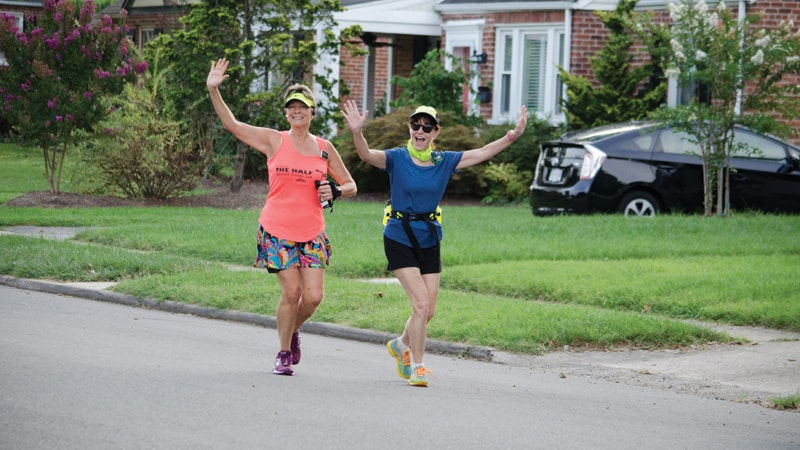 In her work last year to promote VCU Health Hume-Lee Transplant Center's 60th anniversary, Susan Dubuque discovered there are more than 100,000 people on the national waiting list for a kidney. That figure certainly left an impression on her, but it wasn't until she interviewed individuals like Zenobia Diamond, and husband and wife Rick and Tracey Ridpath, that she knew she wanted to pay it forward.
Diamond had suffered kidney failure after experiencing cancer and a heart attack. She received her new kidney at VCU Health. "Today, this beautiful 60-something woman is thriving. She will no doubt outlive us all," says Dubuque, co-founder and principal at marketing and advertising agency ndp.
The Ridpaths are both teachers who decided to each give a kidney as non-directed donors (living donors that are not known by the recipient) after losing a friend to cancer. Their story inspired Dubuque. "It was their act of unselfish kindness that planted the seed and prompted me to think about being a living donor, too," she says.
At 65, Dubuque assumed she would be too old to be a donor, but that wasn't the case. The day after finding out that people in their 70s were donating organs, she visited VCU to start the process.
"The testing is amazing," she says, noting it took a little over four months before she was approved as a donor. "You have to unequivocally be in a good health state."
NON-DIRECTED DONATION – FULLY DIRECTED GIFT
The day after she was approved she began sending blog posts, reaching out and informing the public about living donations, stressing that you can donate a kidney without knowing someone in need of one.
According to data from UNOS (United Network of Organ Sharing), from 1989 through 2017 there were only 2,059 non-directed living donors nationally. "We need to get more living donors," says Dubuque.
She had her surgery on a Tuesday and was home by Thursday. By Saturday she was picking weeds in her backyard. "The laparoscopic surgery was a piece of cake," she says. "Two weeks and two days after surgery I got a complete bill of health. I'm now training for the half marathon."
Dubuque's family and friends have been very supportive through the process. Her YaYa's (11 girlfriends) even held a going away party for her kidney. "This was a team sport," she says. "All of my friends were with me through this process and that has made it more special."
Dubuque, who previously worked in the mental health field, has spent her life being involved with some sort of community philanthropic venture. So stepping up to donate a kidney was a natural gesture.
"It's not for everyone, but there are many folks, if they were aware, would be more than happy to donate and save someone's life," she says. "When else in your life can you have the opportunity single-handedly to save someone's life? What a gift that is."
She feels that she got more out of this experience than the 59-year-old woman who received her kidney. "It was such an amazing, wonderful opportunity for me," Dubuque says. "I feel very fortunate."
---
Hear Susan's side of the story in her 2018 Boomtown interview:
---
Award-winning writer Joan Tupponce writes about a variety of subjects – from business to celebrity profiles – for publications that include O, The Oprah Magazine, AmericanWay, U.S. Airways magazine and AAA World.