Take a Drive to Maple Street – Biscuit Company, That Is
| October 26th, 2023
For soul-soothing, belly-filling, palate-pleasing Southern breakfast fare
---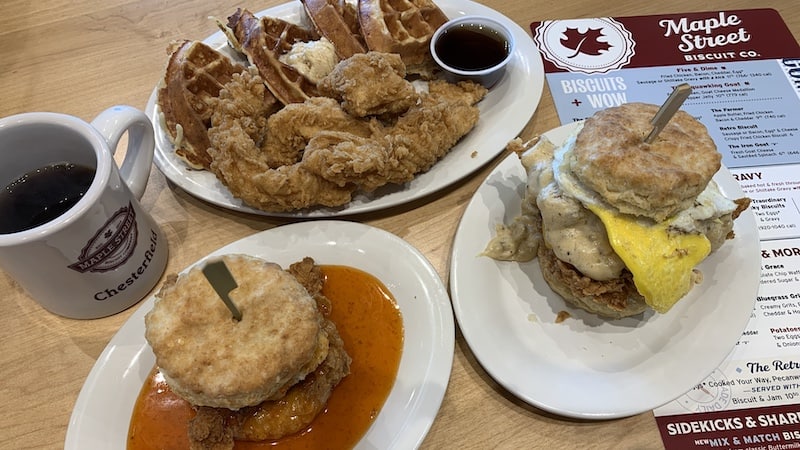 A restaurant must be either daring or confident to present Southern classics to Richmond-area residents. Maple Street Biscuit Company has confidently taken just such a dare, opening throughout the Southeast, into Texas, Kentucky, Ohio, and now with its third location in the Richmond area. The menu highlights biscuits and fried chicken along with other Southern fare. I had a chance to try some Maple Street gems on opening day at the Hull Street location.
The business was founded by two friends with Southern family roots. Scott Moore and Gus Evans experimented with recipes, including family recipes, until they found those they were willing to showcase in their new restaurant. In fact, they reportedly hosted "food throwdowns," inviting dozens of people to Moore's home for taste tests. They opened their first restaurant in Jacksonville, Florida, in 2012, touting comfort food with a modern twist.
Question:
So, does Maple Street Biscuit Company pull off worthy Southern fare?
First up, the biscuits.
They're made in-house, from scratch, daily, using real butter, artisan flour, fresh buttermilk, maple syrup, and … soda water. They're hand-kneaded and rolled, presenting hearty, flaky, fluffy, golden mounds of tastiness.
Answer: yes, the biscuits absolutely meet this Southern gal's standards.
Now, how about the chicken?
My idea of perfect Southern fried chicken is a chunk of bird with a gentle crispy breading with a balance of seasonings (including a subtle share of pepper) covering juicy, oh-so-tender chicken.
Answer: yes, the fried chicken actually exceeded my expectations. I hear that the breading is made using soda water, which contributes to its delicate texture.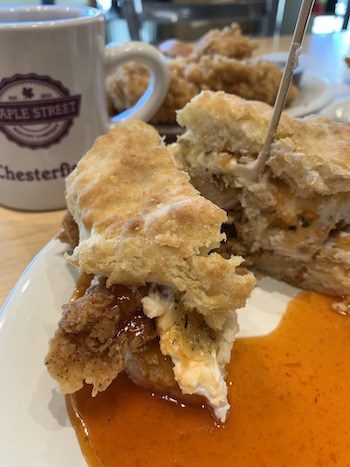 Much of the menu pairs those two classic ingredients in creative ways, with toppings that make for a happy family on the palate. I tried one of the Maple Street customer favorites, The Squawking Goat: a biscuit holding a generous hunk of fried chicken, a goat cheese "medallion," and sweet pepper jelly. Reminiscent of pepper jelly and cream cheese appetizer, it's a delightful blend of sweet and savory.
Another biscuit sandwich I sampled, Five & Dime, comes with fried chicken, egg, sausage gravy (or the shiitake gravy option), and maple pepper bacon. This was my chance to summon my Southern roots to judge the sausage gravy (which was thick and rich and would get grandma's nod of approval) and the bacon (also family approved).
The Bam! Yo-Yo, a moist, crispy waffle made with bits of Asiago cheese and bacon in the batter, was served with generous chicken strips, maple butter, and maple syrup. Having the fried chicken on the side really allowed me to savor the fried chicken beside the airiness of the waffles.
Next up, on my return visit, I'm trying one of the "frittaffles," an omelet baked in a waffle iron. That is, if I can resist ordering one of the biscuit sandwiches again.
And then some
Other "house-made daily menu items include fried green tomatoes, hominy grits, and "smashbrowns" – handheld hashbrown cakes – plus apple butter, pepper jelly, and a blueberry-blackberry jam. It offers vegetarian-friendly options, too, like The Iron Goat with fresh goat cheese and sautéed spinach, and the iced cinnamon biscuits. The company offers its own roasted coffees, too, including a maple blend.
The American South prides itself on hospitality, so Maple Street also touts friendly service The GM is the "community leader." Instead of giving a name for their order at the counter, a guest answers the question of the month, such as "What's your favorite band?"
Maple Street Biscuit Company serves breakfast and lunch.
The business was sold to Cracker Barrel in 2019 but retains its brand, its values, and its casual, friendly, community feel. Locations have spread from Florida to Texas, Georgia, South Carolina, North Carolina, Alabama, Tennessee, Kentucky, Ohio, and (yay!) Virginia.
Maple Street Biscuit Company locations in the Richmond area:
2061 Huguenot Rd., North Chesterfield
14412 Hull Street Rd., Chesterfield
11657 W. Broad St., Richmond
Visit the Maple Street Biscuit Company website for menus, with pictures, to provide mouth-watering anticipation of your visit.
---
FEATURE IMAGE, TOP: Three popular breakfast menu items at Maple Street Biscuit Company: Squawking Goat (bottom left), Bam! Yo-Yo (top), and Five & Dime.
---