Take a Bite of Fall with These Apple Recipes
| September 20th, 2016
---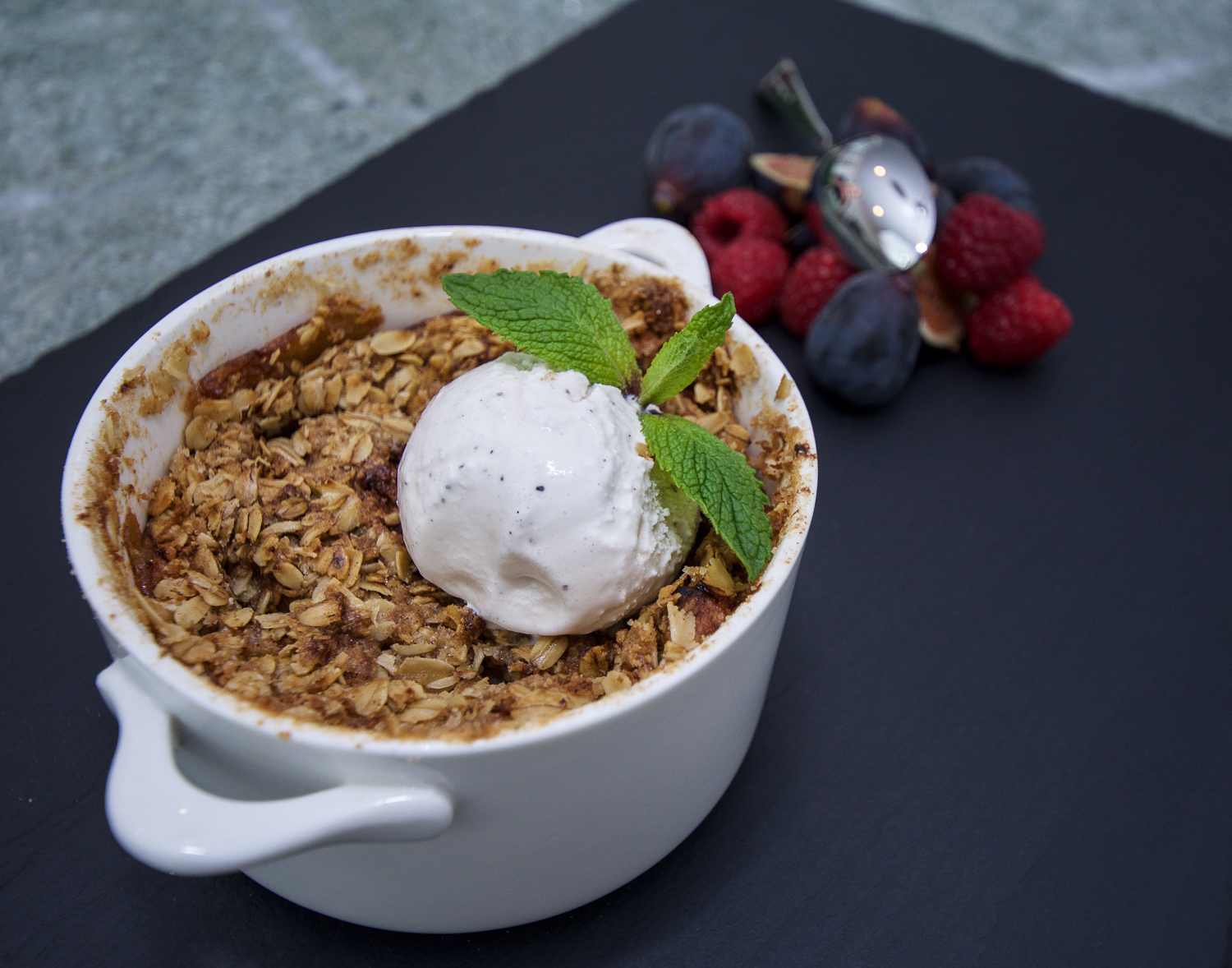 Autumn isn't just the right time for pumpkin-flavored everything, it's also the perfect time of year for all things apple related.
Cardamom Apple Crisp
Ingredients
Makes 6-8 servings
Filling:
4 lbs apples, peeled, cored and cut into wedges*
1/4 cup granulated sugar
Juice from 1 lemon
Topping:
1 cup rolled oats
1/2 cup all purpose flour
1/2 cup light brown sugar
1 TBS granulated sugar
½ tsp cardamom
1 tsp cinnamon
pinch of salt
8 TBS (1 stick) butter
1. Preheat oven to 375F. Butter a 9 x 12 baking dish or divide into smaller individual casserole dishes. In a bowl, mix together apples, sugar and lemon and pour into baking dish.
2. In another bowl mix together all dry ingredients (oats, flour, sugars, spices). Cut the butter into cubes and use your hands to crumble butter into the dry ingredients until it is the consistency of course, large breadcrumbs. This can also be done in a food processor.
3. Top the fruit mixture with the butter crumb mixture. Cook for 45-50 minutes or until the top turns golden brown and apples are bubbling. Let the crisp sit for 20-30 minutes before serving. Serve with vanilla ice cream or softly whipped cream!
*My favorite apples to use in this dish are Granny Smith, Pink Lady and Fuji! They have a nice firm texture and won't breakdown too much during cooking. 
---
Try these kid-friendly sweet applesauce mini muffins, too
---
Applesauce
Ingredients
Makes about 2 cups of applesauce
1lb cooking apples*
4 TBS water
¼ cup sugar
1 tsp cinnamon (optional)
1. Peel, quarter and core the apples. Put in a small stainless steel or cast iron saucepan. Add the sugar and water, cover and cook over medium low heat.
2. After 15-20 minutes, the apples should break down. Stir the applesauce. If you prefer a chunkier sauce, go ahead and take the apples off the heat. If you prefer a smoother sauce, continue cooking and add 2 more TBS of water until the apples have completely broken down, about 5 more minutes.
3. When the sauce has reached its desired consistency, stir in cinnamon. This can be served warm or cold. Keep refrigerated.
*My favorite apples to use in this dish are Braeburn, Golden Delicious and McIntosh. They have a softer texture and will breakdown easily when cooked. 
Visit here for more of Kate's recipes.