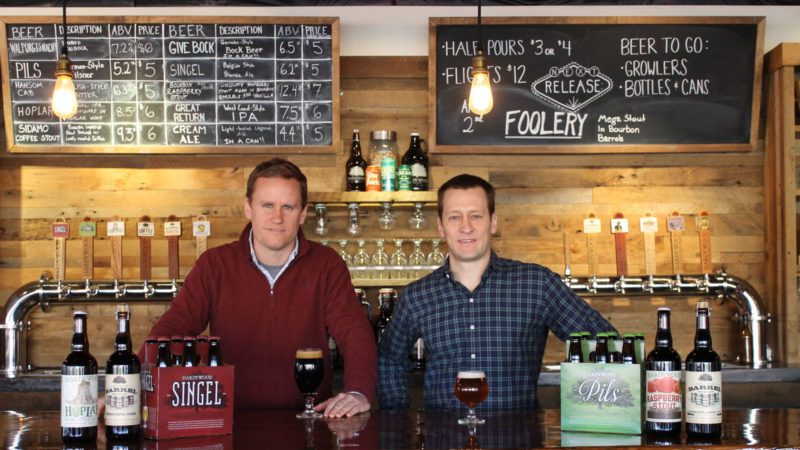 Talking with Bill & Shelly: Eric McKay and Patrick Murtaugh of Hardywood
| May 31st, 2016
Bill Bevins talks with the owners of Hardywood Park about their business and upcoming expansion.
---
Richmond's latest craft brewery boom began in 2011, when Hardywood Park Craft Brewery opened near The Diamond. Co-owners Eric McKay and Patrick Murtaugh, childhood friends, discovered home-brewed beer at a sheep station in Australia. They learned the beer industry and chose Richmond to open their new craft brewery, which has grown quickly since it opened.
We talked with Eric and Patrick in the Easy 100.9 studio. Here are excerpts or listen to the full interview above.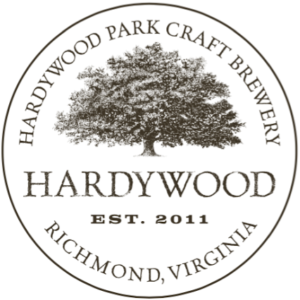 BILL BEVINS: Eric and Patrick, let's begin with how this all got started. Were both of you in the beer business before you opened Hardywood?
PATRICK MURTAUGH: We were. I started working [around 2004] for a distributor in New York City about a year after Eric started at the same company.
BB: How did you pick Richmond, Virginia, to open a brewery?
ERIC McKAY: [My job] enabled me to move to Richmond. I'd been in college in North Carolina and was familiar with the legal environment in North Carolina and Virginia. The number of breweries per capita was very low, [and] the laws were improving to make it a better place to start a brewery.
BB: So you come to Richmond and you start looking for a location. The first time I went to Hardywood, I thought, "Hmm, that's a little off the beaten path." Was that what you were looking for? Kind of a semi-industrial complex?
PM: We looked all over the place. We looked at a lot of old, historical buildings, beautiful brick buildings, and a lot of them just didn't have the space – the floor space or the ceiling height. And they had to be in an industrial-zoned area, so we found this place.
BB: It has to be industrial?
EM: That's a zoning restriction, correct.
PM: This building had room for a tasting room, and the back warehouse was big enough to get us off the ground. It had a little office, and just really had everything we needed at the time. It was a little off the beaten track, but close enough to The Fan and downtown Richmond.
BB: So you come to Richmond, find a location and set up business. How long did it take from the time you got your location till you got your first beer made?
EM: We signed our lease in the spring of 2011. We'd already ordered our equipment. We started brewing in September and sold our first beers in October 2011.
BB: Next thing you know, there are food trucks out front, you're having big weekend events. This has turned into a destination at this point where people come to have a great time.
PM: When we first opened – by law, because we didn't have a restaurant – we were not allowed to sell glasses of our beer for on-site consumption. It wasn't until shortly after we opened that a bill was written that gave us some of those rights that wineries have to serve full glasses.
BB: Tasting rooms.
PM: Right. That really helped us expand faster and bring more people in. Since then our tasting room has turned into our single biggest marketing tool to bring people into the place where it's made, having the ability to enjoy a full glass of beer, and –
BB: Fall in love! I did!
PM: Yes. We partnered with Devils Backbone and Starr Hill to hire a lobbyist to get that bill passed. That was Senate Bill 604 and it's widely credited with being the reason that Virginia's beer scene has been able to grow as quickly as it has.
BB: So you're the guys that turned it all around. Thank you very much, by the way. Let's talk about what goes on at the venue. You guys make a lot of different beers. If I go into the tasting room, can I taste every beer or just certain beers?
EM: Every beer that's currently available. We really built the brewery into a community center of sorts. We like it to be somewhat of a cultural center, and we want to have a lot of events that showcase what makes the Richmond region unique and ultimately create reasons for people to come, experience, try one of our beers and hopefully build some sense of loyalty to the beers that we make. We have usually eight to 10 different beers available at the brewery.
BB: Wow. Eight to 10. I don't think I can taste them all in one day. I'll have to come back many times.
EM: Absolutely!
BB: Let's talk a little bit about the different things you mention that make Hardywood a destination. I went for Fourth of July, had a great time, been there to see different bands play, and you've got the Richmond Symphony coming. Tell us about that.
PM: Yeah, that was something that was organized by our director of hospitality, Kerry Anderson. The Symphony puts on this series of shows in our back warehouse – a room full of old whiskey barrels and wine barrels that we're aging beer in. It's really just a beautiful contrast between the Symphony and the warehouse.
EM: It's a lot of younger people who may not have gone to the symphony, plus a lot of Symphony regulars who like experiencing it in a different environment.
BB: We hear talk about your growing to Goochland. What's going on out there, guys?
EM: We're nearing capacity in our current location. We've gone through a few phases of expansion [including] adding new equipment and expanding to a new building, but we're at that point where we're about to exceed 15,000 barrels [annual production]. We couldn't find a suitable location in an existing building to expand. We found what we think will be the perfect parcel to foster our expansion long into the future. It's close to everything but provides this unique location that we think is very beautiful and conductive to all kinds of community activities and events.
BB: Does this mean we can go out to Goochland and do the same kind of events that you do at the original location?
PM: Absolutely, it's just going to be a totally different setting. I think what we have going on now is great, but at this new place you'll have this feeling that you're in the middle of the woods. It's going to be a real showpiece brewery. This is going to allow us to build out everything exactly how we want for aesthetics and efficiency.
BB: So you brought some bottles with you – Hardywood Raspberry Stout, Christmas Morning and Pils. How do you decide the flavor of different beers?
PM: A lot of the flavors – or styles – come from inspiration from local producers. For the Raspberry Stout, we teamed up with Agriberry and used their raspberries. We used cocoa nibs and put it all in this stout, and those flavors just come together. That particular beer won a gold medal at the Great American Beer Festival. [In creating the Gingerbread Stout], a guy named Bill Cox of Casselmonte Farm brought us ginger he was growing – white baby Hawaiian ginger. It had this really unique flavor.
EM: Likewise, we met Cy Bearer from Bearer Farms and used his local honey. There'd never been a commercially brewed gingerbread stout before, so we didn't really know what exactly it should taste like. Between Patrick's tweaking of one of our old home brewing recipes to adapt to these unique local ingredients and the use of these ingredients in just the right way, it seemed to work extremely well. Christmas Morning is an adaptation of Gingerbread Stout, brewed with locally roasted Mexican coffee.
BB: Fantastic! Congratulations on all this success. How many employees do you have now?
EM: We're nearing 50. Twelve work in our taproom and the rest cover everything from sales and marketing to production brewing, quality assurance, facility maintenance.
BB: Quality assurance. I could help with that!
EM: Come on out!
PM: You can be on our next tasting panel.
BB: We want to thank our very special guests for joining us for our Boomer interview. We always enjoy it, but when they bring beer, it's even better. Thanks, guys.
EM: Thank you.
PM: Thanks for having us.