Guess What's Shuffling into Scott's Addition
February 8th, 2018
… A shuffleboard bar, that's what
---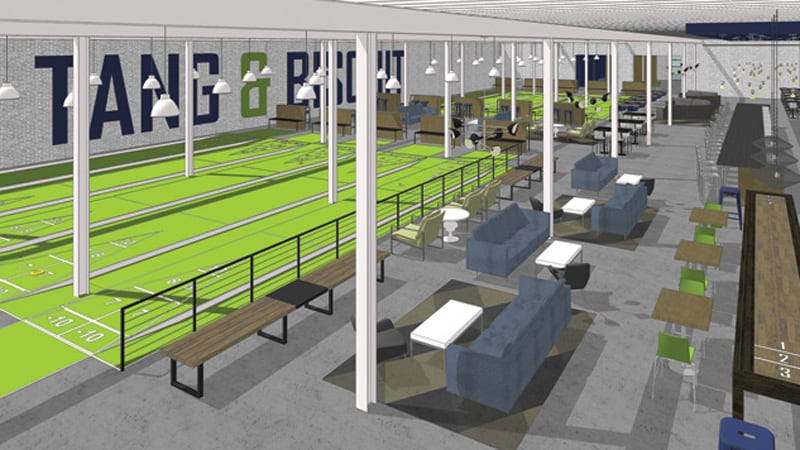 Upending the "retirement community in Florida" stereotype, David Gallagher is changing the way locals think about shuffleboard, bringing the game to Richmond retirees and hipsters alike.
Gallagher stumbled upon a "shuffleboard bar" while in Brooklyn, and like any good Richmonder, thought, "I should bring this to RVA." So he did. Along with a team of investors, Gallagher began to grow his idea, which he's decided to call Tang & Biscuit.
The concept of a shuffleboard bar is as simple as it sounds: a standard bar on one side with shuffleboard courts on the other, available for patrons to enjoy at their leisure. Tang & Biscuit will also offer shuffleboard tables, ring toss and assorted board games.
For those of you who have never lived in or visited a retirement community in Florida, the game of shuffleboard is a straightforward one. Players use their cue (called a "tang") to push a weighted puck (called a "biscuit") down toward a target on the narrow court. You likely have now figured out where the establishment's name comes from.
Gallagher and his investors found a spacious spot in Scott's Addition, located on Moore Street between Belleville Street and Roseneath Road. They plan to establish shuffleboard leagues and set aside 4,000 square feet of the space for large private events. The bar will serve local beer and cocktails, along with specialty sandwiches.
Tang & Biscuit is set to open in late spring or early summer 2018.
---
3406 W. Moore St.