Tasting Scotland's best Scotch
| February 8th, 2017
A multi-sensory trip through the land of whisky
---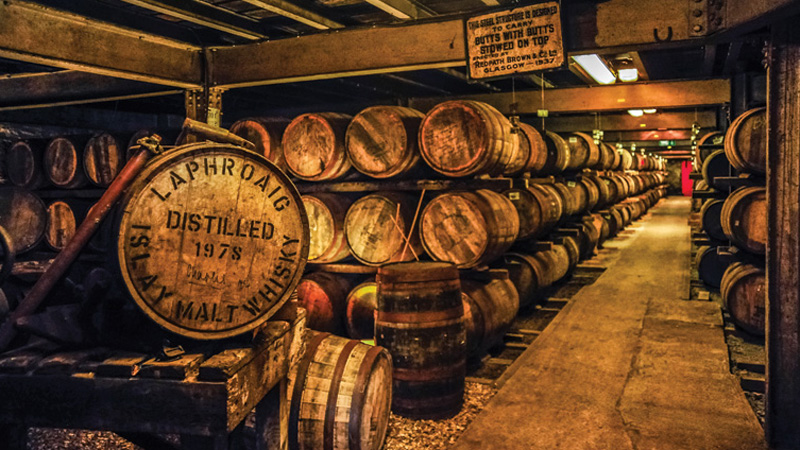 Bartender and educator Paul Blumer takes us through Scotland to provide a "taste" of Scotland's best Scotch.
---
It's not just the tastes we crave. If that was sufficient, we could plant ourselves at a top watering hole to sample a variety of distilled spirits, wine and craft beer. No, we want the story behind the drink, a peek at the people who craft it and the place that gives it birth. We desire the experience and are willing to devote travel expenses to the chance to tour the distilleries, wineries and breweries that produce those tastes. We realize, too, that between on-site tastes, we can experience the land and culture from which they arose.
Whether following official trails or planning an itinerary on our own, we can enjoy a multisensory, palate-pleasing trip: from Virginia's wine and beer trails and the Kentucky Bourbon Trail to the distilleries in Scotland, the island of renowned Scotch whiskies.
Fáilte!
The heavy wooden door coughs shut, blocking out a misty landscape sketched in charcoal. The bartender sets aside the glass she's polishing.
What'll it be?
This is Scotland. I'm here for the Scotch.
I tell her I'm partial to whisky from Islay (EYE-luh), the salty gem off the west coast of Scotland at the southern end of the Inner Hebrides archipelago where all that legendary smoky Scotch is distilled. Her eyes light up.
But we'll get there in due time. First I want to try something I've never heard of before.
STARTING IN THE LOWLANDS
She nods sagely and turns to her modest wooden shelves lined with Scotch the way NOVA stacks vodka. Let's start in the south, she says, and pours me a 25-mL single.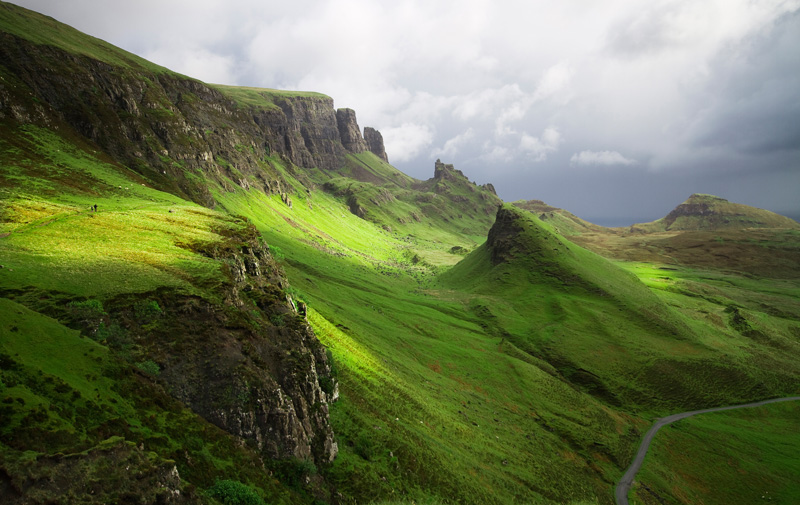 I nose the 10-year-old Lowland while I read the bottle. Bladnoch, it says. The southernmost active distillery in Scotland. South even of one corner of England. It's good; a little grassy and honeyed, with the smooth, low-key pepper notes characteristic of Lowland Scotch. Reminiscent almost of Irish whiskey.
Very nice indeed. And that distillery turns 200 next year, she tells me.
Sláinte mhath! (SLAN'dja-vaa) I raise my glass to good health and vow to return one day. She has a few more Lowlands on her shelves – like Auchentoshan, Glenkinchie and Loch Lomond – but I'm thinking onward.
MOVING ON TO CAMPBELTOWN
So what's next?
Ever have any Campbeltown?
She pulls a dusty bottle from the shelf and discovers the cork has crumbled, leaving a watery, oxidized waste.
Ach! That was my only one, she grumbles, lapsing into a string of Glaswegian profanity.
Alas, there won't be time this voyage for a jaunt down Kintyre, so Campbeltown – once known as the whiskey capital of the world, with the likes of Glengyle, Glen Scotia and Springbank – will have to wait.
SAMPLING HIGHLAND SCOTCH WHISKY
To compensate for the miss, she pours a dram of Dalwhinnie from the Highland region –
which encompasses Speyside – home to most of the whisky made in Scotland, broken further down into compass quadrants and the islands, including Arran, Jura, Mull, Skye and Orkney. Respected Highland brands include Talisker, Highland Park, Jura, Oban, Dalmore, Glenmorangie and Pulteney.
I could stay here all day in this B&B pub tasting Scotch, but it's time to go. Our ferry to Islay is scheduled for just after suppertime and we still have to make tracks up through The Trossachs National Park to the famous Loch Fyne Oysters restaurant for lunch – both not to be missed – along curving, windy, shoulder-width lanes where the posted speed is not so much a limit as a dare.
THE SMOKY MALTS OF ISLAY
We arrive on Islay in the dark and walk to the Islay Hotel to plan tomorrow's tours. If I could I'd spend a month at every distillery on Islay, soaking it all in, at Ardbeg, Bruichladdich, Laphroaig, Lagavulin, Caol Ila, Kilchoman, Bowmore and Bunnahabhain.
I'm never one to shy away from a good deep quaff – but the best Scotch is enjoyed in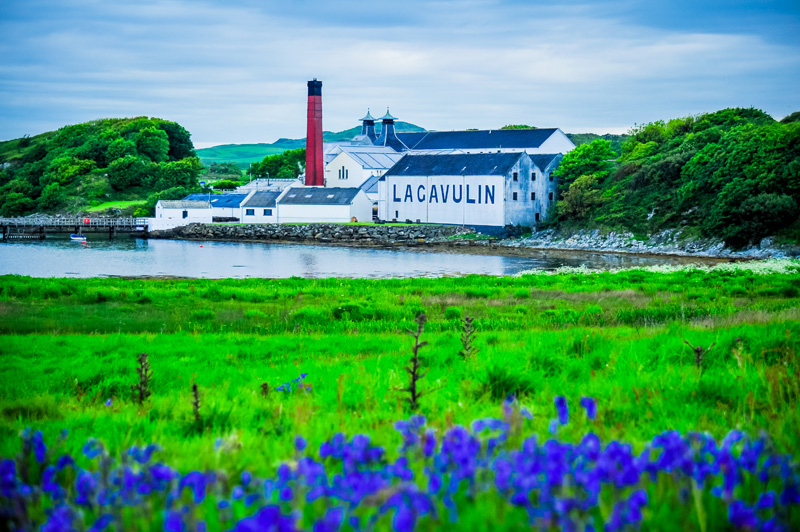 nibbles. Fire rolling back and forth across your tongue, spreading and opening as it mingles with saliva. Don't swallow – just chew and breathe through your nose, letting it dissolve along your shores of taste. Islay Scotch is what fire would taste like if it mated with honey.
The smokiness of Islay whiskies comes from the peat that smolders beneath drying malted barley. The rich vegetal smoke penetrates the grains and infuses the mash with sharp phenols that lend its characteristic flavor and aroma.
We like Islay so much we decide to stay an extra night, renting one of the Storm Pods overlooking Lagavulin Bay, a neat little hobbit hole with a brilliant sunrise view of porpoises playing in the chill autumn air. Then a full Scottish breakfast plus kippers and smoked salmon before boarding the ferry back to the mainland.
SKIRTING THE SPEYSIDE REGION
The extra night in Islay cost us our run up to the Orkney Islands, and we retreat in sadness, leaving unseen some of the most ancient structures in the U.K. as well as Highland Park distillery. Instead, we cut down through the Cairngorms past Dalwhinnie and the northern highlands, skirting the Speyside region where the most famous distilleries are located, producing some of the finest entry-level Scotch: Balvenie, Macallan, Glenfiddich, Glenlivet, Aberlour and Ardmore.
For me, Speyside malts are a little dull though smooth, and bland though golden. They usually offer hints of dried fruit and a rounded finish of honeyed heather; but in whisky I'm usually after something more complex and fiery.
The rest of the trip passes in a blur of ruins and B&Bs, sheep and shaggy Highland cows. And then a flight home across the pond, already missing the taste of peat and haggis and the skinned-knee hills whispering tales of daring Viking raids and blood-soaked tartan lore.
Ready for some adventure in the states? Tennessee has you covered.