Telemedicine
| January 7th, 2016
A relatively new approach to getting people the healthcare they need
---

TELEMEDICINE: 1. The remote diagnosis and treatment of patients by using medical information transmitted over long distances, especially by satellite.
Doctors may rarely make house calls these days, but technology is providing the next best thing – and sometimes a better thing.
Recent advances in telemedicine in Central Virginia are helping patients avoid the costs, stress and time involved in driving long distances to see neurologists.
For example, during the past year, Dr. Leslie Cloud, movement disorder specialist at the Virginia Commonwealth University Medical Center in Richmond, began examining people on the Eastern Shore via a VCU telemedical Parkinson's clinic in Nassawadox.
"A lot of these patients would not be able to see a specialist because they can't drive or travel for that long," Cloud says. It also helps their caregivers, who are often their spouses, because travel can be difficult for them, too, she said. "It works really well."
Nurses or doctors at the local clinic assist with any physical examination that's needed and position the exam camera, which Cloud then controls by zooming in and out and focusing on different body parts. "The image quality is surprising. It's like you're right there," she said.
Nurse Tamara Broadnax, director of the VCU Telemedicine Center, said live telemedicine appointments are available with a variety of VCU medical specialists through 40 telemedicine centers throughout the state, including locations in South Hill, Lynchburg, Danville, Emporia and 30 correctional centers. Specialists in cardiology, cardiothoracic surgery, endocrinology, genetics, infectious diseases, nephrology, neurology, neurosurgery, oncology, psychiatry, rheumatology, urology and other fields participate in the program.
STROKE VICTIMS GET HELP QUICKER
Telemedicine has also been used this year to help treat stroke victims more quickly to ensure the best possible outcomes, according to David Donaldson, COO and director of telemedicine at Henrico Doctors' Hospital.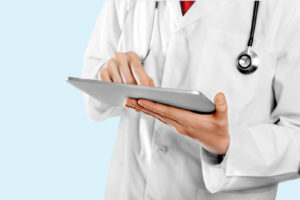 Patients are now treated at the nearest emergency room that participates in the telestroke network, where they are evaluated via a camera by a neurologist at Henrico Doctors' or Johnston-Willis hospitals.
The neurologist can simultaneously view a CT scan of the patient's brain through the camera as soon as it's available. Medicine can be started immediately to dissolve any clots that may be causing the stroke.
"Time is brain," Donaldson said. "Every minute where there is no blood flow, 1.2 million brain cells die. If we can cut 30 minutes off the time it takes to treat someone having a stroke, we can save 36 million brain cells."
Henrico Doctors' Hospital serves as the stroke center hub for emergency rooms at Parham, Retreat, Hanover, Spotsylvania and West Creek. Johnston-Willis Hospital is the hub for ERs at Chippenham, Swift Creek and John Randolph Medical Center. Neurologists also provide support to ERs in rural areas, if requested.
Donaldson said that Henrico Doctors' also uses telemedicine for emergency behavior health and psych evaluations.
AND NOW … ON YOUR SMART PHONE!
By the end of the year, caregivers and family members will be able to monitor the vital signs of their loved ones from their smart phones, thanks to a new fingertip device that will be distributed by Telemedical Partners.
According to Brad Beatty, a local partner in the new company, the SensoSCAN is the first of its kind that will enable continuous remote monitoring of vital signs, including blood pressure, heart and respiration rates, and temperature. An even newer version under development will also test blood sugar levels without pricking the skin.
"It's like a hospital on your finger," Beatty said.
The SensoSCAN will cost about $350 and will combine and replace bulkier equipment currently available. For people who have heart disease, unstable diabetes, COPD, asthma, high blood pressure and other chronic conditions, and for people who have been recently discharged from a hospital, the wireless Bluetooth device will help provide early detection if problems arise. About the size of a pulse oximeter, it will automatically send real time information and alerts to professionals and relatives designated by the patient. It will also record a history of vitals.
In some cases, it may help people stay out of a hospital or assisted living facility, Beatty said.
Dr. Stanley Furman, a Richmond gerontologist advising Telemedical Partners, said early detection of problems could also help prevent people from falling or passing out if their vitals drop, and the history could help with diagnosis.
Dawn Beninghove, RN and owner of Companion Extraordinaire Home Care Services, said the affordability will benefit people whose insurance doesn't cover home monitoring equipment. Some of her clients will be participating in a pilot test of the device.
0ne is a 90-year-old woman with congestive heart failure. Her son lives in Washington state and can't visit often. "For him to be able to monitor her alongside of us will give him more sense of control about directing her care," Beninghove said.
It will also give caregivers more concrete information to discuss with doctors so that decisions about changing medications can be made early and patients' quality of life can be improved, she said.