Virginia Commemorates the 400th Anniversary of the African Landing
| February 12th, 2019
A sobering history
---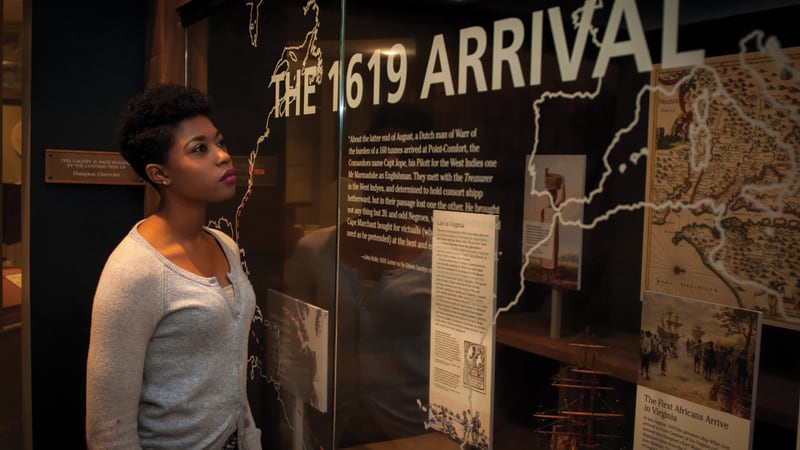 In 1619, a group of 20 Africans arrived in Colonial America at what is now Fort Monroe in Hampton, ushering in the Virginia slave trade. Since August 2007, the African Landing Day Commemoration has been recognized to honor their arrival and legacy. In 2019, special exhibits and events will mark the 400th year.
This year will note other important 400th anniversaries as well: the first year of representative legislative assembly in the New World, the arrival of significant numbers of English women, the first official English Thanksgiving in North America and the development of the colony's entrepreneurial spirit. "Virginia was the first English colony that succeeded," said James Horn, president of Jamestown Rediscovery, "giving birth to democracy as well as influencing our Constitution."
By commemorating such important milestones, we can learn from mistakes and build on successes. Notable events commemorating the arrival of the first Africans include:
2019 African Landing Commemoration at Fort Monroe, Hampton | Aug. 23-25
The weekend features reconciliation and healing ceremonies, concerts, hands-on children's activities and more. "This commemoration is important because it reminds the nation of our journey and shows how the black culture has survived and thrived," said Terry Brown, superintendent of Fort Monroe National Monument. See HamptonVA2019.com
Ain't I America: Selections from the Petrucci Family Collection of African American Art, Hampton University Museum, Hampton | Through May 13
This special exhibition celebrates a full range of African-American art and its essential place in history and American art. See HamptonVA2019.com
Dance Theatre of Harlem World Premiere, Chrysler Hall, Norfolk | May 3-5
Dynamic new ballet presents themes of the 2019 commemoration, including the arrival of the first women and Africans in Virginia, and celebrates the fortitude of the human spirit. See AmericanEvolution2019.com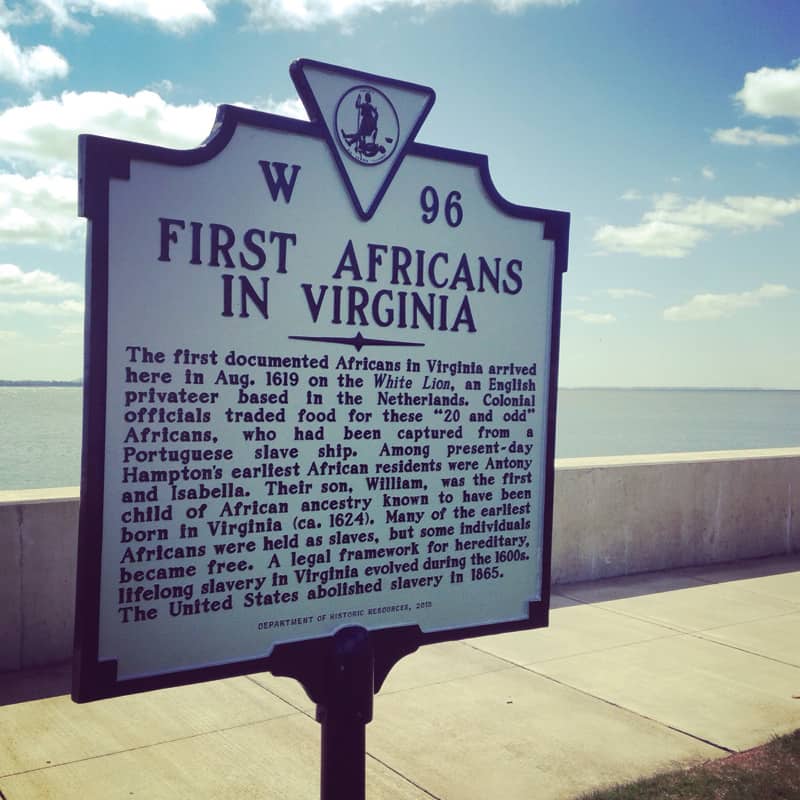 Cosmologies from the Tree of Life: Art from the African American South, Virginia Museum of Fine Arts, Richmond | June 8-Nov. 17
The exhibit showcases extraordinary contributions of African-American artists, through paintings, sculptures, drawings and quilts. See AmericanEvolution2019.com
Determined: The 400-year Struggle for Black Equality, Virginia Museum of History & Culture, Richmond | June 19-March 1, 2020
The exhibit illustrates the pivotal role that black people have played in defining America's identity and its economic, political and cultural life, heralding the challenging journey toward equality, democracy and justice. See AmericanEvolution2019.com
Democracy & Diversity Exhibition, Historic Jamestowne | Opens April 15
This new permanent exhibit challenges long-held perceptions of democracy, diversity and race in early English America. It will examine the first General Assembly and difficult themes such as the "othering" and exploitation of Africans, Virginia Indians and indentured servants. See  AmericanEvolution2019.com
African Cultural Heritage Month, Jamestown Settlement | Feb. 1-March 2
The first Africans in Virginia came from a rich Angolan civilization. Visitors can compare Angolan culture with the cultures these Africans encountered in Virginia. See HistoryIsFun.org
After Angelo: Celebrating Black Women in America, Jamestown Settlement | Feb. 23
Music, dramatic performance and historical presentations mark the legacy of Angelo, the first African woman mentioned by name in Jamestown's historical record. See HistoryIsFun.org 
First Africans Walking Tour, Historic Jamestowne | Fridays and Saturdays, 2 p.m.
This historian-led tour of New Towne focuses on the arrival of the first Africans in Virginia. See HistoricJamestowne.org
More events are in the works. For updated calendars on all of the 2019 commemorations, visit:
American Evolution 2019 Commemoration: AmericanEvolution2019.com
Hampton VA Commemorative Commission: HamptonVA2019.com
Jamestown Rediscovery: HistoricJamestown.org
Project 1619: Project1619.org
Jamestown Settlement: HistoryIsFun.org
---
Writer Mira Temkin explores the world through her writing, exploring destinations and experiences.