The Brother Rock Comic Strip Comes to Boomer
July 27th, 2020
From classic rock band to graphic story
---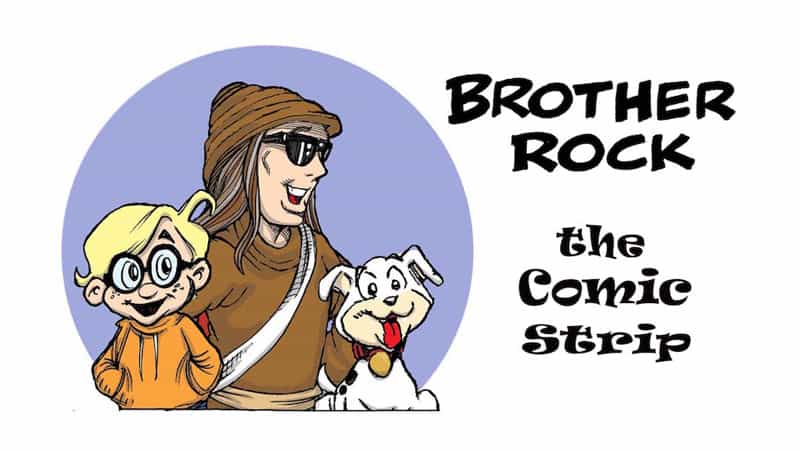 A classic rock band turned comic strip debuts at BoomerMagazine.com on July 28. The strip, Brother Rock, is the brainchild of Nashville musician Randy Gabbard and drawn by professional cartoonist Guy Gilchrist.
Gabbard has been playing professionally since the 1970s, and opening for bands like Molly Hatchet, Ozark Mountain Daredevils, and Cheap Trick (with whom Randy shared management). He's played with The Who, the Rolling Stones, the Moody Blues and more. He also founded a classic rock band called Brother Rock.
"The original idea for Brother Rock came in the early '80s and over the years has turned into a labor of love," Gabbard told The Nashville Post. The band was made up of "mature" performers and played almost all original material. Given the rotating cast of professional musicians that call Nashville home, Gabbard found it challenging to keep consistency among the band members. However, being in Nashville also guaranteed access to top talent.
The comic strip is born
The idea of a comic strip character was percolating in Gabbard's head from the beginning of the Brother Rock band. The aging would-be rock star sports a monk suit, Chuck Taylors, Strat on his back, and ever-present sun glasses. Next, Gabbard created characters for Brother Rock to interact with.
The first strips in the series feature William, a wise-cracking city kid; William's dog, Bosco; and some ducks. The strip begins in a park in an unnamed city, based on Nashville. On the horizon in the story are William's mother and grandmother, and a potential romantic relationship for the lead character.
Finding a comic strip illustrator
After several years of coming up with storylines, defining and refining the characters, and having more characters join the festivities, Gabbard decided to bring his brainchild to life.
Gabbard asked around for suggestions for illustrated, and a friend told him about Guy Gilchrist. "You can't afford him, but he may know someone who would take on the job," Gabbard recalls being told.
Upon hearing of the idea, the characters, and the storylines, Gilchrist became interested. "He came up with the characters, as if by magic," Gabbard recalls, "almost exactly as imagined, and in some ways, better."
Gilchrist, a cartoonist, animator, and country musician, has worked on Jim Henson's Muppets, Teenage Mutant Ninja Turtles, Fraggle Rock, and many other well-known cartoons and was instrumental in the creation of The Muppet Babies. He took over the iconic Nancy comic strip in 1995, which he continued until 2018.
A new Brother Rock comic strip will appear on BoomerMagazine.com every Tuesday. Intrigued? Start here!