The Giving Heart Community Thanksgiving Feast
| October 18th, 2015
Giving Back writer Lisa Schaffner spotlights a local holiday event.
---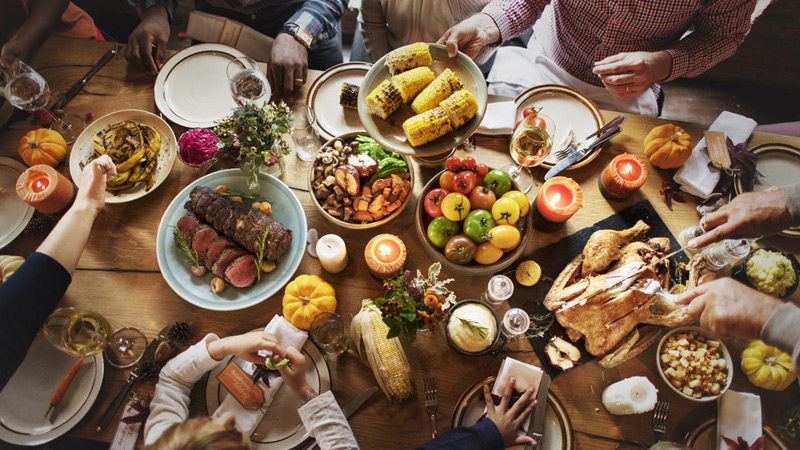 There is no question where you will find Frank and Pam Hardy Thanksgiving morning, along with their 36-year-old son, Christopher: in the kitchen preparing to serve a holiday meal with all the trimmings.
But the kitchen will be massive and crowded. The Montpelier couple will be among 800 volunteers taking part in this year's The Giving Heart Community Thanksgiving Feast at the Greater Richmond Convention Center.
"It's just the camaraderie," gushes 73-year-old Pam Hardy. "It's the people who are there, the volunteers. Then, there are the people you meet who come in to eat. They're all different – from those who are living in group homes, to those down and out on their luck, to older people living along. Everyone is so interesting."
This is the sixth year the Hardy family will volunteer for the community feast. They've been assigned to the food line in years past, and for the last two years they've poured coffee, tea and water on Thanksgiving Day. Pam and Frank also volunteer before the holiday, picking up food collections and delivering items. "We've gone to Vicki's house and helped her with delivering clothes and food. She's so enthusiastic and nice," explains Hardy.
"Vicki" is Vicki Neilson. She's the brain and brawn behind The Giving Heart Community Thanksgiving Feast. She founded the massive volunteer community event in 2003 and runs the entire operation out of her home. She collects the donations, assigns the volunteers and organizes the entire event. It's anticipated the Community Thanksgiving Feast will serve at least 3,000 people this year. "There's a lot of misnomer," exclaims Neilsen. "We feed the homeless, but we feed everyone! We feed working-class families, independent living seniors, veterans and students who cannot go home for Thanksgiving."
This year the annual community Thanksgiving feast celebrates 10 years of food and fellowship. Volunteers working Thanksgiving Day typically work a 10:30 a.m. to 4 p.m. shift (dinner is served between 11 a.m. and 2:30 p.m.), but much of the work will take place before Nov. 26. "We start the Friday before Thanksgiving," explains Neilsen. "We do three days of food preparation. And then we pick up the turkeys and take them to the Convention Center. On Monday, the volunteer chefs start working, and Tuesday is the most active volunteer day. That's when we do the turkey cutting." Another 150 volunteers come in on Wednesday to set tables and organize giveaway bags of food and toiletries. Neilsen emphasizes, "It's a labor of love." Last year, 356 bags were distributed.
"One of the sad things," says Neilson is that "Volunteers often don't think about Thanksgiving until November. We need people stepping up early to commit."
What do you say, boomers? Let's step up to the plate and make it the best Community Thanksgiving Feast ever. A feast from the heart – 10 years in the making!
WANT TO VOLUNTEER WHERE YOU ARE NEEDED? 
THE GIVING HEART COMMUNITY THANKSGIVING FEAST
HOW IT HELPS: provides food and fellowship to anyone in metro Richmond on Thanksgiving Day.
HOW YOU CAN HELP: volunteer as a Table Host or help with food collections, food preparations or food service.
WEBSITE: thegivingheart.org
CONTACT: Vicki Neilson, vneilson@thegivingheart.org or 804-749-4726
VOICES FOR VIRGINIA'S CHILDREN
HOW IT HELPS: provides support, education and advocacy to improve the lives of Virginia's children.
HOW YOU CAN HELP: sign up for the organization's newsletter or become an early care and education advocate.
WEBSITE: vakids.org
CONTACT: Nikkia Johnson, nikkia@vakids.org or 804-649-0184
TYLER PATNAUDE FOUNDATION
HOW IT HELPS: 501(c)(3) organization that exists to live out Tyler's legacy of friendship and giving to others; 18-year-old Tyler Patnaude died in a 2014 car accident. Tyler, who loved sailing, was a registered organ/eye/tissue donor.
HOW YOU CAN HELP: attend or volunteer at the organization's community events.
WEBSITE: TylerPatnaude.com
CONTACT: Yvonne Patnaude, info@TylerPatnaude.com or 804-212-4850
UPCOMING EVENTS FOR NONPROFIT ORGANIZATIONS
SHOW AND SELL 2015 to benefit The Giving Heart, Oct. 3, 2-6 p.m., Aw Shucks Country Stores, 6100 Pouncey Tract Road, Goochland County, near the Henrico County line, free, thegivingheart.org
THE CAROL S. FOX MAKING KIDS COUNT AWARDS RECEPTION presented by Voices for Virginia's Children, Oct. 7, 6 p.m., Bolling Haxall House, 211 E. Franklin St., Richmond, tickets $75 at vakids.org or 804-649-0184
SYMPHONY OF TREES, presented by Richmond Symphony Orchestra League to benefit the Symphony, Nov. 1-Dec. 6, tickets $20 each. Online raffle of five themed Christmas trees (on display at area Kroger locations) that feature prizes, tickets and gift certificates with a value of just under $5,000 per tree. Must be 21 or older to purchase tickets, available at RSOL.org or by emaling info@rsol.org. Drawing Dec. 8.