The Reimagined Virginia Museum of History & Culture
| May 13th, 2022
Bigger and better than ever
---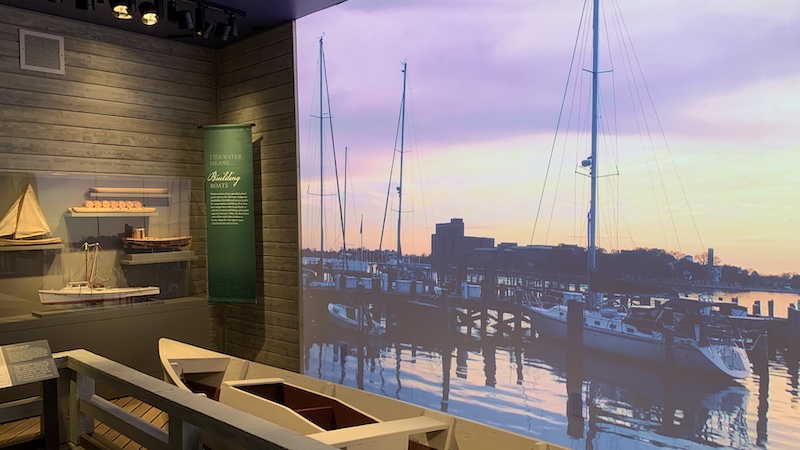 The Virginia Museum of History & Culture (VMHC) has reopened after an extensive renovation of its facilities and exhibits. I took a peek inside the "reimagined" state history museum and discovered that it was well worth the wait.
For the oldest cultural organization in Virginia, founded in 1831, this is "one of the most important projects we've ever attempted," president and CEO Jaime Bosket told me. "It's an architectural change, but it's so much more." The quarter-million square feet of the museum was built piecemeal, over 100 years. Nearly all of it was renovated in this project. "As a big stone building that was designed to protect artifacts, it can often feel a little intimidating," Bosket noted. But no more. Besides better integrating the piecemeal parts of the building, he said, the spaces were made lighter, fresher, softer. Technology was added and the exhibits and halls became more approachable.
"It almost seemed to come for us at just the right time," Bosket said. "Sometimes people say, 'No one cares about history anymore.' But I would say, it couldn't be any further from the truth. We probably talk about history more now than we ever have. So for us, the idea that history matters, in that it provides perspective and empathy that makes us better neighbors, better citizens, is a huge value. It's not just dates and names. It's so much more than that. It's context. In these past couple of years … we could see where people need a little more perspective, a lot more empathy. So we're just really pleased to be ready for this moment now."
What's changed?
If you've been to the Virginia Museum of History & Culture before, you'll feel at home in the Commonwealth Hall as you first enter the museum. But it does seem more open and spacious – and welcoming.
"The best museums are often the ones where people feel the most connection," Bosket said. "They can see themselves in it and they can see stories that resonate with their own life stories. So when you come in the front door now, you look up, the first thing you see is this big wall full of faces looking back at you. There are 71 portraits of 71 Virginians, across time and place, with that purpose – that someone's going to see someone that looks like them or has had a life experience similar to theirs."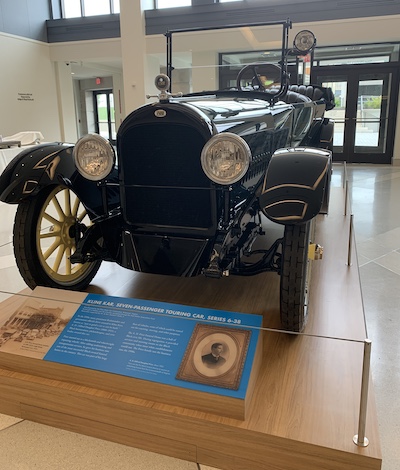 After all, history is a composite of all of us. It's not just dates, leaders, wars, and battles – those pesky things that we had to learn for tests in school. Throughout the renewed Virginia Museum of History & Culture, you can embrace the idea that history belongs to all of us.
Currently, two classic Virginia vehicles are on display in the Commonwealth Hall, including the Kline Kar owned by A. D. Price, Black funeral home owner in Richmond's Jackson Ward.
Also in the Commonwealth Hall, the 40-foot-wide Virginia Views projection wall rotates stunning images of Virginia landscapes and soundscapes.
The museum store, with its generous, carefully curated selection of books and Virginia-forward gifts – is still near the front entrance, but it has moved across the hall.
In place of the previous shop is a café, offering food and beverages, with a focus on local: sandwiches, soft drinks, local craft beer, coffee from Red Rooster Coffee in Floyd, Route 11 chips, and more.
The café will come in handy when you realize you're only partway through the fascinating new exhibits … but you need a break!
The fascinating new exhibits
This is where the rubber meets the road, in the galleries and halls. After the renovations, the museum boasts 50% more gallery space, more geography to share its more than nine million artifacts – one of the largest history collections in the country, said Bosket.
First on your visit to the exhibits should be the "Imagine Virginia" film at the Orientation Theater, offering a stunning dramatic overview of the forces that have shaped the state.
After you exit the theater, you'll enter the exhibition halls. Previous visitors will note that the first halls themselves have changed little. As before, the gallery on the left houses changing exhibitions. Currently, the museum is hosting "American Democracy: A Great Leap of Faith," a traveling Smithsonian collection of artifacts and contemporary objects that examine the founding of the U.S. government and the continuing story of the attempts to define and operate a democracy (or not).
"Virginia has played an outsized role in the shaping of the American experience," noted Bostock. "A lot of the changing exhibits will be national in scope with specific enhancements to the story of Virginia. 'American Democracy' is a great example. That's a national exhibit produced by the Smithsonian Museum of American history, but we've added to it artifacts specific to Virginia."
Without a doubt, this exhibit is appropriate for our time – a must see for anyone who cares about democracy in America.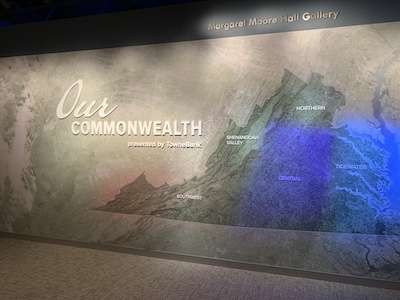 My favorite exhibit was, hands down, Our Commonwealth, because I do indeed love my home state of Virginia. After wandering through Our Commonwealth, you may feel that you've traveled through our commonwealth, from the Atlantic to Southwest Virginia, all within 5,196 square feet.
Visitors move through five distinct rooms, representing the five geographic regions of the state. The highlight of each room is a large-scale, slowly rotating digital projection of scenes from each region, with soundscapes to better immerse you in the place. Surrounding the moving mural in each room are images, artifacts, and re-creations that delve into the region's landscapes, food, industries, culture, history, and people.
"With each of those regions, we had co-curators from a local history museum from those regions," said Bostock. "Some of their artifacts are on display and some of our artifacts are on display. It's a new approach, not the same chronological telling of history. It's the story of people and place over time."
Smaller exhibits along the way
In its reimagining, the Virginia Museum of History & Culture has made use of even some tucked-away space, displays tucked along the hallways and in the halls. An old coat room has become "Uncommon Strength." Though small, the exhibit uses archaeological artifacts from the Virginia Department of Historic Resources to illuminate the resistance and culture of enslaved Africans.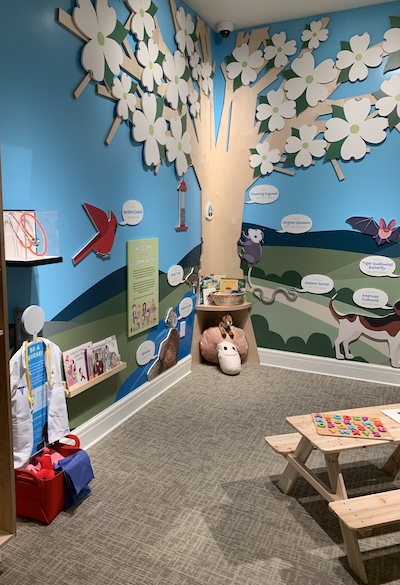 "Commonwealth Explorers" offers an opportunity for children to engage in learning about history, too: Virginia's wildlife and plants, professions, foods and ingredients, and more.
"Treasures of Virginia" houses a rotating display of iconic objects of national and international significance – "Like our crown jewels," said Bostock. "At the same time they speak to Virginia's past, they speak to America's." Currently, visitors can view George Washington's diary; the lunch counter from the F.W. Woolworth Store in Richmond where Black civil rights activists staged a sit-in in 1960; Lynchburg poet Anne Spencer's writing desk; a World War II flight jacket; and a celeron plate that marked early French claims to land along the Ohio River.
"Finding the Familiar" reminds us again that history is all of us. Sure, there are artifacts from famous people, like Ralph Sampson's PUMA sneakers (I had heard his shoe size, but seeing the shoes up close really brings it home!). But other artifacts could have come from many homes, like the Thalhimers shopping bag and credit card, Richmond Braves promotional baseball, a 1930 nursing diploma from Stuart Circle Hospital, and a Richmond Times-Dispatch.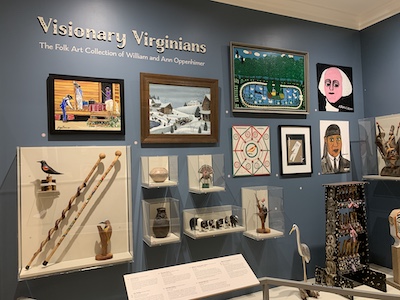 "Visionary Virginians" reminded me of one of my early professional articles, visiting the home of Richmonders William and Ann Oppenhimer. I shared with readers the couple's passion not just for folk art, but for the artists who created it. In a magazine, I could only share a few photos. Here at the Virginia Museum of History and Culture, visitors can view up close a selection of the Oppenhimers' folk art from Virginia artists.
"Taking Aim" displays several historic firearms from the Virginia Museum of History and Culture collection, linking the weapons with those who used them.
"The Lost Cause: Myths, Monuments, & Murals" is centered around the large room that displays Civil War military murals, originally painted on those same walls and unveiled in 1921. The room also contains the sculpture of Robert E. Lee that once stood at the U.S. Capitol. The rest of the room puts the story of the Civil War in context of events that came after: Reconstruction, the post-Reconstruction strategies to define the war of 1861-1865, and on to the future.
Beyond the galleries
"We've also invested heavily in revitalizing our research library and creating brand new spaces for community groups to use," said Bostock. "We've put a lot of blood, sweat, and tears into this project because we believe in what it can do. … People need information to make better decisions."
Visit Virginia's history museum, and be reminded of why history matters.
Virginia Museum of History & Culture
428 N. Arthur Ashe Boulevard
Richmond, Virginia
---