Three Inducted into Senior Volunteer Hall of Fame
| June 8th, 2017
---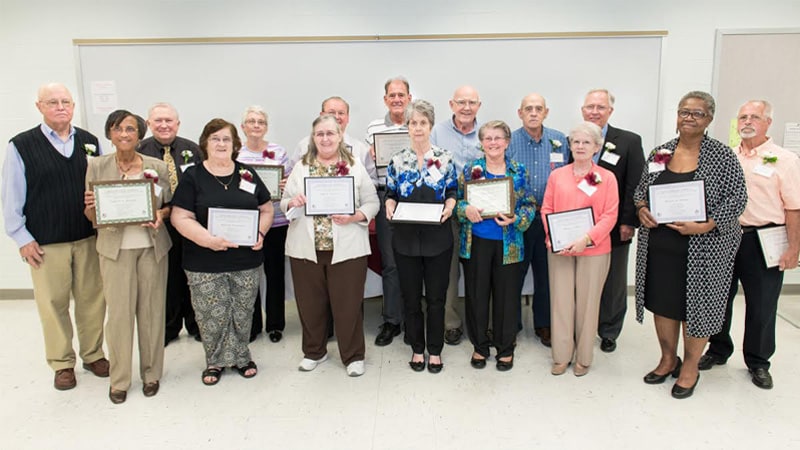 This year, 19 Chesterfield County seniors were nominated for the Senior Volunteer Hall of Fame for contributions they've made to the community since the age of 60, collectively totaling 107,221 hours. Each was recognized on May 16 during a ceremony at the Chesterfield County Government Complex that was attended by county officials, as well as friends, families and supporters of our 2017 nominees and inductees.
Three nominees are selected annually for induction into the Senior Volunteer Hall of Fame. Those inducted were Nancy Brown, Carolyn Dillard and Sheila Newman. The inductees will be recognized at the Board of Supervisors meeting on Wednesday, June 28.
Nancy Brown is a treasured volunteer in the Animal Services Unit of the Police Department.  She performs any task asked of her, including filing, covering the reception desk, cleaning cages, feeding the animals, and countless administrative tasks, including computer applications. She educates community members about owning a pet, diligently works to find the right pet for each person and works with rescue organizations to transfer dogs out of the shelter. She also works with feral cat organizations and coordinates all off-site adoption events. Nancy is the president of the Chesterfield County Humane Society, and has volunteered more than 18,720 hours since the age of 60. Brown has been a resident of Chesterfield for 50 years.
Carolyn Dillard initiated a program to provide a nutritious meal once a month to the men at the Homeless Men's Shelter in Richmond and organized the participation of 12 local churches. She also has organized the Angel Tree celebrations at Second Baptist Church for the past eight years. Dillard volunteers with Caritas, is active with a group called Richmonders Involved to Strengthen Our Communities, and tutors students in math and reading.  In 2003, she developed the "Feelings of Love" banquet, during which 10 students from the City of Richmond and Chesterfield and Henrico county schools are awarded $1,500 when they enroll in college. Dillard has volunteered more than 5,880 hours since attaining the age of 60, and she has been a resident of Chesterfield for 73 years.
Sheila Newman is the Chesterfield-Colonial Heights Alliance for Social Ministry Food Program Coordinator, and she volunteers as a community meal coordinator, preparing weekly meals for approximately 200 people. She also volunteers with CARITAS, where she helped develop a "care and visit" team for the homebound. She is the director of her Neighborhood Watch program, and co-chair of the local chapter of the Multiple Sclerosis Society, where she serves as a model of perseverance while battling this disease. Newman never fails to offer thoughtful advice and support on various projects, and to assist others. She has volunteered more than 9,080 hours since the age of 60, and has been a resident of Chesterfield for 10 years.
The nominees included: Thomas Bedwell, Nancy Brown, Carolyn Dillard, Dorothy Edwards, Beverly Harris, Judy Hawthorne, William Henshaw, Glenn Hinton, Thomas Hoekstra, Bruce Kozhowski, Ray McKinney, Sheila Newman, John Silvey, William Sinclair, Margie Smith, Judy Valente, Kristine von Ruffer, Jane Wilkinson and Ronald Woody.