'Tis the Season for Birding
| September 2nd, 2022
Whether near your home or farther abroad, birds are on the move
---
From her home base in Virginia, travel writer Martha Steger shares experiences as a newbie birder and offers benefits and birding tips for spotting these fascinating feathered friends.
---
The woman birder in front of me on my first Richmond Audubon Society birding trip was wearing a black leather jacket with "Rollercoaster Enthusiasts of America" emblazoned on the back. That dispelled whatever notion I might have had of birders as single-focused hobbyists.
Everyone in the group had left a central driving point with lots of caffeine at "O-dark-thirty," as people who rise before 5 a.m. like to say. Some of us were so new to the game that we weren't sure we were even interested in birding; but I was drawn to it because it offered focus and additional insight for my hiking. I knew I had a lot to learn when I heard birders on this fall morning calling out, "Vireo at three o'clock" and "Red-tail overhead," as they raised binocs skyward (experienced birders never say the full word "binoculars").
Once trees begin to drop their leaves, birds have fewer places to hide and are easier to spot. Fall migrations also bring hawks and other raptors – birds that beginners can quickly identify. Early October in the mountains can also mean a cold front with a northwesterly wind, setting up ideal conditions for spotting migrators.
The reasons for trying our hand (and eyes!) at birding are numerous:
The camaraderie offered by a group helps newcomers armed with nothing more than inexpensive binoculars learn from experienced birders – who are always most willing to share tips.
Birding, like so many observational activities in nature, brings out our humanity – from seeing a swallow seeming to grieve the loss of a dead mate on the ground (or a wren feeding its young in spring) to supporting our need to preserve the natural environment.
The world of native plants opens up to bird watchers in ways not known to non-birders, who might be interested in the outdoors as an abstraction but haven't had the occasion or interest to cultivate specifics. Once, when two Audubon friends and I were on a morning bird-walk along the James River, we spotted what we thought was witch hazel; but when we checked plant IDs online, we learned it was spicebush, Lindera benzoin.
Birding enhances our travel experiences. Whether it's to a Virginia destination such as the Great Dismal Swamp (one of my favorite Virginia birding sites), or to more southerly destinations like Costa Rica and Belize, many birders are in search of 'life birds" – species positively identified and added to individuals' personal "life lists."
The season for birding and traveling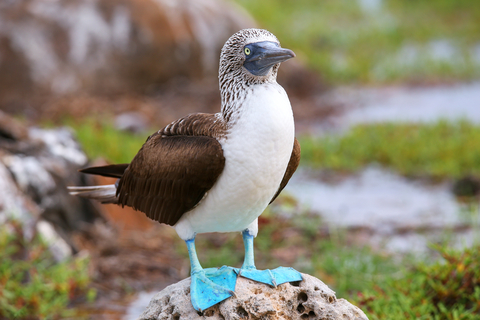 Traveling to the Galapagos a few years ago was a "life destination" for me for many reasons, not specifically for birding. Yet anyone who travels to these islands can't help but rank the sight of the albatross's labored lift-off – and the blue-footed boobies plodding among the rocks – as great life experiences.
In traveling to my daughter-in-law's native Poland, I felt equally fulfilled to see a field full of long-necked white storks preparing for their long overland migration to the Nile by opportunistically feeding on insects – and perhaps the tadpoles – along the bottomland of the Bug River where we were walking.
Also on the global topic, Virginia Audubon chapters support Important Bird Areas (IBAs), a global effort to identify and conserve areas vital to birds and other biodiversity by activating a broad network of landowners, public agencies, community groups and other nonprofits. Among many resources for those interested in birding are a variety of Web sites including Audubon.org and Birding.com.
---
Boomer editor Annie Tobey on traveling and migration birdwatching in Alabama's Gulf Shores 
---
Getting Started as a Birder in Virginia
Many people start by looking for guidebooks to their region such as the comprehensive online Virginia Bird and Wildlife Trail. The trail divides the state into Coastal, Piedmont and Mountain regions; within each region lie a couple hundred designated birding and wildlife viewing sites, organized into loops to assist in trip-planning.
You can learn about the habitat and wildlife of each trail site on the webpage devoted to it. The trail can serve as a map for newbies checking out what to see and where to go on daytrips – such as Crabtree Falls on the Thomas Jefferson Loop of the Mountain Region, the falls being a spectacular spot even if birds aren't your goal. You can refine your use of the VBWT as you become more experienced, such as looking for higher-elevation places for spotting warblers.
---
Click here to explore articles by Flyways and Byways columnist Jerry Uhlman in Boomer
---
A good pair of binoculars is crucial. Test a pair at home if possible before trying it out on a birding trip, as binocs can be difficult to keep steady and in focus: I can easily miss seeing an oriole because of my inability to adjust a lens. Fortunately, on my first birding trip, someone in the group had a spare pair for me to borrow.
Check out RichmondAudubon.org for the weekly schedule of bird walks and activities such as member program meetings (7 p.m. the third Thursday of each month, excluding December, June, July, and August, at St. Luke Lutheran Church, 7757 Chippenham Pkwy., Richmond, Va. 23225. Come early for coffee, cookies, and conversation).
A recent Wall Street Journal article on birding advised beginners not to worry about upgrading once basic equipment and accessories have been purchased. If you're unable to do the walking involved in birding, bring the birds to you through a bird-friendly yard that goes beyond birdhouses. Use water to entice them with a bird bath; and hang a clear seed stein (you can see how much seed remains) from a tree bough to encourage sparrow and finch activity. Check out apps for varied bird calls, but also reference a guide, such as AllAboutBirds.org, to identify those that frequent your location.
CAPTION FOR FEATURE IMAGE: Bird watchers at Harvey's Knob Overlook on the Blue Ridge Parkway watching hawks migrate down the Blue Ridge Mountains; Bedford County, Virginia, USA, on Sept. 20, 2020. Photo by Larry Metayer, Dreamstime.