Delicious Ideas for Enjoying Tomato Season
| July 19th, 2023
'How much do I love tomatoes? Let me count the ways.'
---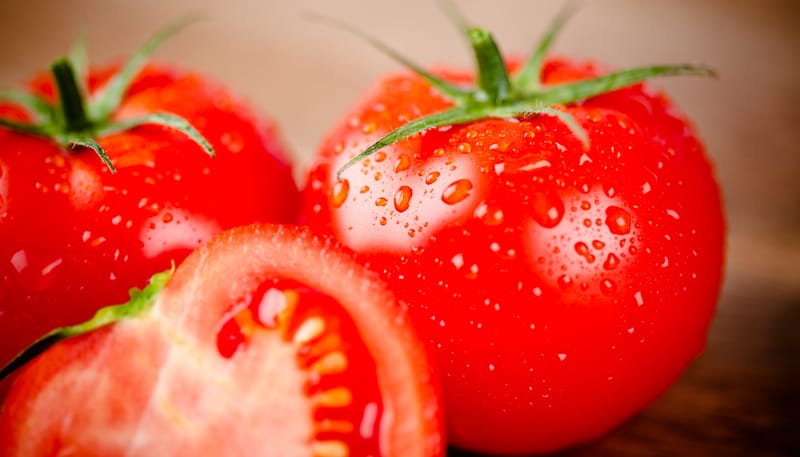 Chef and cookbook author JeanMarie Brownson offers delicious tomato season ideas, for preparations simple and more complex, from cherry and grape tomatoes to larger varieties.
---
Red, ripe homegrown tomatoes just may be the perfect summer food. I eat my fill of raw slices with a sprinkle of cracked pepper, a wedge of fresh mozzarella and a just-picked basil leaf.
Pair those summer tomatoes with fruity olive oil and you have a match made in heaven. Roasted together, the tomatoes' sweet, acidic, earthy flavor intensifies beautifully and gently flavors the oil with their goodness. Enjoy these meltingly soft nuggets warm, spread over a chunk of sourdough bread. Spread the oil over toast and layer the tomatoes between crisp bacon slices and lettuce for an intensely-flavored BLT sandwich.
Small tomatoes, such as multi-colored cherry or grape tomatoes, may peak before the larger tomatoes. Spread an assortment out on a rimmed baking sheet to roast quickly in a hot oven. The convection setting works wonders to concentrate flavors and promote browning. Add garlic or herbs as desired. Be sure to enjoy all the flavorful oil in the roasting pan.
Stockpile containers of the roasted tomatoes to add to pasta salads or to pile over grilled fish, eggplant or zucchini. Make a quick corn salad by mixing the warm tomatoes with fresh sweet corn kernels sliced off their cobs. Stir 1 or 2 cans (drained) white beans or chickpeas into the warm tomatoes for a simple meatless main dish.
Tomatoes for breakfast? All summer long in our house. Pile the warm tomatoes over a piece of toasted French bread or brioche and top with a poached or fried egg.
For an easy appetizer, spread a thick layer of labneh (thick Middle Eastern yogurt) or ricotta in the bottom of a serving dish. Top with the warm tomatoes and shower with chopped fresh chives. Serve as a luxurious spread for toast or crackers.
For a main course that just tastes of summer, toss the roasted tomatoes with angel hair pasta, tiny balls of fresh mozzarella and bacon-seared scallops.
Two tomato season ideas for recipes
Oven Roasted Cherry Tomatoes
Makes 3 cups
Ingredients:
1 1/2 to 2 pounds small ripe tomatoes, such as grape or cherry tomatoes
6 small peeled garlic cloves, optional
1/4 to 1/3 cup fruity olive oil
1/2 teaspoon each, dried: basil, oregano
1/4 teaspoon dried thyme, freshly ground black pepper
Coarse (kosher) salt to taste
Directions:
Heat oven to 375 degrees on convection or 400 degrees on conventional setting. Arrange tomatoes (or tomato halves) and garlic cloves on a large rimmed baking sheet.
Toss tomatoes and garlic with oil so they are evenly coated. Sprinkle with herbs, pepper and salt to taste.
Roast tomatoes, stirring two or three times, until tomatoes are soft and golden in spots, about 15 minutes. Serve warm or refrigerate covered up to several days.
Scallops with Bacon, Fresh Mozzarella and Oven-Roasted Tomato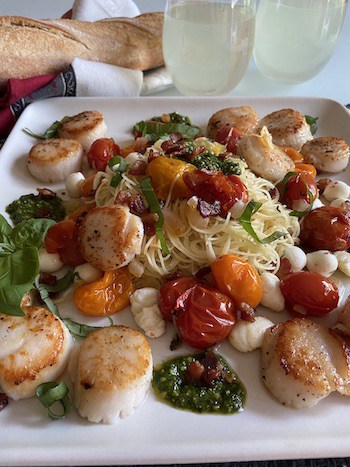 Makes 4 servings
Ingredients:
1 1/2 pounds small ripe tomatoes, such as multi-colored grape or cherry tomatoes
1/4 sweet onion, finely chopped
1 teaspoon chopped fresh oregano or 1/2 teaspoon dried
4 thick slices applewood smoked bacon, diced
2 tablespoons olive oil
Coarse (kosher) salt, freshly ground black pepper to taste
1 pound wild-caught sea scallops, 10 to 20 count per pound, patted dry
6 ounces dried angel hair pasta OR fresh spaghetti noodles
1/2 of an 8-ounce container fresh mozzarella pearls, drained (or 1/2 cup diced fresh mozzarella)
1/4 cup thinly sliced fresh basil leaves
1/4 cup refrigerated or homemade basil pesto
Directions:
Heat oven to 375 degrees on convection or 400 degrees conventional. Put tomatoes, onion and oregano onto a rimmed baking sheet.
While oven heats, cook diced bacon in oil in a large 12-inch nonstick skillet over medium heat until crisp and browned, about 10 minutes. Remove crisp bits with a slotted spoon to a plate and set aside. Do not clean skillet.
Spoon all but 1 tablespoon of the bacon drippings from the skillet over the tomatoes and stir to coat. (Reserve the skillet for Step 5). Sprinkle tomatoes with salt and pepper. Roast until onions and tomatoes are golden and cooked, 13 to 15 minutes. Keep warm.
Heat a large pot of salted water to a boil.
Meanwhile, heat the skillet with the remaining bacon fat over medium-high heat. Add scallops in a single, uncrowded layer. Sprinkle with salt and pepper. Sear scallops, without turning, over medium-high heat until golden, about 3 minutes. Flip and brown the second side, about 1 minute. Remove from heat.
Add pasta to the boiling water, stir well and cook until al dente, about 2 minutes. Drain well and return to the pan. Add the cooked tomato mixture and toss to mix.
Pile the pasta onto a large serving platter. Sprinkle with the cheese and basil. Arrange the scallops around the pasta. Dot the dish with the pesto. Scatter crisp bacon bits over all.
---
JeanMarie Brownson is a James Beard Award-winning author and the recipient of the IACP Cookbook Award for her latest cookbook, "Dinner at Home." JeanMarie, a chef and authority on home cooking, Mexican cooking and specialty food, is one of the founding partners of Frontera Foods. She co-authored three cookbooks with chef Rick Bayless, including "Mexico: One Plate at a Time." JeanMarie has enjoyed developing recipes and writing about food, travel, and dining for more than four decades.
© 2023 JeanMarie Brownson. Distributed by Tribune Content Agency, LLC.
Also from JeanMarie Brownson, this recipe for a satisfying meatless burger. Really!
Tomato Salad: Simple and Delightful
As an Amazon Associate, Boomer Magazine earns from qualifying purchases of linked books and other products.