The Tottering Teacup: No Need to Hold Out Your Pinkie
August 18th, 2017
---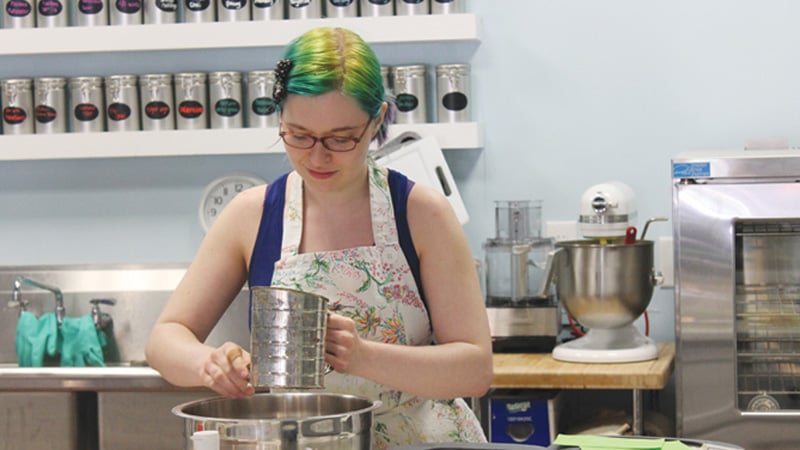 When you walk into The Tottering Teacup, it's hard to say what you'll notice first. Perhaps you'll notice the reading corner with a playable guitar. Perhaps you'll notice the chest of dress-up clothes. Perhaps you'll notice the enticing smell of fresh baked pastries.
But above all that, you'll notice the young, bubbly entrepreneur who got this whole endeavor off the ground.
Anatash Werne still has notebooks from when she was 5, expressing her dream of growing up to be a baker. In college, she was constantly hosting tea parties for her friends. So it came as no surprise when this ambitious entrepreneur picked up her life in Harrisonburg and moved to Richmond to follow a dream.
That dream now sits in the center of Carytown.
The Tottering Teacup opened its doors to the public in April 2017. It is, as you can guess, a tea-centered café, which offers 44 blends of tea.
In our coffee-driven society, so many tea varieties can seem overwhelming; but Werne has aimed to make her café as unintimidating as possible to the tea novice. She's even installed a magnetic board with a sample of every tea flavor, for customers to leisurely sample-smell each one.
Werne explains that she wanted to make the concept of tea and "tea time" approachable. She says that a majority of traditional tea rooms tend to be too formal and rigid – "You're almost afraid to breathe. But here you can [even] draw on the tables."
Aside from tea, the café sells bakery items, including pastries such as – and don't even tell me your mouth doesn't water – Earl Grey lavender shortbread, champagne pear cupcakes and lemon cardamom Bundt cakes, baked from scratch on premise. And of course, it wouldn't be a tea café without tiny sandwiches and petit fours.
But if tea isn't your cup of, well, tea, they also serve drip coffee from Rostov's.
Since The Tottering Teacup's spring opening, business has been steady. Though she's worked hard to get her business up and running, Werne readily admits that she couldn't have done it alone. If you look closely at the logo, you'll see three teacups, representing those who helped get her dream off the ground.
"Opening a bakery was my scheduled midlife crisis," the young woman says. "But I didn't want to wait that long."
---
3222 W. Cary St., Richmond