Turkey Picadillo with Ancho Chiles and Bell Peppers
| April 27th, 2022
A Latin American-inspired dish for Cinco de Mayo – or any day of the year
---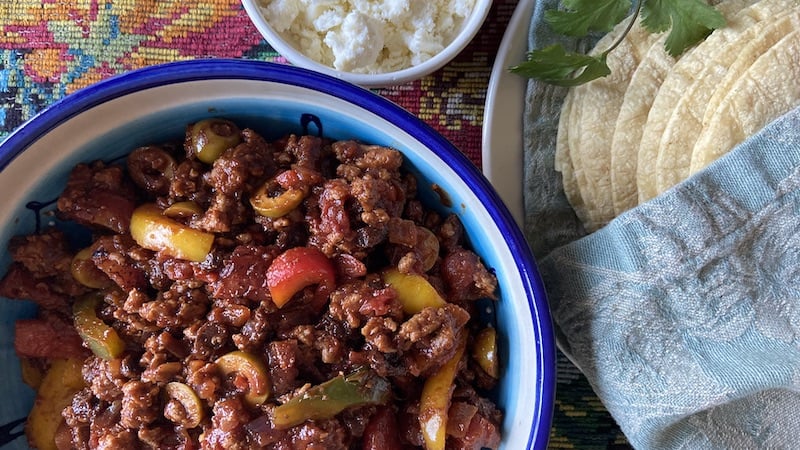 Turkey picadillo should be on your Cinco de Mayo menu, says cookbook author JeanMarie Brownson. She makes that easy with her recipe, using ground turkey, fire-roasted tomatoes, soul-warming spices, cheese, raisins, olives, and more. 
---
It takes plenty of seasoning to transform ground meat into craveable dishes. Throughout Latin American cooks add chiles, tomatoes and dried fruit to simple ground pork or beef to create picadillo – a rich chopped meat mixture used to stuff chiles, tacos, appetizers and more.
Dark, rich and mildly spicy, ancho chiles add loads of depth and personality to ground meat, even bland ground turkey. Bottled pureed ancho chiles or ground ancho powder make easy work for the cook. Alternatively, supple dried ancho chiles can be soaked in hot water and then pureed in a high-speed blender.
I like the addition of sweet of raisins and the tang of ketchup and green olives to balance the earthiness of the chiles. A little chipotle chile adds smoky notes and punch of heat.
Tuck the mixture into warm, supple corn tortillas with some crumbled fresh cheese on taco night. Or, roll it up in a large flour tortilla along with pureed beans, shredded lettuce and sharp cheese for a great burrito. Spoon warm turkey picadillo over hot brown rice, diced avocado and cilantro for a delicious rice bowl.
Turkey Picadillo with Ancho Chiles and Bell Peppers
Makes 4 servings
Tip: Recipe doubles easily when cooking for a crowd. If ancho puree or powder is unavailable, use chili powder and add cayenne or hot sauce to taste.
Ingredients:
1 pound ground turkey
1 small red onion, chopped
2 cloves garlic, finely chopped
1 can (15 ounces) diced fire-roasted tomatoes
1/4 cup ketchup
2 to 3 tablespoons tomato paste
1/4 cup homemade or bottled ancho chile puree (see note) or 2-3 tablespoons ancho chile powder
1 teaspoon pureed chipotle in adobo or 1/2 teaspoon chipotle chile powder
1 teaspoon ground cumin
1/2 teaspoon each: salt, oregano
1/4 teaspoon freshly ground black pepper
1 1/2 cups thinly sliced red, green or yellow bell pepper (or a combination)
1/3 cup each: dark raisins, thinly sliced green olives (with or without pimiento)
3 or 4 tablespoons chopped fresh cilantro
Queso fresco or feta cheese, crumbled
12 to 16 corn tortillas, warmed
Directions:
Put turkey and onion into a large (10- to 12-inch) nonstick skillet. Cook over medium-high heat, stirring often and breaking up clumps, until turkey turns opaque, about 10 minutes. Stir in garlic and cook 1 minute.
Stir in tomatoes (with their juices), ketchup, tomato paste, ancho, chipotle, cumin, salt, oregano and pepper. Mix well. Stir in bell peppers, raisins and olives. Simmer until peppers are crisp-tender, 5 to 10 minutes.
Serve turkey picadillo garnished with cilantro. Pass crumbled cheese and tortillas for making tacos.
Recipe notes:
Ancho chile puree: Tear open 3 or 4 dried ancho chiles and discard seeds and stems. Put chiles into a bowl and add very hot water to cover. Put a plate inside the bowl to keep the chiles submerged. Soak until chiles soften, about 20 minutes. Drain off water. Puree chiles in a high-speed blender, adding fresh water as needed, to make a smooth puree with the consistency of thin ketchup. Season with 1/2 teaspoon salt and refrigerate covered up to two weeks.
To warm corn tortillas, wrap them in a damp paper towel. Then wrap well in a clean cloth towel. Microwave on high (100% power) until the package feels steamy hot, 45 to 60 seconds. Let stand, wrapped (tucked into a tortilla basket if you have one), for a few minutes.
---
JeanMarie Brownson is a James Beard Award-winning author and the recipient of the IACP Cookbook Award for her latest cookbook, "Dinner at Home." JeanMarie, a chef and authority on home cooking, Mexican cooking and specialty food, is one of the founding partners of Frontera Foods. She co-authored three cookbooks with chef Rick Bayless, including "Mexico: One Plate at a Time." JeanMarie has enjoyed developing recipes and writing about food, travel, and dining for more than four decades.
© 2022 JeanMarie Brownson. Distributed by Tribune Content Agency, LLC.
Also from JeanMarie Brownson, this recipe for a satisfying meatless burger. Really!
And … Apricot Lemon Cheesecake Bars