Savannah Guthrie, Hoda Kotb to Anchor Streaming 'Today' Highlights Show
| June 7th, 2021
A new half-hour "highlights" recap and other expansion outlets
---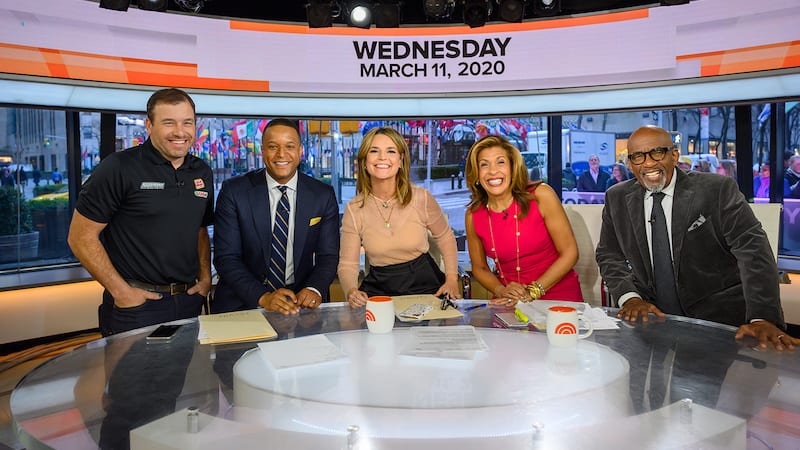 Savannah Guthrie and Hoda Kotb are, for many, a morning habit. NBC hopes the "Today" pair will soon become an afternoon or evening one for a different kind of viewer.
Starting June 8, the duo will take the network's nearly seven-decade-old "Today" show into new territory. The pair will add to their on-screen duties by anchoring a half-hour "highlights" recap meant to bring the most recent "Today" news to streaming audiences. Each weekday, Kotb and Guthrie will at 1 p.m. (and in repeats at 7 p.m. and 9 p.m.) co-anchor "Today in 30," a show that aims to give viewers of the network's "Today All Day" streaming outlet and YouTube a summary of the best interviews and tips presented earlier that morning throughout all four hours of the "Today" linear broadcasts. Those who tune in will also get a few peeks behind the scenes of the show that morning viewers will not.
Behind the TV programming changes at NBC Today show
"We offer four hours of live TV that not every busy human being can see," says Libby Leist, an NBC News senior vice president who oversees all things "Today," in an interview. "We feel like this next-generation 'Today' show audience wants to go watch this content in a streaming service."
In doing so, the network is bending some of economics of TV. It's no secret that the nation's three big morning-news programs have been losing viewers in recent years. NBC, no doubt, hopes a boost in "Today" content aimed at streamers – a new cooking show from Al Roker and a shopping program led by contributor Jill Martin are also on the way, along with content from Vicky Nguyen and Stephanie Ruhle – will garner audiences for "Today" who might not have previously thought they could keep up with the show, or felt compelled to watch it in traditional fashion.
---
Think you know famous movie settings? Take our trivia quiz challenge …
---
In some ways, NBC News, which oversees "Today," is following general programing trends that seek to turn revered TV programs into multi-hour events. On Saturday nights, for example, NBC airs a "vintage" episode of "Saturday Night Live" in primetime that serves to whet viewers' appetites for the main event at 11:30 p.m. And the cable network AMC has thrived on presenting "after shows" for "The Walking Dead" that have stars from the show hash over the series' latest developments.
"Today" may even be borrowing a page from ESPN, offering a "SportsCenter" of sorts for its own content.
This task is harder for news organizations than it is for counterparts who produce comedies and dramas. Live, driven-by-the-headlines content has an almost-immediate expiration date. And yet, the news outlets are obliged to provide it first through their network's TV-station affiliates or cable and satellite distributors.
Parsing the future
In recent months, some media companies have looked beyond those outlets. Fox News Channel last week said it would make available its popular primetime shows from Tucker Carlson, Sean Hannity, and Laura Ingraham via its Fox Nation streaming service the morning after the programs aired on its mainstay cable outlet. Most TV-news organizations already post clips from live shows on social media within minutes of the live TV airing. The trick is often found in coming up with content that gives fans more content related to the news shows, rather than cannibalizing programming that is already drawing eyeballs and revenue.
"All of these networks are being pulled in two different directions at once. They are interested in preserving their linear, exclusive, premium windows, but they also need to serve a gigantically growing audience that is eschewing that live, linear viewing for streaming on demand," says Tim Hanlon, CEO of The Vertere Group, a consultancy that works with media companies and marketers. "You have to ask yourself whether those two dynamics are difficult to juggle or harmonize."

The networks have new reasons to consider expansion. Advertisers are eager to snatch up inventory in ad-supported streaming outlets. What's more, a few entrepreneurial media companies have already started to seed their content in those new frontiers. ViacomCBS and AMC Networks have created bespoke streaming channels for smart TVs, for example, that feature a run of content from a cable outlet like IFC or even marathons of series like MTV's "The Real World." Hanlon, the consultant, likens the "Today" streaming effort to one of these, and suggests that viewers will see similar forays in months to come. "Call them gateways, call them samplers, call them barker channels. These are on-ramps, if you will, to the more premium, linear, first-run, exclusive" content that is offered first on broadcast or cable.
NBC has made a significant effort to bring "Today" into tomorrow. In July of last year, the company launched "Today All Day," a round-the-clock video feed of "Today" clips (much of it from the show's voluminous archives) that it hoped to make available on both its own venues and those of others. Executives think "Today" can provide an answer to Madison Avenue's increasing demand for streaming content that is safe for big brands, says Leist. "Because of the trust in the 'Today' brand, an extension into a streaming platform is very appealing," she says.
The show means too much to NBC to not try to extend it into new venues. "Today" generated $357.6 million in advertising in 2020, according to Kantar – a hike of 11.5% from the $320.6 million it secured in 2018. But the program's key viewers have been drifting away: Season to date as of May 16, the average audience for NBC's "Today" between the ages of 25 and 54 is off 20% to around 1.03 million, according to Nielsen. The show's two main rivals, ABC's "Good Morning America" and CBS' "CBS This Morning," face similar trends, and "Today" has maintained its lead in that viewership category, the one that is most desired by advertisers in news programs.
Expectations
Expect more original "Today" programming for the stream. In addition to Roker's food program, which is yet untitled, NBC News will launch two other food segments. "Saucy" is led by Anthony Contrino, who will focus on Italian cuisine, while "#Cooking," featuring food blogger Samah Dada, examines plant-based meals, snacks, and desserts. Martin's shopping program will appear monthly. Gwyneth Paltrow is slated to appear in an early episode.
"Today" has expanded to satellite radio, book clubs, and streaming video, but Leist believes there's room for more as TV's traditional audience continues to spread. "I'm working on other content that is living beyond the broadcast," she says.
© 2021 Variety Media, LLC, a subsidiary of Penske Business Media; Distributed by Tribune Content Agency, LLC