TV Series Tackling Racial Issues
| June 21st, 2021
'This Is Us,' 'Small Axe,' and other shows address overt racism and internal bias
---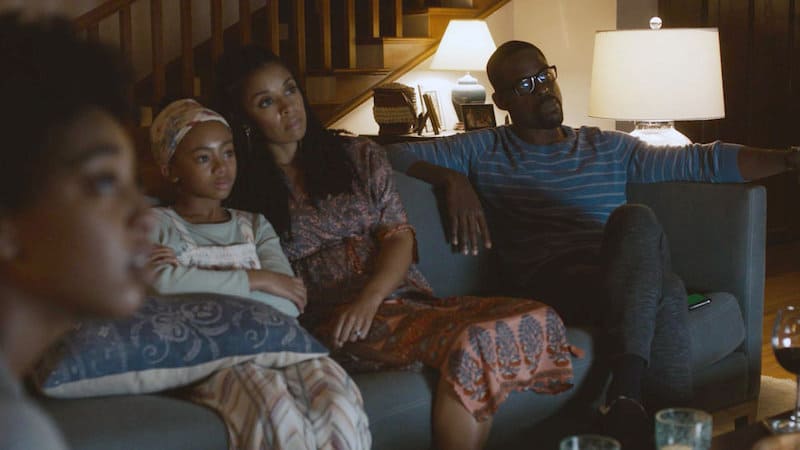 Explore behind the scene with writers, producers, and others at TV series tackling racial issues such as racism and internal bias: 'This Is Us,' 'Small Axe,' 'Kung Fu,' 'Zoey's Extraordinary Playlist,' and 'Black-ish.'
---
Television producers have long used their medium as a tool to push progressive thinking on such nuanced topics as interracial dating, queer acceptance, and abortion into everyday American households. But what about storytelling that makes these creators and their supporters point the finger inward at their own shortcomings and failures to act?
This year, as a result of increased publicity for Black Lives Matter and other similar movements, several Emmy contenders have had honest conversations about race in their writers' rooms and on screen. These depictions include the obvious outward kind, as well as the internal biases that live within us all.
'Kung Fu' embraces Asian-American issues
Christina M. Kim, co-showrunner for the CW's martial-arts drama "Kung Fu," says her program had an added layer of need to cover the matter because "our show is about a Chinese American family and a lot of it takes place within the Chinese-American community."
As co-showrunner Robert Berens reminds, last year also saw "a president in office who was stirring up anti-Asian sentiment around COVID – and very specifically anti-Chinese sentiment."
"Kung Fu's" fifth episode, "Sanctuary," which is written by A.C. Allen, discusses police brutality, racial profiling, attacks on immigrants and the struggle between generations over whether it's worth risking your own safety to speak out or if it's your duty to do so. This may seem timely given headline-grabbing news stories, including March's shooting deaths of eight people, six of them women of Asian descent, at an Atlanta-area spa. But these types of events have been happening for years and many, knowingly or not, are culpable.
'Zoey's Extraordinary Playlist' highlights racial empathy
As the world watched a real-time reckoning for the inherent misogyny and racism in the tech industry, they could also see fictional depictions of it on the NBC musical comedy "Zoey's Extraordinary Playlist" and Freeform's 20-something-skewing drama "Good Trouble," which also addressed BLM activism.
"A lot of these employees have felt this way for years," says Zora Bikangaga, story editor on "Zoey's." "And it's intersectional. It's not just anti-Black racism. It's across the board."
Since the premise of "Zoey's" is that Jane Levy's titular lead learns "empathy by hearing people's musical numbers," he says, "we just felt that there was a giant opportunity for her to learn empathy by hearing the struggles of her Black friends or Black colleagues and see her blind spots in the process."

In "Zoey's Extraordinary Reckoning," an episode Bikangaga wrote, she begins to understand the problems in her workplace – not just for her friend Simon (John Clarence Stewart), a Black man tasked with hiding the company's lack of diversity, but also for Kapil Talwalkar's Tobin, a first-generation Indian American. Tobin has learned that shrugging off commentary about his heritage is a lot easier than calling others out for it. The episode culminates with Stewart performing Michael Kiwanuka's "Black Man in a White World" as he takes his employers to task during a press conference.
'This Is Us' amplifies an imbedded theme
Still other series made these topics part of a conversation their characters were already having. The fifth season premiere of NBC's family drama "This Is Us" sees the mostly white members of the series' central, extended family reeling from actual news stories of police brutality against Black people and eagerly looking for ways to help, while the Black family members are experiencing states of trauma and fear.
"Whether it's subtly or overtly, we've never been shy about the fact that our story is largely about a very lovely white family in Pittsburgh in the 1980s who have a Black son. And so, it's one of those things where it would be quite shocking and disturbing if that was not very obviously addressed," says Kay Oyegun, "This Is Us" co-executive producer. She wrote the two-part season premiere, entitled "Forty," with Jake Schnesel and creator Dan Fogelman.
The footage of George Floyd's Gutter Credit May 2020 killing was something that "forced, in a lot of ways, real introspective conversations across the racial line," she says.
In the first part of the "This Is Us" season premiere, Sterling K. Brown's Randall reminds his well-meaning sister, Kate (Chrissy Metz), that "this isn't the first Black person to be killed on camera" and that "we grew up in the same house. Things like this have been happening to Black people for years and we've never talked about it."
'Black-ish' as a TV series tackling racial issues
ABC's "Black-ish" has long-filtered the concept of white liberal guilt through the prism of comedy. In its seventh season's "What About Gary?", written by story editor Edgar Momplaisir, Rob Huebel guest stars as a cousin of Tracee Ellis Ross' Rainbow. Gary is a favorite of her husband, Dre (Anthony Anderson), but recent events have made Gary question his own prejudices and he asks Dre to show him how to be an ally. Conversations range from knowing how to differentiate among celebrities named "Regina" to the societal impact of putting white kids in private school.
Momplaisir says the idea came about after "every single Black person in the writers' room had an experience where a white person texted them and was just like, 'Give me the lowdown on what's happening.'
"It's funny that you have people texting a single person, and being like, 'Hey, can you give me everything about your entire people, your entire race?' and expecting that person to be a spirit guide, or an encyclopedia, or [reflect] an experience of millions of people." Ironically, writing an episode such as this mirrored what so many people of color were already feeling. "We almost felt like we had a responsibility to address it," Momplaisir says.
But, he admits, "That responsibility is exhausting. That need to say something gets old after a while."
Steve McQueen's 'Small Axe'
And yet, these stories can serve as time capsules for different points in history – exactly what Steve McQueen did when creating and helming the five-part anthology "Small Axe" for Amazon Prime Video. Each installment looks at the lives and pressures put upon various West Indian immigrants living in London during the latter half of the previous century. Unfortunately, the films make it abundantly clear how little has changed.
The "Mangrove" installment, which he co-wrote with Alastair Siddons, is about the arrest and trial of Black activists, the Mangrove Nine. This was an influential court case in England that became London's first judicial acknowledgement of racially motivated attacks from its police. "Red, White, and Blue," written by McQueen and Courttia Newland, follows London Metropolitan Police officer Leroy Logan (John Boyega), who attempted to reform the organization from the inside after his father was beaten by officers. "Lover's Rock," also co-written with Newland, isn't about any specific historical event, but rather about a couple that meets at a house party. The writer-director says he wanted a story that was "just about love, and romance, and music, and all the things as we all know as young people."
McQueen says these stories resonate despite oceanic divides because "local is global" and that "it's about humanity and it's about how you tell a story."
"I think, as a human being, everyone can relate to each other's stories," he says. "Sometimes, pivotal moments in our lives actually touch all of our lives, or there's an understanding of what those stories are."
And, through television, versions of some of these stories have now been documented for posterity.
© 2021 Variety Media, LLC, a subsidiary of Penske Business Media; Distributed by Tribune Content Agency, LLC