ABC Comedy 'Black-ish' Takes on Real-Life Topics
| May 31st, 2021
But it always leaves viewers laughing
---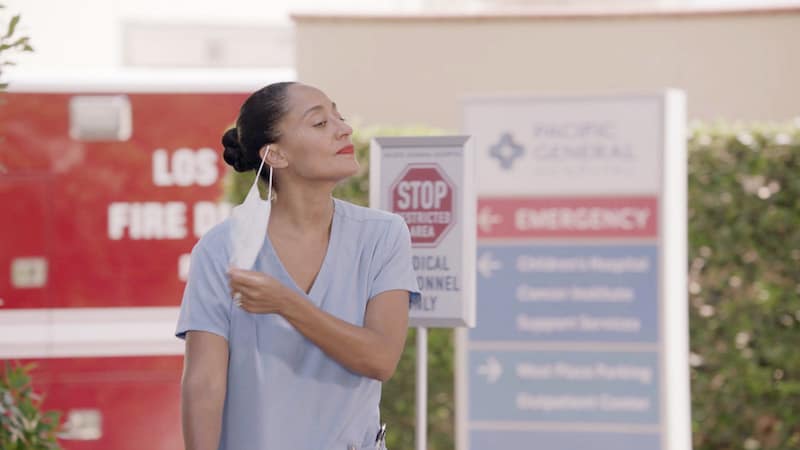 Now in its 7th (and next-to-last) season, ABC Comedy 'Black-ish' tackles topics with laughter – real-life topics, presented in a manner both relatable and approachable.
---
With award-winners Anthony Anderson and Tracee Ellis Ross playing husband and wife Andre "Dre" Johnson and Rainbow Sojourner "Bow" Johnson, and with an all-star cast playing their extended family, "Black-ish" stays ahead of the curve, using humor to carve out a safe space to tackle thought-provoking topics.
In Season 7, the Johnson family faced unexpected challenges that mirrored life off-screen – and so did the show itself. The pandemic added some friction to the production, but executive producer Courtney Lilly says he's "extremely proud" of the work that the "Black-ish" team was able to accomplish.
'Living their Black out loud'
By telling stories through the lens of a family living in Los Angeles, the ABC series bravely reflects current events, portraying the sometimes-painful conversations that emerged in response to both COVID-19 and the protests and outrage that swept America in 2020.
"I think it's just a reflection of how life is, as tough as this last year has been," says Lilly. "It wasn't like people weren't laughing – we really reflect the way families try to interact." He says that's how the "Black-ish" writers broach sensitive topics; they ask: How would a family – any kind of family – tackle them?
As the show is named "Black-ish," its writers made a conscious choice from the series' inception to lean into conversations about race, starting with creator Kenya Barris. "The DNA of the show was that this wasn't a family that happened to be Black, this was a family that was living their Black out loud," says Lilly. "That's the defining characteristic of how they view the world."
While the world grappled with the coronavirus, racial justice protests were also escalating. That forced many already stuck at home to have uncomfortable discussions about race in America. The Johnsons were no different. In a Season 7 episode, current events force Gary (Rob Huebel), Bow's white cousin, to come to terms with the fact that he hasn't been the greatest ally to his Black family members.
Real-life events helped inspire the writers to create that episode.
---
Kehinde Wiley statue comes to Richmond
'The Dirty South' at the Virginia Museum of Fine Arts
---
"I remember getting text messages from my white friends checking in on me, and it was not something I asked for," says Lilly. "It was like, 'Hey, we just wanna make sure you're alright.'"
'Black-ish' tackles topics with laughter – and different perspectives
By putting a relatable family at the center and keeping the laugh lines coming, the series is able to take on serious topics. Case in point: breaking the glass ceiling. Bow got a promotion to a position that no Black woman held before her.
But "Black-ish" isn't "ripped from the headlines." Sometimes the Johnsons are dealing with the everyday surprises any family might face, like when Junior (Marcus Scribner) moves out of his family home to live in a small apartment with his girlfriend, or when Jack (Miles Brown) tries to be vegan. There's even a poignant episode where Dre realizes he's lost touch with his roots and volunteers in his hometown of Compton.
The key to the show's success in approaching any given subject is that there are many characters having many conversations and voicing opinions from many perspectives. With three generations of the family all under the same roof, each speaks from their own background, experience and attitude. That could become tense, but that's where the comedy comes in, Lilly says; laughter lightens things up. Plus, he notes, it makes for better TV.
"We're never going to sit there and say, 'This is how Black people feel,' because it's not," he explains. "We have different characters, so we've got this entire kind of diaspora of Black opinions from which to grab from.
"We try not to do anything that is like, 'This is all good' or 'This is all bad' or 'Here's what's right and here's what's wrong.' That's a boring story – you're preaching. People know what's right and wrong for the most part anyway. They certainly don't need to be told it and it's certainly not usually entertaining."
A rich, complex, and honest approach
By embedding real feelings into the various roles, Lilly says the "Black-ish" team creates a layered approach to some divisive subjects.
"That's why I think Anthony does such a great job," he says. "He's dealing with flawed characters, our own hypocrisy within our communities, the way we want certain things and then get to decide we don't want them anymore. … It's like, what are the ironies that are still going on? How are we identifying with what individuals are actually feeling and going through?"
Lilly admits that juggling these real-world events and retelling difficult cultural experiences is hard on his writers and himself, but he persists, driven by a sense of duty. He says there's a need to continue these conversations that move the needle of tolerance and acceptance.
"We've been able to, through our incredible writers room and our process, to kind of help process the times through these characters," Lilly says. "So that keeps it fresh for us because it's always a point of view, it's not the point of view."
As for what's to come in Season 8, Lilly is staying tight-lipped for now, saying he hasn't yet begun to focus on the future since the world has started to slowly reopen. He is choosing to stay in the present as he reunites with his own family now that he's closed the chapter on the latest installments of "Black-ish."
However, Lilly adds, the show's goal has never changed: Make people laugh.
© 2021 Variety Media, LLC, a subsidiary of Penske Business Media; Distributed by Tribune Content Agency, LLC
PHOTO ABOVE: Tracee Ellis Ross as Dr. Bow Johnson, now a frontline worker in the COVID-19 pandemic, in ABC's "black-ish." CREDIT: ABC.