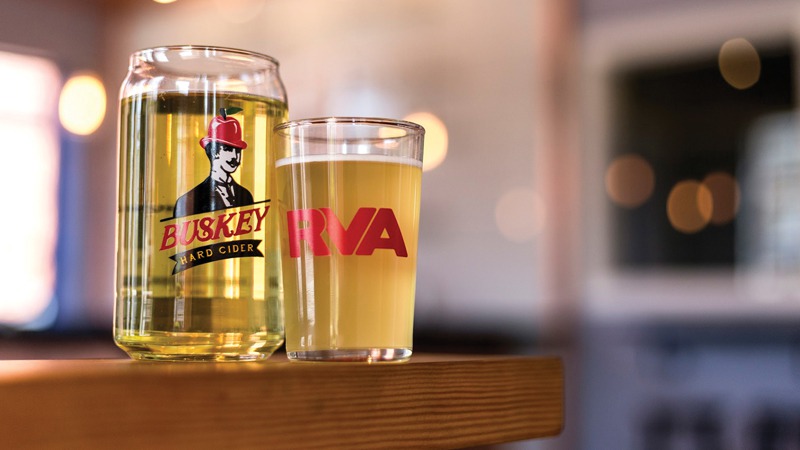 Virginia Ciders: How 'Bout Them Apples?
| October 13th, 2016
Virginia cideries honor heritage while embracing modernity
---
The multiple personalities of Virginia ciders come as no surprise. As producers of the commonwealth's early alcoholic beverage, cider makers have much history to celebrate, while as participants in the contemporary culinary and local craft movements, they draw inspiration from novelty and innovation.
Virginia provides a natural home for craft cideries, with climate and geography that support healthy orchards. As a major apple-producing state, we rank sixth in the country in apple production. Some of our cideries grow their own apples, beginning with existing orchards and/or planting new trees, while others have apples or juice shipped to their facilities.
If early experiences with hard cider left a bad taste in your mouth, consider that contemporary craft ciders come in a range of styles to suit almost every palate.
As wine is the fermented juice of grapes, hard cider is the fermented juice of apples. The apples are "pressed," squeezing out the juice. The cidermaker adds yeast, which consumes the natural sugars, creating carbon dioxide (the bubbles) and ethanol (the alcohol). After the yeast has finished its task (about two to four weeks), the hard cider may continue to mature or be ready to imbibe.
Like wines vary depending upon the grapes used, where they're grown and the vintage, so do ciders, which are made from a range of apple varieties.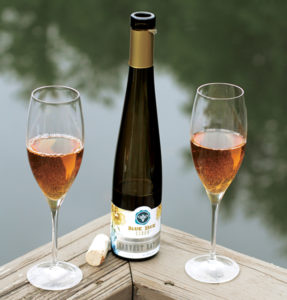 For example, explains Richmond's Blue Bee Cider cidermaker Manuel Garcia, Goldrush apples have a higher sugar content, so the cider ends up sweeter. Its acidity and low tannin level give it a light, tropical, fruity potential. Winesap, on the other hand, is lower in sugar and acidity and higher in tannins, resulting in a dry, earthy minerality. Unfermented Winesap juice, he adds, is almost unpalatable, but once it ferments, it "blossoms into something unique."
Though some ciders are made with a single variety of apple, more often the cidermaker blends a variety of juices to create a target taste – like whiskey makers blend barrels. Because apples vary from year to year due to vagaries of the growing season, says Garcia, the blend may vary, too: a cidermaker is trying to achieve a taste, not a strict recipe.
Yeast also affects the end product. Does the yeast itself add flavor to the juice? Subtle champagne yeast allows the apple essence to shine, while Belgian ale yeast lends its own fruity flavors. Does the yeast consume all of the sugar, creating a product that's very dry (i.e., not sweet) or does it give up early, maintaining residual sweetness?
Many of today's cidermakers play with natural flavor additions, too, tastes that complement the apples – but more on that below.
Bottom line: this naturally gluten-free alcoholic beverage can range from sweet to dry, still to sparkling, reflecting the apples and any other ingredients that have been part of its production.
From Southwest to Northern Virginia and between – including four in the Richmond area – several dozen diverse Virginia cideries reflect attention to heritage and to innovation.
THE APPLE'S FAMILY TREE
Cider played an important role in early Virginia, made from nearby fruit trees and often safer to drink than the water. Besides shutting down alcohol-making businesses, Prohibition destroyed many sources of natural ingredients. When vineyards could sell sweet grapes for straight grape juice only, wine grape vines were destroyed. When orchards could sell only popular eating apples, thousands of varieties of cider-making apple trees were cut down.
"There have been thousands of different apple varieties recorded, but most people only know a handful of grocery store varieties," explains Hannah Rennard-Ganley of Arbor Day Farm in Nebraska, which grows about 70 varieties of apples. "Many of those other varieties have lost popularity because they are oddly shaped, too delicate for mass production or don't store well."
Post-Prohibition hard ciders were typically mass-produced and cloyingly sweet. With the rise of the artisan movement, the drink is becoming more refined, often using early apple varieties.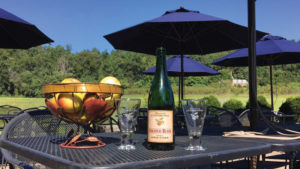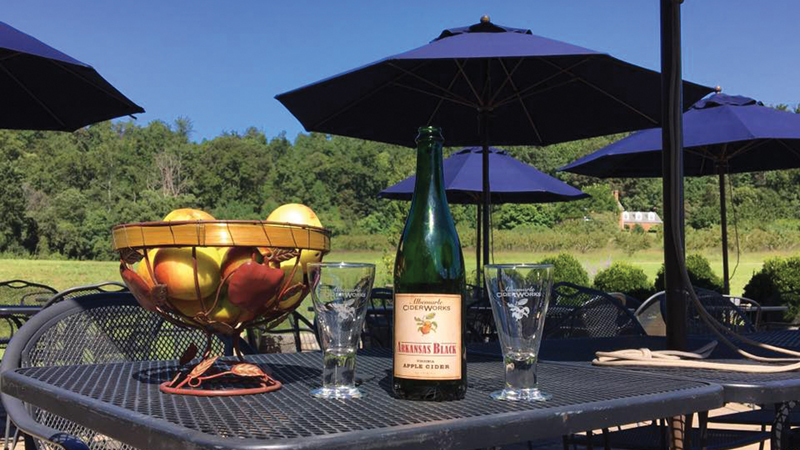 One of Virginia's pioneering craft cideries, Albemarle CiderWorks, was inspired early on by Tom Burford, a Virginia orchardist and author of Apples of North America: 192 Exceptional Varieties for Gardeners, Growers, and Cooks. The family-owned business now grows over 200 varieties of apples, creates Virginia ciders made from its orchards and educates the public on home orchard planning and care.
Blue Bee Cider in Richmond embraces heritage, too. Founder Courtney Mailey apprenticed with Albemarle CiderWorks as she prepared to open her own cidery. Historic cider apples used at Blue Bee include Hewe's Crab (a Southern U.S. favorite of both George Washington and Thomas Jefferson) and Harrison, popular in Northern states.
In honor of apple history, Blue Bee brewed two Virginia ciders for the History on Tap event, hosted Virginia Historical Society (now the Virginia Museum of History and Culture). The Compleat Cyder was created from Pippin apples and raisins using a recipe from The Compleat Housewife, printed in Williamsburg in 1742. Hewe's Crab cider was released at a prescreening of the season three opener of TURN: Washington's Spies, the Revolutionary War-era drama.
Courthouse Creek Cider in Goochland takes its product back to its roots. "We are following a rustic approach to cider making," explains co-owner Eric Cioffi, "following a natural method of fermentation, similar to the natural wine method that many vintners are adopting." This means minimal intervention; minimal or no sulfiting; fermenting and aging in barrels; and using wild yeasts (as well as some cultivated yeasts). "We don't filter our ciders, and at the moment we bottle condition everything. Cider, like wine, is a living thing."
Courthouse Creek orchards include heritage apples for its Virginia ciders, too.
CRAFTING A DIFFERENCE
Blue Bee also values innovation. Besides being Virginia's first urban cidery (operating in a city using apples grown elsewhere), it was first to introduce several cider variations to Virginia.
Blue Bee Hopsap Shandy has been infused with hops, a familiar taste to beer fans. Firecracker begins as a fermented cider, is distilled into apple brandy at Catoctin Creek Distillery in Loudoun County and then infused with ginger from Powhatan's Casselmonte Farms. Millrace Bramble is braced with raspberries and blackberries.
Buskey Cider in Richmond's Scott's Addition – another urban cidery – regularly serves ciders run through randalls. Familiar to craft beer followers, these containers are filled with fruits, herbs and other ingredients to contribute complementary flavors. Buskey's infusions have included jalapeno-lime, watermelon-rosemary and grapefruit-lemongrass.
Buskey has played with cider on a nitro tap, adding a fluffy head and creamier mouthfeel. Like Blue Bee, Buskey uses hops to add complexity, as in its popular Citra-hopped cider.
Courthouse Creek's Honest Farmer, a blend of seven apples, has been aged on the lees (as with wine, the yeast and settlement that settles during fermentation) in red wine and rum barrels. Bella Vita was infused with ginger and raspberries. And The Emperor adds a "slight kiss of persimmon" and essences from red wine barrel aging.
In 2019, Bryant's Cider opened in the Jackson Ward neighborhood of Richmond. Bryant's primary location is in Nelson County. For a genuine Virginia cider, Bryant's Cider sources apples from the 45-acre orchard on its 386-acre, family-owned Nelson County farm.
Owner and cider maker Jerry Thornton focuses on using traditional, authentic ciders using heritage production methods, without additives – including no added sugars. The cidery also works to create a variety of flavor profiles in order to appeal to a variety of taste preferences.
Based in Nelson County, Bold Rock Hard Cider has crushed the wide-distribution, popular-appeal business model, distributing six-packs of basic ciders plus peach and watermelon seasonals. In just four years, Bold Rock has become the nation's largest independently owned cider company.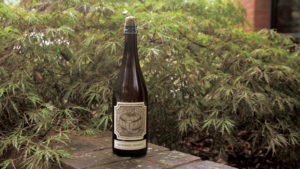 In Free Union, Potter's Craft Cider excels in creativity. Besides its basic Farmhouse Dry, it produces Mangose, a Gose-inspired cider fermented with mangoes, coriander and sea salt; Oak Barrel Reserve, aged in local apple brandy barrels; and Peaches & Brett with Brettanomyces.
Celebrate the Commonwealth's heritage and innovative spirit with a glass of Virginia craft cider. It's a perfect pairing!
Visit here for cider and food pairings and a cocktail recipe.
UPDATED AUG. 8, 2022, including the addition of Bryant's Cider