Virginia Distillery Co: Courage & Conviction Whiskey
| May 6th, 2020
Making this pandemic go down just a little smoother
---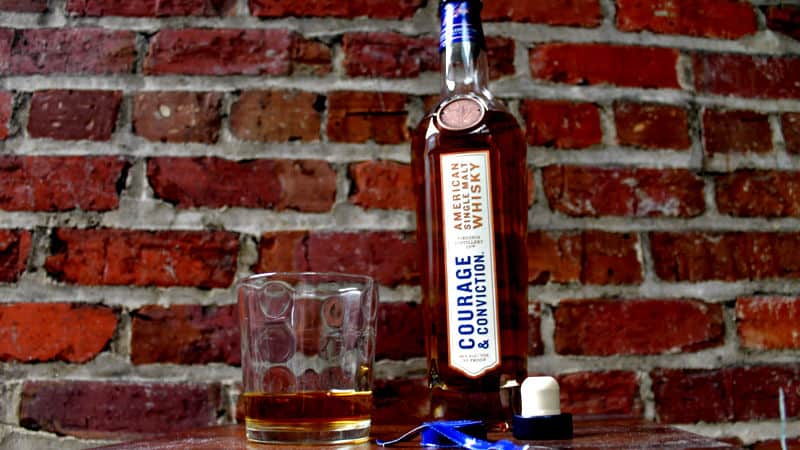 In a time where bars are temporarily shut down and a good cocktail is hard to come by, the Virginia Distillery Co. has come to the rescue.
Since opening in 2011, Virginia Distillery has had the community's best interests at heart – sharing with us bottles of some of the finest award-winning craft whiskeys in the state, for our own palatable pleasure.
And their newest product release is no exception; a game-changer here to turn the "stay home" order from a necessity … to a treat.
"HAVE THE COURAGE OF YOUR CONVICTIONS"
The distillery has just rolled out their flagship American single malt, a 100% malted barley whiskey alluringly named "Courage & Conviction." The product is aged for a minimum of three years and matured in bourbon (50%), sherry (25%), and cuvée (25%) casks.
The meticulous and carefully curated aging process leads to a whiskey that hums notes of caramel, butterscotch, vanilla, and red fruits; though spicy at the top, it goes down delightfully and dangerously smoothly.
In September 2019, the prequel to Courage & Conviction was introduced: Courage & Conviction Prelude. A secret whisper to its main attraction, Prelude's taste consists of spicy dried fruits and vanilla. It's been aged one summer season less than its flagship counterpart and boasts a different yet just-as-enticing kind of experience.
The name of the flagship whiskey comes from founder Dr. George C. Moore, who always encouraged others to "Have the courage of your convictions."
So convenient for those of us whose convictions include remarkably smooth spirits.
PERFECT FOR ANY KIND OF WHISKEY DRINKER
Whether you're a whiskey connoisseur or just know a good sip when you see one, Courage & Conviction is approachable and versatile enough to appeal to a range of whiskey palates.
If your back porch is always calling your name
Mix this into your favorite whiskey cocktail, grab a seat outside (I'd recommend a hammock), and let the Courage & Conviction guide you into springtime bliss. I'm picturing mint juleps in this scenario, but this whiskey gets along swimmingly with any mixer of choice.
If you measure your whiskey in fingers
Pour a couple fingers worth in your finest rocks glass, light up a cigar, and sit back in your favorite leather chair next to that invitingly toasty fireplace.
If you're a "shared experience" kind of person
Sling out a round of Manhattans for your favorite whiskey lovers. Enjoy an evening of courage, conviction, and good (socially distant) company.
Or if you prefer to sip solo
Wash the day away with no distractions … except the soothing feeling of stress dissipation.
---
Want to enhance your cocktail game even further? Check out the Virginia Distillery Co.'s new cocktail kits: craft cocktail supplies delivered to your door, complete with whiskey, correlating ingredients, and recipe card.
Warning: your virtual happy hour companions will get jealous.