The Best Virginia Comfort Food Recipes for Home Cooks
| December 8th, 2020
Delicious and iconic dishes, with links to recipes for re-creating these classics
---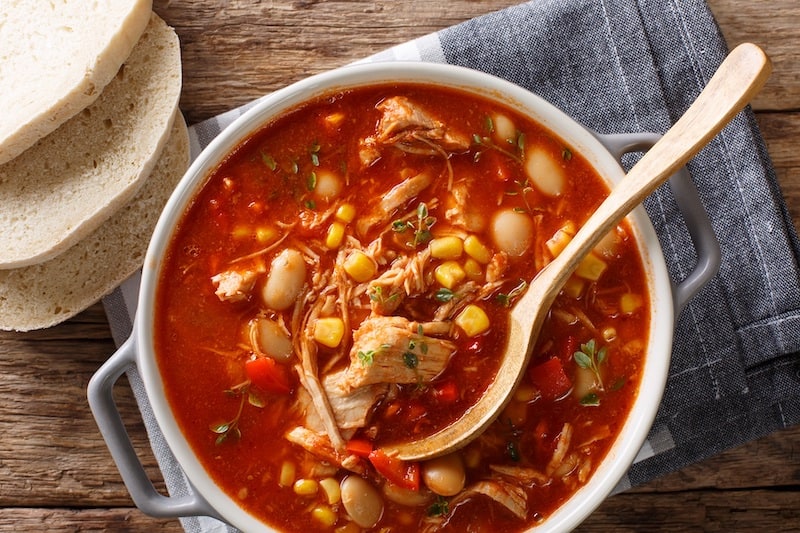 By the 19th century in Virginia, colonists had evolved cooking methods unique to the region with influences from its combination of local Indians and Africans. In fact, even the English traditions of the colonists themselves play a prominent role in the culinary landscape.
Oysters and blue crabs from the coastal regions, as well as wild game and cured meats, were high on the list of culinary cuisine, along with corn, beans, and squash. Pickles and preserves were pantry staples, and root cellars were loaded in the fall with fresh local apples.
Many foods became iconic Virginia traditions such as world-renowned Baked Virginia Ham, and Brunswick Stew. These delicious dishes are still on tables today from some of Virginia's best home cooks.
Let's get started!
Home-Baked Virginia Ham
Country ham baked at home is a long-held Virginia tradition taking pride of place on family tables on Sunday afternoons. One of the best home-baked ham recipes begins with a fresh-cured country ham simmered for hours and then studded with whole cloves.
Orange juice and brown sugar poured over the ham before baking became a delicious glaze. It's often served with a delicious wine sauce made with port wine and apple jelly and spiced with ginger.
This traditional Virginia Ham looks as delicious as it tastes and makes a memorable holiday meal.
Brunswick Stew
When the weather cools in Virginia's Blue Ridge Mountains, it's time for greeting loved ones home with the savory simmering scent of homemade Brunswick Stew.
Originally made with wild fall game such as squirrel, rabbit, or even possum, today's Brunswick Stew is more commonly made with smoked chicken or pork.
Brunswick stew resembles an extra-thick, tomato-based vegetable soup with butter beans, okra, tomatoes, and corn. Some of today's easy recipes for Brunswick stew begin with a store rotisserie chicken.
Served hot out of the pot with a square of cornbread, this stew has been a family-pleaser in Virginia homes for generations.
Virginia Grilled Spareribs
For the best backyard barbecues, a Virginia home chef who likes to cook for their family and friends will often begin with Virginia Grilled Spareribs.
This rib recipe starts with a savory rub after which the ribs are slow-cooked to perfection on a closed grill at a low temperature before being topped with a Virginia-style sauce. The rub blends brown sugar with chili powder, cayenne pepper, garlic, and black pepper, while the sauce is vinegary, spicy, and has a touch of sweetness from brown sugar.
Just make sure your grill is cleaned and heated before placing the ribs.

Apple Butter
Nothing says fall in Virginia more than the scent of simmering apples and spices as home cooks turn some of the fall's apple harvest into delicious brown apple butter.
---
Like to explore regional recipes like Virginia recipes from home cooks?
Try Stuffing Recipes Around the U.S.
---
This is a mix of chopped apples, sugar, cinnamon, and cloves are slow-simmered for hours, which is then pureed into a smooth, delicious topping for toast, biscuits, and muffins. Apple butter is also a staple ingredient in many of Virginia's best fall recipes. #Win
Blackberry Cake
Yes. Blackberries. And cake… who wouldn't love a dessert that looks beautiful and tastes like a Virginia summer day?
This blackberry cake recipe blends buttermilk, cinnamon, nutmeg, and cloves into the rich batter before adding 2 cups of fresh blackberries. The result is a gorgeous purple cake iced with homemade vanilla frosting. It's a sweet summer on a plate!
Steamed Blue Crabs
Blue Crab feasts have been a Virginia tradition since Colonial times when Virginia's native tribes taught settlers how to catch and eat this delicious seafood fare. This blue crab recipe stars whole Virginia blue crabs steamed over a savory blend of beer, vinegar, and Old Bay Seasoning.
Trust us, mouths will water at the delicious aroma as these beauties are steaming.
Pimento Cheese BLTs
In Virginia, pimento cheese isn't just for ladies bingo-hall brunches. Instead, it's a Virginia tradition appearing on lunch menus and served as a popular treat at tailgating parties. But what makes the creamy combination of sharp cheddar cheese and sweet, vinegary pimento peppers even better? Adding it to a traditional BLT to make a BLPCT!
Yes, that definitely is a mouthful, but so is a bite of this delicious sandwich with all of the greatness of homemade pimento cheese served on top of crisp bacon and cool lettuce and tomato. Sandwich greatness if you ask us!
---
This week's guest article was written by author Annabelle Short, a Richmond-based food writer, blogger, and photographer. She loves cooking, sewing, creating recipes, and making healthy food that tastes delicious.