Virginia's Hunt & Wine Country, Part 2
| October 30th, 2019
A sampling of fine food and wine in Fauquier and Loudoun counties
---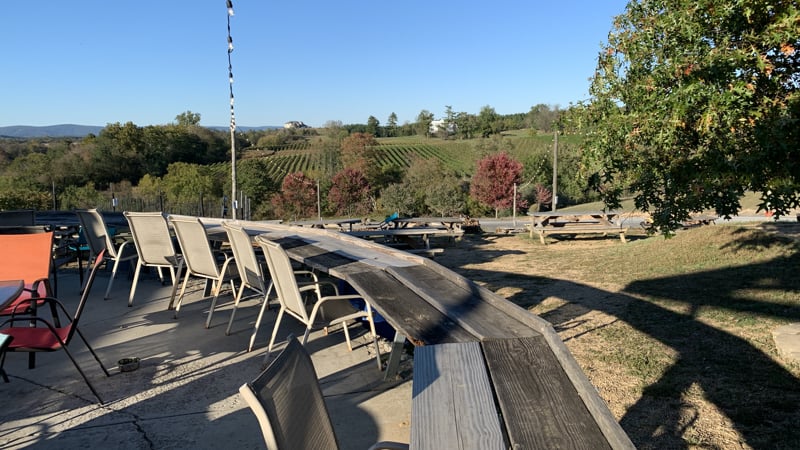 Our Harvest Party tour through Fauquier and Loudoun counties gave us a small sampling of the region's many worthy wineries and restaurants.
WINERIES
Fauquier County is home to 27 wineries, Loudoun to more than 40.
Greenhill Winery & Vineyards, Middleburg, is a small boutique farm winery pouring 100-percent Virginia wine. As an adults-only winery, and with a comfortable tasting room, patio and grassy knoll overlooking a green expanse of vineyards and fields, Greenhill practically guarantees a placid experience. Oh, and terrific wines, too, whether sipping on their own or pairing with food!
The wines are as good as the family stories behind Slater Run Vineyards. The farm property in Upperville along Goose Creek has been in co-owner Kiernan Slater Patusky's family for 300 years. Kiernan returned home after college and a first career to launch the vineyard, winery and tasting room, bringing along her husband, Christopher Patusky. Kiernan's parents, Bob and Alice Slater, are also active in the business.
Winemaker Katell Griaud contributes her own family connections: she's from France, where her parents own a vineyard and winery. She earned her oenology diploma and Masters degree in France and has worked at wineries in France, New Zealand and Virginia. She returns to her family winery annually to help make Monbazillac organic wines and also works at Gabriele Rausse Winery in Charlottesville – alongside her husband, Tim Rausse.
Besides enjoying the family warm fuzzies, soak in the friendly vibes, natural views and excellent wines.
Two very different wineries are situated in the foothills of Fauquier County in Delaplane, just across a "holler" from each other. Blue Valley Vineyard and Winery boasts roots in Greece, where co-owner Yianni Zissios started making wine in his youth alongside his grandfather. A grand stone building houses event spaces and an open, airy main tasting room with a touch of elegance. Perched atop a hill, Blue Valley pairs its wines with memorable views of the Blue Ridge Mountains and Shenandoah Valley.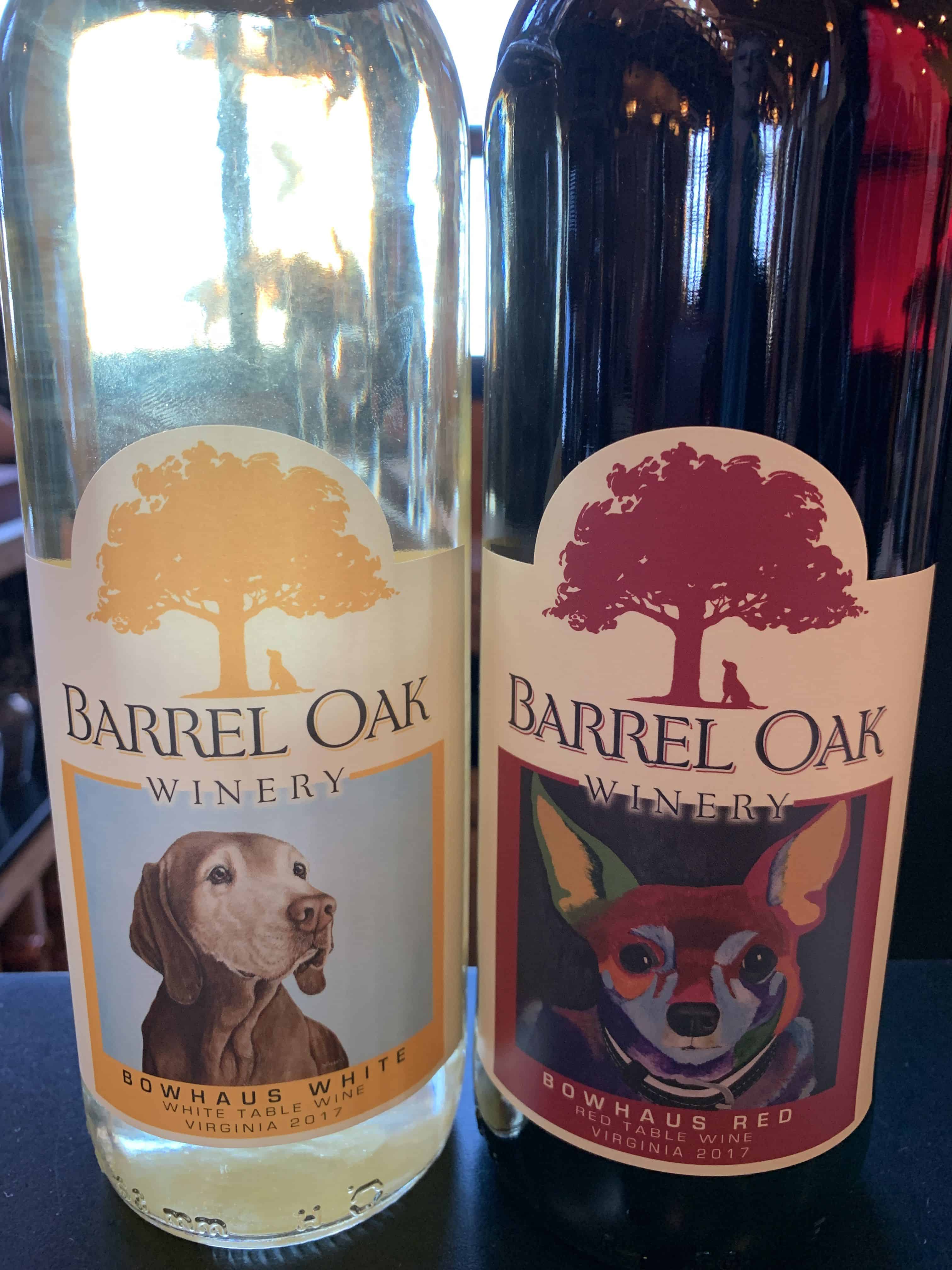 Nearby, Barrel Oak Winery has hit upon the formula for combining friendly service, fun, and two favorite adult beverages, wine and beer – while sincerely welcoming families and dogs. The BOW experience begins when you first step in to the tasting room, as you're greeted immediately by friendly staff. The spacious building evokes a mountain lodge feel, with wood floors, ceilings and beams, and a curved tasting bar calling to mind a very large barrel. You'll find plenty of seating inside and out, including an adults-only loft and some dog-free tables, plus food vendors, games, special events and live music.
The focus on a welcoming atmosphere, however, doesn't detract from the attention to creating quality wine (and beer). In fact, since a pleasant experience can enhance a subjective taste, you're practically guaranteed to find wines (and beers) that tickle your fancy. Making full use of the winery's acronym, the standard wine-tasting option is labeled "Bow" (fruitier, more approachable wines) while the premium side is labeled "Wow" (bigger, bolder reserve wines).
Speaking of beer, the Barrel Oak Farm Taphouse (affectionately called "BOFT") pours a pleasing range of styles, such as a malty Kölsch and dry Baltic porter to a hazy IPA, rich dubbel and sweet milk stout – plus Bold Rock cider.
DINING
Goodstone Inn & Restaurant, just outside of Middleburg, welcomes visitors with a beautifully landscaped courtyard. The 18 guest rooms and six historic cottages on the 265-acre estate reflect the region's classic estate vibe.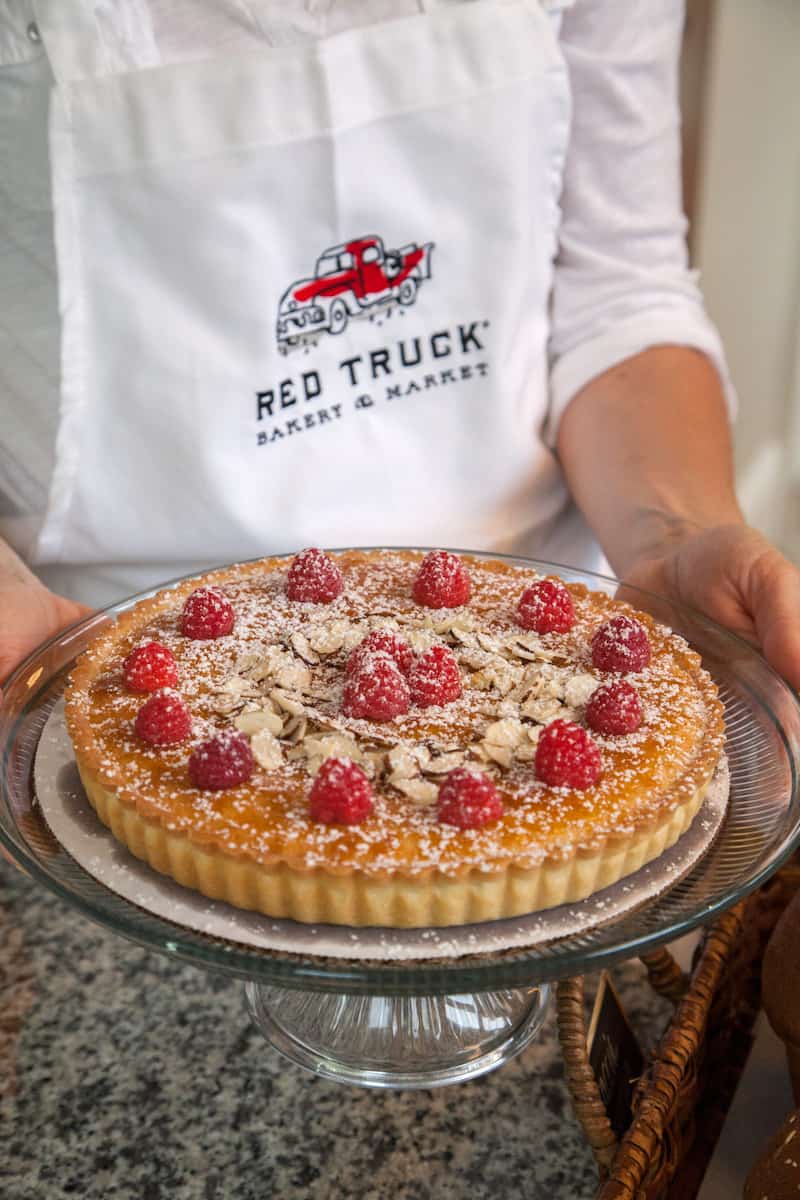 Goodstone offers two levels of dining – literally and figuratively. The Bistro & Bar provides inn guests and other visitors with a more casual menu and atmosphere while The Conservatory bathes guests in an elegant, fine-dining experience. The restaurants draw from estate gardens and support local farms to create French- and Belgian-inspired cuisine (with thoughtful consideration of vegetarian diners). Both are supported by a carefully curated and award-winning wine cellar and small but finely tuned liquor and beer selection. The coffee is worth writing home about, too!
If a town's culinary prowess was earned by quality restaurants per capita, the village of Marshall in Fauquier County might just take home the gold. Multiple local chefs collaborated for our Harvest Tour feast, sourced from local farms and vineyards. We dined on courses from:
Our meal was paired with wines from Marshall's Bubble Decker Wine Bar (also in a double-decker bus), serving fermented-fruit-of-the-vine from Cave Ridge Vineyard.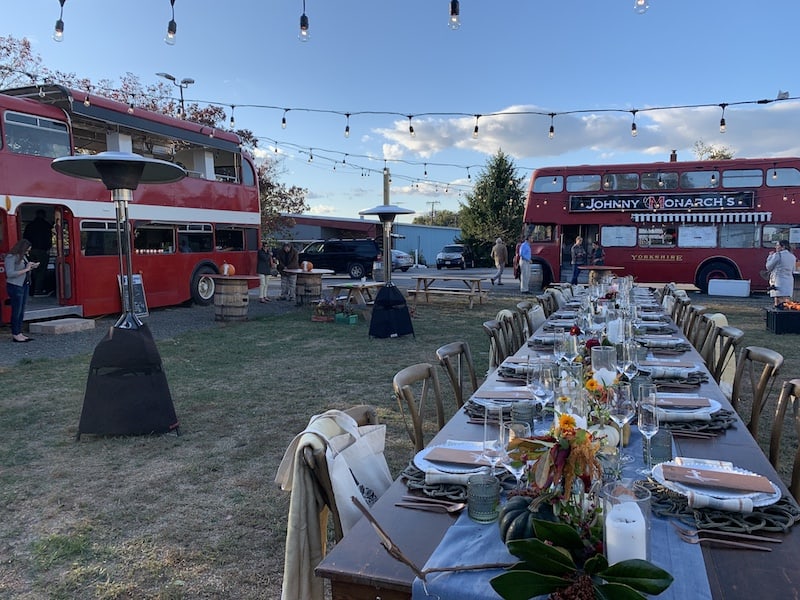 All these, and more, in one cozy little historic village! So much did I enjoy the chef's collaboration dinner that I must return for a full taste of each. And when I do, I'll be sure to share my experience with Boomer readers. (And if you do it first, let me know!)
Another inn with restaurant, Airlie was built as a private residence in 1899. The estate property now serves as an inn, conference center and event venue, with Harry's at Airlie to satiate dining appetites of guests and any other visitors seven days a week.
An important footnote to the historic thumbnail is the influence of Dr. Murdock Head, who aimed to create a conference facility that would stimulate thought, discussion and collective action on important matters. So it's no accident, then, that Earth Day sprouted here, and that the Airlie Center played host to civil rights and LGBT activists. In 2016, American University in Washington, D.C., took over ownership of the conference center and resort, renovating and maintaining the property.
Airlie's restaurant, Harry's, continues to honor the estate's agricultural heritage. Taking the farm-to-table concept a step further, many ingredients come directly from the estate's 20-acre farm and its apiary. Menu items include casual starters and sandwiches as well as full entrées and reflect a diversity of influences (think southwest shrimp stack, bayou gumbo, spaghetti Bolognese and Mediterranean pita dip).
Merely two to three hours from Richmond, these scenic, chock-full-of-goodness destinations make an ideal weekend getaway. But you'll want to stay longer!
Return to Page 1 for Horse & Hunt Country in Loudoun and Fauquier counties.