Richmond's Annual Craft + Design Show
October 22nd, 2018
Things are about to get a little more artsy around here
---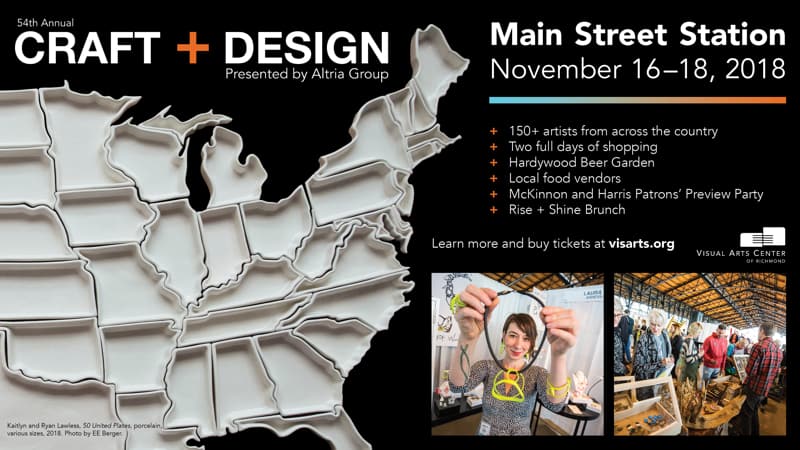 During the third weekend in November, Richmond might start to feel a bit more creative, crafty, and artistic.
Why?
The Visual Arts Center of Richmond's annual Craft + Design show, of course. It's back in town for the 54th year in a row – and­­ just like a fine wine, close friendship, or George Clooney, this event has only gotten better with time.
WHAT TO EXPECT …
Crafters from around the country are loading up their looms, canvases, and ceramics and planting temporary roots in Richmond for the weekend. Over half of the exhibitors are from out of state (some from as far as the West Coast!), so if someone tells you this is a "rare and unique opportunity," believe them.
For two full days, wander amid more than 150 vendors selling their handmade masterpieces. We're talking eye-catching jewelry, glass décor, one-of-a-kind furniture, clothing, ceramics, and pretty much anything else you can think of (because, creativity). And to keep shoppers satiated and happy, there'll be ample offerings of Espresso-a-Go-Go coffee, Goatacado cuisine, and Hardywood craft beer.
See? Rare and unique opportunity.
WHAT YOUR CALENDAR NEEDS TO KNOW ABOUT …
Stretching beyond its limits, Craft + Design extends to various events leading up to and surrounding the show itself.
There's the …
McKinnon and Harris Patrons' Preview Party. Rub elbows with the crafters and vendors before the whole crowd seeps in the next day. Wine, beer, hors d'oeuvres, and live music, plus the chance to look, ogle, and purchase ahead of the general public. Friday, Nov. 16 from 6-9 p.m.
Then stay for the …
Patrons' Preview After Party. Too wound up to head home just yet? Preview Party attendees get free access to the official after party. Friday, Nov. 16 from 9-11 p.m. at Shockoe Atelier.
And set your alarm for the …
Rise + Shine Brunch. For even more early shopping time, plus light breakfast munchies and the ever-important bloody Mary and mimosa option. Oh, and stick around for the panel of interior designers giving exclusive tips on how to incorporate craft into your everyday home design. Saturday, Nov. 17 from 9:30-11 a.m.
Then of course there's the …
Actual Event. The buildup is over, and the official Craft + Design show is here. Saturday, Nov. 17 and Sunday, Nov. 18 from 11 a.m.-6 p.m. both days.
Whether you want to spend the weekend eating, sleeping, and breathing craft-related creativity, or you just want to swing by for a peek – there are options for everybody.
OH, AND DID SOMEONE SAY "EARLY CHRISTMAS SHOPPING" …?
I'll just leave that there.
THE ANNUAL CRAFT + DESIGN SHOW ALSO HAS A WEBSITE
Visit it for more information on things like:
Artists in attendance,
Awards,
The official weekend schedule,
Where to park, and
Tickets (their prices and how to buy 'em)
VisArts.org/events/craft-design-show
Nov. 16-18
Main Street Station
1500 E. Main St.