Warming Winter Soups
| November 25th, 2016
---
As the temperatures drop, the desire to be warm and toasty in the comfort of your home increases significantly. Cuddle up next to a fire with one of these winter soups.
Italian Beef Stew with Parsley Gremolata
Makes 6-8 servings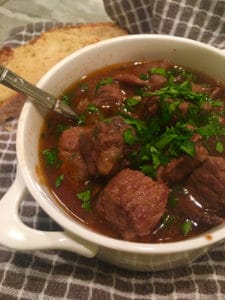 Stew:
2 tablespoons extra virgin olive oil
1 tablespoon butter
1 large onion, thinly sliced
4 large carrots, peeled and diced into half-inch cubes
3-pound flank steak or stewing beef, trimmed of fat and diced into 1-inch cubes
8 ounces shiitake mushrooms, sliced
2 teaspoons fresh thyme leaves
¾ cup red wine
1 15-ounce can tomato sauce
2½ cups beef or veal stock
Parsley Gremolata:
3 tablespoons flat leaf parsley, finely chopped
1 large garlic clove, finely chopped
Zest of 1 lemon
Heat extra virgin olive oil and butter in a large heavy-bottomed pot or Dutch oven. Add onions and sweat on low heat for 5-7 minutes until translucent and softened.* Add in carrots and sauté for another 3 minutes. Transfer onion and carrot mixture to a slow cooker.
In the same pot, turn the heat up to medium-high and add another tablespoon of olive oil. Start to brown your meat in batches, seasoning each batch well with salt and pepper. Make sure not to overcrowd your pan so that you get a good sear on the meat. Each batch should take about 5 minutes. Once the meat is browned, transfer it to the slow cooker.
In the same pot, toss in mushrooms and thyme and stir for 1-2 minutes. Pour in your wine to deglaze the pan. Make sure to scrape up all the brown bits from the bottom. Sauté mushrooms in the wine for 5 minutes until the wine has reduced. Add your stock and tomato to the pan. Bring to a boil for 5 minutes. Taste and add salt and pepper if necessary.
Transfer your mushroom/stock mixture to the slow cooker and cook either on low for 8 hours or on high for 4 hours.
Before you are ready to serve your stew, combine parsley, garlic and lemon zest in a bowl to make your gremolata.
Serve stew over polenta or on its own and top with a sprinkle of parsley gremolata.
*Tip: Keep your leftover butter wrappers and use them to sweat your onions. Place the wrapper over the onions on low heat and put the lid on your pot. Sweat for 5 minutes until the onions are translucent. The wrapper will create steam in the pan and your onions will sweat much faster.
White Bean Chicken Chili
Makes 6-8 servings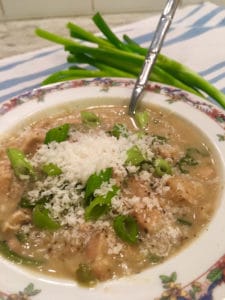 Spice Mixture:
1 tablespoon cumin
1 teaspoon cayenne pepper
2 teaspoon oregano
2 teaspoon chili powder
1 teaspoon garlic powder
1½ teaspoon salt
1 teaspoon pepper
Chili:
2 pounds chicken breast
1 tablespoon olive oil
1 tablespoon butter
1 large onion, diced
1 green bell pepper, diced
1 jalapeño, seeds removed and diced
2 15-ounce cans cannellini beans
4 cups chicken broth
5 ounces fresh spinach
½ cup heavy cream
¼ cup freshly grated Parmesan cheese
¼ cup green onions, chopped
Preheat oven to 350 degrees F. In a small bowl, combine all ingredients in spice mixture. Put your chicken in a roasting pan and brush with olive oil. Sprinkle a few teaspoons of your spice mixture over the chicken breasts and reserve the rest for the chili. Bake chicken for 30 minutes. Once cooled enough to handle, chop into ½-inch cubes. This can be done up to 1 day beforehand.
Melt butter in a heavy-bottomed deep pan or Dutch oven. Add your onions and sauté for 5 minutes. Add peppers and jalapeño and continue to sauté for another 5 minutes.
Add beans and chicken to the pot. Top with the rest of your spice mixture and sauté for 3-5 more minutes, until everything is coated with the spices.
Pour in your chicken stock and bring to a boil. Allow chili to simmer for 30-40 minutes until it has thickened. Add in heavy cream and stir to combine.
Before serving, add in spinach and Parmesan. Stir until the spinach has wilted and the cheese has melted. Serve with Parmesan and green onions.
---
Warm and inviting Squash and Apple Soup