A Creamless Creamy Tomato Soup
| December 7th, 2022
A dreamy take on a traditional favorite
---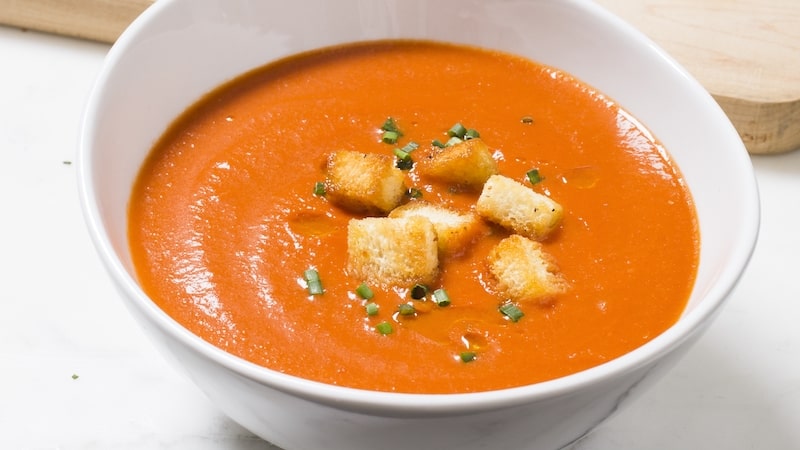 Packaged soups are typically loaded with calories and detrimental ingredients, like sodium, unhealthy fats, and thickening agents – and they are often not even that tasty. With this easy homemade Creamless Creamy Tomato Soup, you can have the warm goodness of soup with none of the guilt.
---
A bowl of soup is like a blank piece of paper ready for your creative touches. Garnish bowls of soup with any of the following: a handful of croutons, a sprinkling of minced fresh herbs (chives and parsley are especially good), a dollop of yogurt or sour cream, a drizzle of extra-virgin olive oil, chopped nuts, or sunflower seeds.
Creamless Creamy Tomato Soup
Serves 1 to 2 (makes 2 cups)
Ingredients:
2 tablespoons extra- virgin olive oil
2 tablespoons chopped shallot
1 garlic clove, peeled and minced
1 (14.5- ounce) can diced tomatoes, opened
1/2 cup chicken or vegetable broth
1 slice hearty white sandwich bread*, torn into 1-inch pieces
1 teaspoon packed brown sugar
Directions:
In a large saucepan, heat oil over medium- low heat for 1 minute (oil should be hot but not smoking). Add shallot and garlic and cook, stirring occasionally, until softened and lightly browned, about 3 minutes.
Pour tomatoes and their juice into the saucepan. Stir in broth, bread and sugar. Increase heat to medium-high and bring to a boil. Reduce heat to medium and cook, stirring occasionally, until bread starts to fall apart, about 5 minutes.
Remove pan from heat. Let tomato mixture cool for 5 minutes.
Transfer tomato mixture into a blender jar. Place lid on top of blender and hold lid firmly in place with a folded dish towel. Process until smooth, 1 to 2 minutes. Pour soup into bowls or mugs and serve.
---
Two warming winter soup recipes
Warm, inviting Squash and Apple Soup
---
For 25 years, home cooks have relied on America's Test Kitchen for rigorously tested recipes developed by professional test cooks and vetted by 60,000 at-home recipe testers. The family of brands – which includes Cook's Illustrated, Cook's Country, and America's Test Kitchen Kids – offers reliable recipes for cooks of all ages and skill levels. See more online at www.americastestkitchen.com/TCA.
© 2022 America's Test Kitchen. Distributed by Tribune Content Agency, LLC.
* Try substituting whole grain bread (without seeds) for added health benefits.