Wednesday Addams: A Show for Boomers?
| January 2nd, 2023
The nostalgia kicks up the enjoyment a notch
---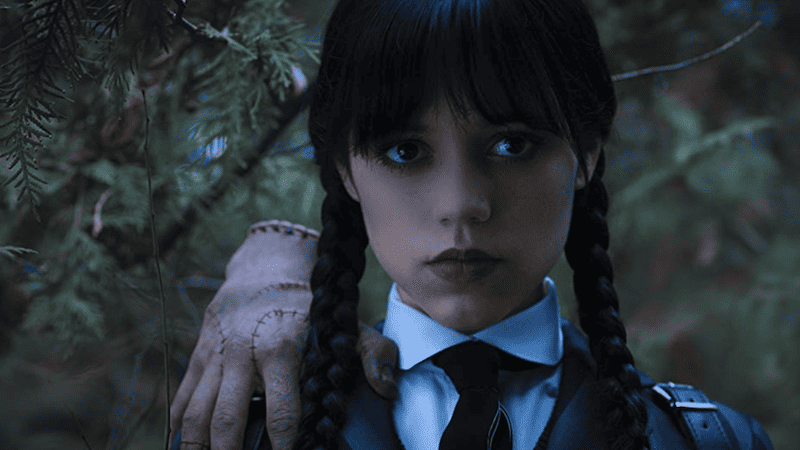 After hearing a review of the new Netflix show, "Wednesday," on "Fresh Air with Terri Gross," I was intrigued. I fondly recall watching the droll TV series, "The Addams Family" on which it's based (although I wouldn't have used the adjective "droll" in my single-digit youth). After catching the first episode, featuring Wednesday Addams, I was hooked.
"The Addams Family" was a classic 1960s TV show. The American sitcom aired on ABC from Sept. 18, 1964 to April 8, 1966, with the antics of an unusual family of a ghoulish persuasion living in a spooky old house.
The Addams Family is also the name of a spinoff series that aired on ABC in 1992-1993. It starred Christina Ricci as Wednesday Addams, the daughter of Gomez and Morticia Addams.
The original series followed the lives of Gomez and Morticia with their children Wednesday and Pugsley, their butler Lurch, Grandmama, Uncle Fester, Cousin Itt, as well as Thing, an animated and intelligent hand.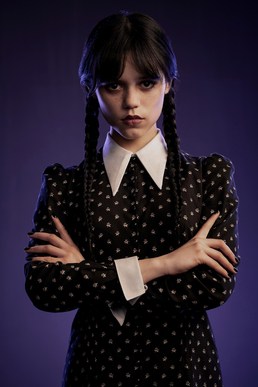 The "Wednesday" series on Netflix is an American black comedy-drama television series. The stamp of director Tim Burton practically guarantees a successful romp into the macabre.
The Netflix series follows Wednesday Addams (Jenna Ortega), the daughter of Gomez and Morticia Addams. Her mother named her after the nursery rhyme, "Wednesday's child is full of woe," and the girl is living up to her name. This Wednesday is navigating life as a teenager – a dark, witty, solitary, and somber – but somehow very lovable – teenager. After she gets expelled from yet another school, her parents, Gomez and Morticia (played by Luis Guzman and Catherine Zeta-Jones), believe that their daughter needs the structure and guidance of a boarding school. And not just any boarding school, but Nevermore, the exclusive boarding school for outcasts and misfits that they attended as teens – and where they met and fell madly in love.
Is it nostalgia that makes the Wednesday Addams series so good?
I suspected that I would enjoy "Wednesday" because I'd enjoyed the humor of the original "Addams Family," with its quirky characters who were friendly and upbeat, despite their "dark" lifestyle and the hostile neighbors.
Nostalgia stirs emotions from the past. It helps us recall good times and emotions in our lives, and sometimes even forget about the negatives. The feeling of nostalgia also has a calming affect on us.
Yes, I did appreciate the nostalgia of seeing this familiar family (especially Thing).
Plus, Wednesday seems to have an "old soul," more suited for a grumpy old geezer than for youth. She declares,
"I find social media to be a soul-sucking void of meaningless affirmation."
"Believe nothing you hear and half of what you see."
"Whoever invented high heels clearly had a side hustle as a torturer."
"There's nothing quite like the feeling of being proven right."
However, my enjoyment reached far beyond a fondness for old times and old living.
Immediately, the show introduces mystery, tensions, and a colorful cast of characters. A murderous monster has been stalking the area, stirring fear in the hearts of the people of the nearby town, Jericho, who are already deeply suspicious of the misfits and outcasts at Nevermore. Wednesday takes it upon herself to solve the mystery, soon becoming convinced that it is her duty to do so.
The students and most of the staff at Nevermore have folkloric traits: a shapeshifter, siren, psychics, vampires, and gorgons. My favorite is Enid, Wednesday's roommate who loves colors and fashions and cutesy stuff – very unlike her werewolf genes, which have yet to materialize. Most of the characters are lovable – a few are not.
As a fan of Edgar Allan Poe, I enjoyed the frequent allusions to the mysterious writer (who has roots to my hometown of Richmond, Virginia).
I embraced the humor of the script as well. Despite the dark subject matter, the dry wit sprinkled in each episode keep the show light and entertaining. The relationships are relatable, including the tensions between teenage daughters and mothers.
Perhaps part of my enjoyment came from feeling like an outcast at times in my life – but without superhuman powers – or from appreciation for Wednesday's dark and solitary side, without malice (except when deserved) or dark evil. Or perhaps from my lifelong embrace of the underdogs.
The entire cast shines, but young Jenna Ortega mastered her character. In order to play Wednesday Addams, Ortega learned fencing, dancing, cello, and archery. Her eyes and mouth are abundantly expressive, while playing a seemingly emotionless teenager.
If you're a fan of the original Addams family, you'll probably appreciate the outcast protagonists, dark wit, and familiar characters. If not, perhaps the mystery, intrigue, and quality will rope you in. And if it does, know that the series conclusion drops a hint of more to come.
---