Wellness Resorts Offer Renewal from Head to Toe
| October 20th, 2023
When you want your vacation to go deeper
---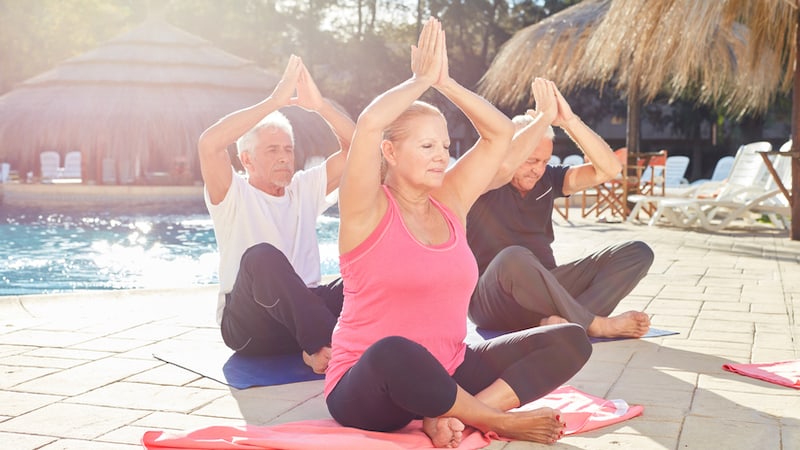 When you want your travel to benefit your health, wellness resorts offer the amenities to help meet your goals, Emma Patch for Kiplinger's Money Power reports.
---
More than 40% of travelers want to go on a break that focuses on their mental and physical health in 2023, according to research by Booking.com.
Wellness programs designed to support physical, mental, emotional and spiritual well-being have become a focus for all-inclusive resorts. Food and drinks still tend to be included, but all-inclusive wellness travel is turning the stereotypical over-indulgence of all-inclusive travel on its head. Rather than tons of eating and partying, travelers on an all-inclusive wellness trip get access to unlimited wellness experiences such as spa treatments, yoga and fitness classes, aromatherapy, and more.
Wellness resorts
Canyon Ranch Tucson
Colorful sunsets and striking canyons set the scene of this Arizona wellness resort. Located in the foothills of the Santa Catalina Mountains, guests can explore the surrounding Sonoran Desert.
The all-inclusive rate typically gets you a daily $200 credit that can be used toward fee-based activities such as a high ropes course, tennis or pickleball clinics, or a glute-transformation class. Credits can also be applied to any of the 100 spa and beauty services, including medical aesthetic treatments, facials, Eastern therapies for individuals and couples, and massage.
Daily activities that don't incur an extra charge or use of your credit include morning walks, yoga for athletes, core conditioning, Zumba, classes on moving through arthritis, cycling, centering meditation, and much more. All-inclusive rates were recently available starting at about $950 per night, but rates vary from season to season.
Melía Punta Cana
The Melía Punta Cana, situated along the white sand beaches and crystal blue waters of the Dominican Republic, offers both traditional stays as well as a wellness program. Rooms booked with the wellness program feature aromatherapy, a thermal mattress, an air purifier, a vitamin-C shower infuser and a personal yoga mat.
You'll get access to daily grounding meditation classes, yoga classes and other classes focused on well-being. More intense physical activities such as HIIT (high-intensity interval training) classes and dance classes are also options. And each day, one spa service is included as part of your wellness experience.
Food is included in the price, with a focus on healthy eating. You can, for example, participate in vegan and vegetarian diet programs. You can also socialize with other wellness travelers via group bike rides and workshops in the botanical garden.
The resort is adults-only and offers silent spaces where you can enjoy painting, meditating, sound healing and reading groups. All-inclusive rates start at about $190 per person, per night.
---
Wellness resorts presented by Boomer
Eupepsia, health-giving services in the VA mountains
As if time spent in nature wasn't therapy enough, a wellness-focused sanctuary in the Blue Ridge Mountains spreads the icing on the nature cake. Eupepsia, a relaxation and wellness resort in Virginia, offers comprehensive programs for a natural getaway. Then it adds a dose of detox, de-stress, fitness, weight management, healing, renewal, or custom wellness – whichever you need.
Hilton Head Health at Sweetgrass Inn, SC
Opening just as the pandemic was waning, Sweetgrass Inn at Hilton Head Health provides the perfect place to renew your soul. The South Carolina weight loss and wellness resort on Hilton Head Island has helped guests lose weight and find lasting wellness for 40 years. It offers custom fitness plans, nutritional workshops, nutritious and delicious meals, and rejuvenating spa services. Programs target weight loss and other physical wellness goals as well as mental well-being. Sweetgrass Inn expands the services by offering onsite accommodations.
---
Emma Patch is a senior writer at Kiplinger Personal Finance magazine. For more on this and similar money topics, visit Kiplinger.com.
©2023 The Kiplinger Washington Editors, Inc. Distributed by Tribune Content Agency, LLC.