What's Booming in Richmond: Cream Puffs, Tea Parties, and Dogs Wearing Leis
April 23rd, 2018
The best events this week to peel you off your couch
---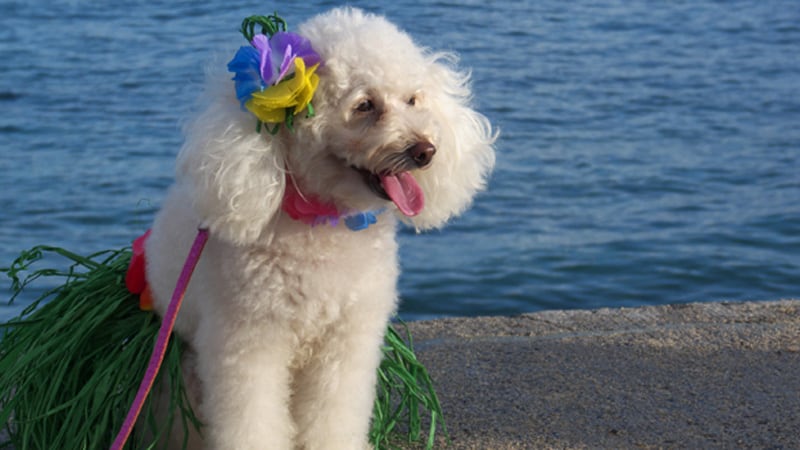 Crepes and baguettes and quiche and cream puffs and something called "tartlette au chocolat"? Oui, oui, oui, trés bien! RVA French Food Festival, Friday, April 27 and Saturday, April 28 at Little Sisters of the Poor.
Calling all green thumbs: geek out this weekend with fellow plant lovers at Maymont's Herbs Galore & More event. Get some plants, get some herbs, get some gardening tools, and make some friends. Saturday, April 28 from 8 a.m. to 4 p.m.
Laughter, beer, and trolleys. We DARE you to find a more Richmond activity than the Hop On, Stand-up event, a trolley that'll transport you to three different craft breweries around the city with a stand-up comedy show in between stops. Saturday, April 28 at 6 p.m. Meet at Champion Brewery.
What DO those beautifully historic Northside homes have going on in their backyard garden worlds? Grab your bike and find out at the annual Pedal Through Petals. Your heart will feel good from the cardio and from your donation to the Massey Cancer Center at VCU. Sunday, April 29 from 8 a.m. to 2:30 p.m. at the Lakeside Farmer's Market.
And a very happy first birthday to the Tottering Teacup, who of course will be throwing a fancy Tea Party for all of its closest friends (you're on that list). Sunday, April 29 from 11 a.m. to 6 p.m.
A luau for dogs? Of course Strangeways is behind this. Grab your dog – or just enjoy someone else's when you get there – for the Bow Wow Luau, packed with entertainment, food trucks, a silent auction, and luau-inspired fun. And dogs. Sunday, April 29 from noon to 6 p.m. at Strangeways Brewing. Benefiting Richmond Animal Care & Control Foundation.
Want to learn more about our local government? And even tour its facilities that you've never seen the insides of? Then join the Government Citizens Academy, of course. Once a week, starting Tuesday, May 1 through June 27.
Know a kid who has teeth? Head to Virginia Family Dentistry's Pediatric Dentistry & Children's Orthodontics Seminar for a Q&A session with Orthodontist Dr. Rick Marcus and Pediatric Dentist Dr. Jeff Laughlin. Monday, April 30 from 6 to 7:30 p.m. at Virginia Family Dentistry Short Pump. This event has been postponed. Check website again for reschedule date.