What's Booming RVA: Celebrations of History, Beer, and Music
November 3rd, 2022
From Native Americans to early settlers ... to a folk favorite
---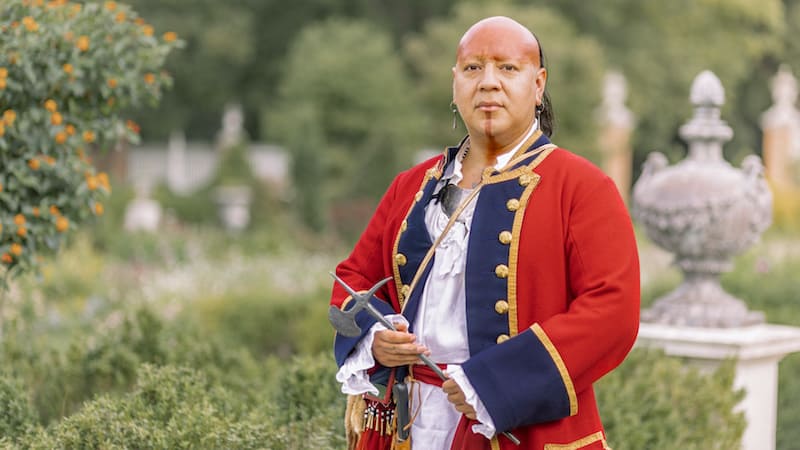 Honor American Indian Heritage Month and imbibe history – and beer – and music. In this week's What's Booming RVA: Celebrations of History, Beer, and Music.
---
American Indian Heritage Month at Colonial Williamsburg
Throughout November at various locations in Colonial Williamsburg
The historic old town shares the story of Native American Indian tribes who preceded the colonists and looks at their influences on American culture, democracy, and the early struggle for independence. Programming throughout the month includes individual interpreters telling their characters' stories, an interpretive camp of Indigenous peoples, and storytellers.
IMAGE CAPTION, ABOVE: Nation Builder Oconostota behind the Governor's Palace, portrayed here by Kody Grant. Copyright ©The Colonial Williamsburg Foundation
Harvest Traditions and Festivities
Nov. 5, noon to 5 p.m., at Agecroft Hall & Gardens, Richmond
Celebrate fall as you learn the history and traditions behind Bonfire night, Samhain and All Souls Day. Join the living history staff as they demonstrate the textile work and foodways of the harvest, along with stories and crafts.
Hops in the Park
Nov. 5, noon to 6 p.m. at The Citie of Henricus, Chesterfield
Blend 17th-century history with more than 20 contemporary Virginia craft breweries – including beer, cider, and mead that showcases Virginia agriculture – local artisans, food vendors, and live music.
Pocahontas Reframed Film Festival, Shorts
Nov. 10 at 4 p.m. at the Virginia Museum of History and Culture, Richmond
Presenting 11 short films by and about Native people, with a panel of Virginia tribal leaders discussing the films as well as the importance of films that tell stories of Indigenous history and culture. Reception to follow.
Shawn Colvin
Nov. 10 at 8 p.m. at the Tin Pan, Richmond
The singer-songwriter is a fan favorite in the folk genre as well as an award-winning performer. Colvin won her first GRAMMY Award for Best Contemporary Folk Album with her debut album, Steady On. She has been a mainstay of the singer-songwriter genre ever since, releasing 13 albums.
Check websites for more details, including prices, Covid policies, and registration requirements.
---
More of What's Booming in Richmond besides celebrations of history
Food and more fun to fill your plate
Boomer's featured restaurant of the week:
Two Main Street, Virginia, dining experiences: Krecek Kakes and Obrigado
And our weekly What's Booming newsletter of events …
Lots more events to throw on your calendar – coming soon