Richmond Restaurants: What's New?
November 7th, 2019
Shrimp, barbecue, baked goods, and cactuses
---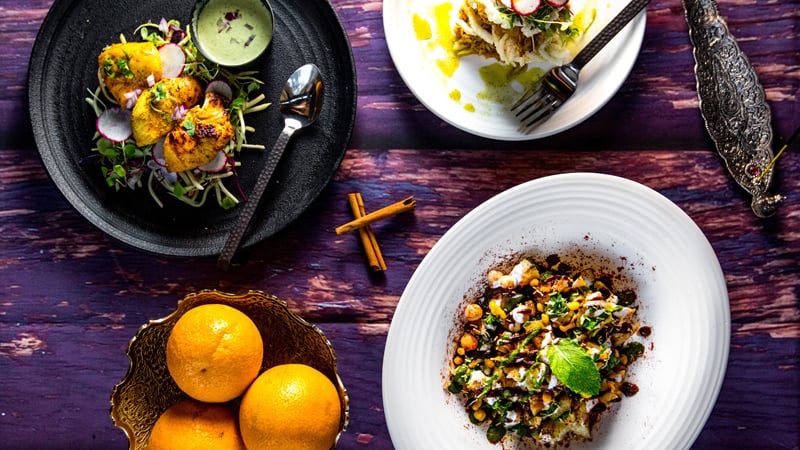 NAMA
Namaste to pleasing Indian fare
Transport yourself to India without airfare or jetlag. The vibrant colors, gold fixtures, bamboo bar stools and other decorative touches celebrate the country's rich culture, blending with the scent of curry and other Asian spices. The menu offers traditional and innovative Indian cuisine, many dishes inspired by the Indian street food of metropolitan cities. NAMA offers rotating curry pots with options including fish, chicken, lamb and vegetarian, as well as classic curry pots like tikka masala and palak paneer. Spicy heat can be adjusted to taste. ~ Annie Tobey
15 W. Broad St., Richmond
---
TRUE'S CULTURAL KITCHEN
Caribbean soul food made with love – and a twist
Many of Chef True's hearty, Caribbean comfort dishes tout influences from cultures like Spain, Italy and Jamaica. Enjoy bites like oxtails, jumbo curry shrimp and barbecue jerk chicken, plus a "Veggie Life" section on the menu: just-as-hearty yet all meat-free dishes including vegetarian baked spaghetti and African fried spinach. Just don't pass up the opportunity to add a side of fried sweet plantains – or a fresh fruit smoothie, made to order. ~ RM
415 W. Grace St., Richmond
---
ISLAND SHRIMP CO.
Enjoy the tropics in Chesterfield, year-round
The imaginative décor pulls you in like warm ocean currents: tropical colors splashed on shipping containers, floors, walls and chairs. But it's the food and drink that immerse you in the experience. On your plate, expect island-inspired cuisine in familiar preparations like coconut fried shrimp, jerk chicken wings, conch fritters, fish tacos, shrimp BLT and Calypso cobb salad. In your glass – or your coconut or pineapple (for $7 extra) – sip on one of four piña coladas (using house-made blends), planter's punch or a multitude of other tropical goodies. Non-alcoholic choices include fresh-pressed juice blends, craft sodas and booze-free cocktails. ~ AT
11500 Midlothian Turnpike, Midlothian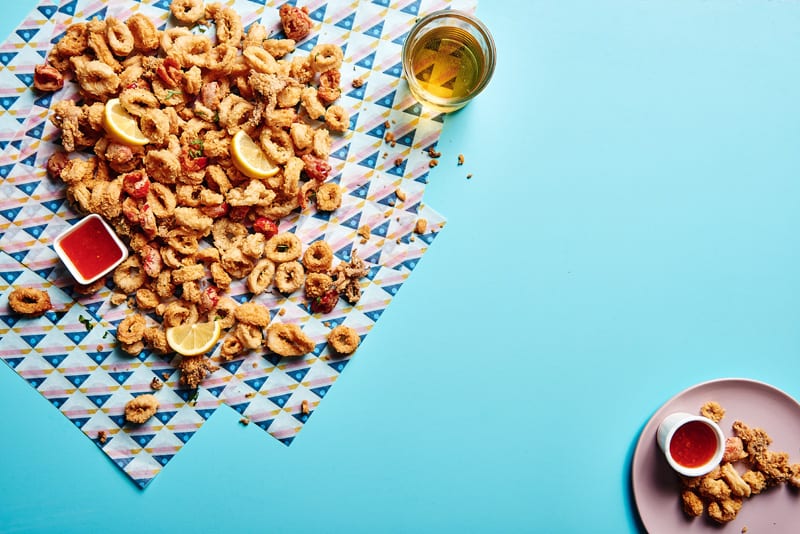 ---
THE PARTY BRIDGE
Island Shrimp Co.'s Aloha Rooftop connects via the signature "party bridge" to Casa del Barco's Reposado Rooftop. Both restaurants are owned by HOUSEpitality Family restaurant group, which has connected them under one ABC license, allowing guests at both locations to enjoy the cocktails and cuisine of both restaurants! ~ AT
---
CASA DEL BARCO
Homegrown, Mexican inspired, in Chesterfield
Chesterfield has its own Casa del Barco, like those by the Canal Walk and in Short Pump. The food draws inspiration from Mexico's vibrant culinary regions. The drink menu celebrates tequila (a lot o' Margaritas, frozen or on the rocks) and offers seven Red Bull crushes, tequila flights and other well-paired cocktails, wines from Argentina and the Mediterranean, and beers from south and north of the border. And the décor honors a Mexican holiday that celebrates life, Dia de los Muertos (Day of the Dead). Says Paige Healy of HOUSEpitality, "Celebra la Vida is our way of life, and we want to share that with all of our guests." ~ AT
11500 Midlothian Turnpike, Midlothian
---
STUMP'S PIG & PINT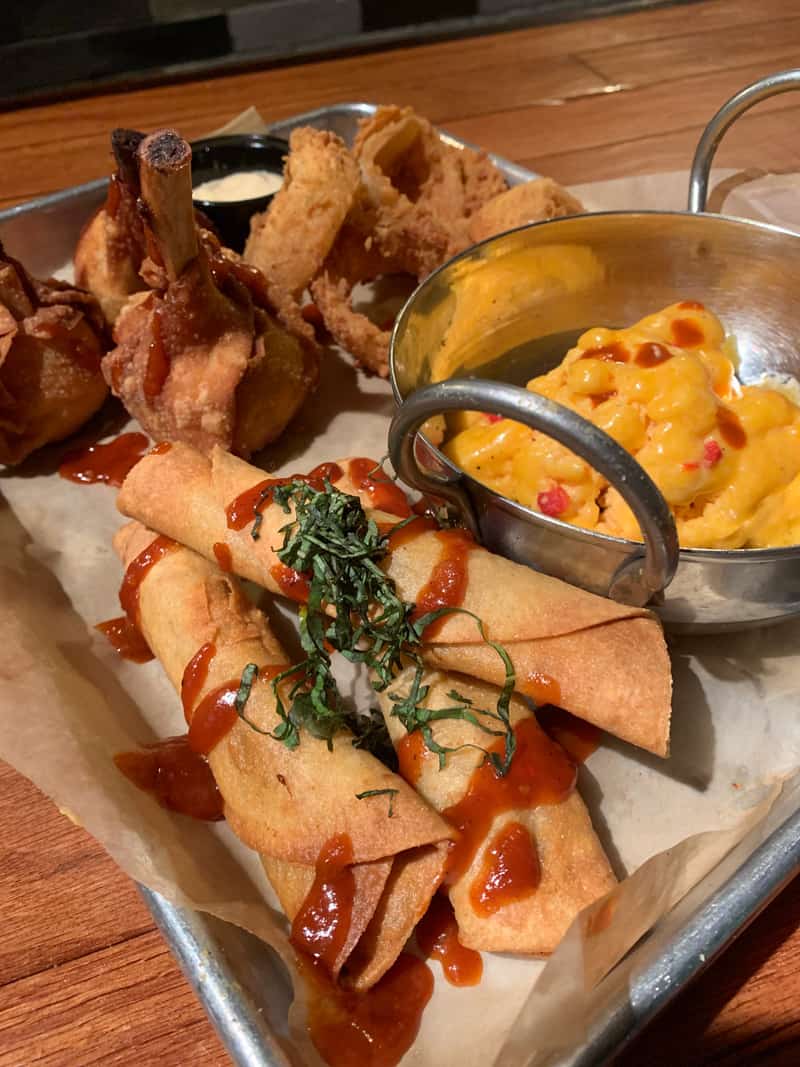 Brews and barbecues with a Southern accent
Stump's offers straight-up and classic barbecue in the form of brisket, ribs and pulled pork. Or for barbecue with a bang, find their delicately smoked meats in the form of tacquitos, nachos or "rocket ribs." At weekend brunch, the chefs spread their Southern wings with menu items like shrimp 'n' grits, corn waffles and biscuit 'n' brisket. For the 'pint' part, Stump's offers up a slew of craft brews, with a backyard beer garden on the horizon. Stump's is located on the edge of Jackson Ward, but if you have a hard time finding it – just look for the Pepto-pink pig truck out front. ~ Rachel Marsh
119 E. Leigh St., Richmond
Facebook @Stump's Pig and Pint
---
FUZZY CACTUS
Rock and roll and chicken and margs
The menu at Fuzzy Cactus goes heavy on the chicken – we're talking fried, wings and on a biscuit. But this self-proclaimed rock 'n' roll bar also has a little Tex Mex thrown into the dining mix: the menu touts dishes like nachos and dirty rice, plus a handful of standard bar offerings to boot. For drinks, find a selection of beers, wines and cocktails – and if you're feeling extra fuzzy, try a prickly pear margarita on draft. ~ RM
221 W. Brookland Park Blvd., Richmond
---
CRAFTED
Mechanicsville restaurateur brings flavors to Libbie Mill
Michael Cohan, owner of Marty's Grill, Riverbound Café and Brewville, has opened a new restaurant in Richmond's West End. Open for breakfast, lunch and dinner as well as Sunday brunch, Crafted's menu is nearly as generous as the hours, from starters to desserts, sandwiches to entrées. Though there's a distinctly Southern infusion (pimento cheese, pork rinds, fried chicken), the menu is also sprinkled with international influences (osso buco, kafta and wild boar ragu) and includes a few vegetarian options. Find a generous draft beer selection, wine and liquor, as well as a Bloody Mary bar on weekends, morning cocktails and a coffee bar (non-alcoholic). ~ AT
4900 Libbie Mill East Blvd., Richmond
---
BURNETTE'S BAKED GOODS
New location and new menu in Petersburg
Baker and entrepreneur Michael Burnette moved his store from Hopewell along with his tasty pies (the classics and the Pie Man's unique creations) and other baked goods. The new location serves a generous breakfast and lunch – like chicken and waffles, Shirley Mae burger and Old Town Fin fish sandwich – in a cheerful, relaxed atmosphere. ~ AT
404 N. Sycamore St., Petersburg
---
GRISETTE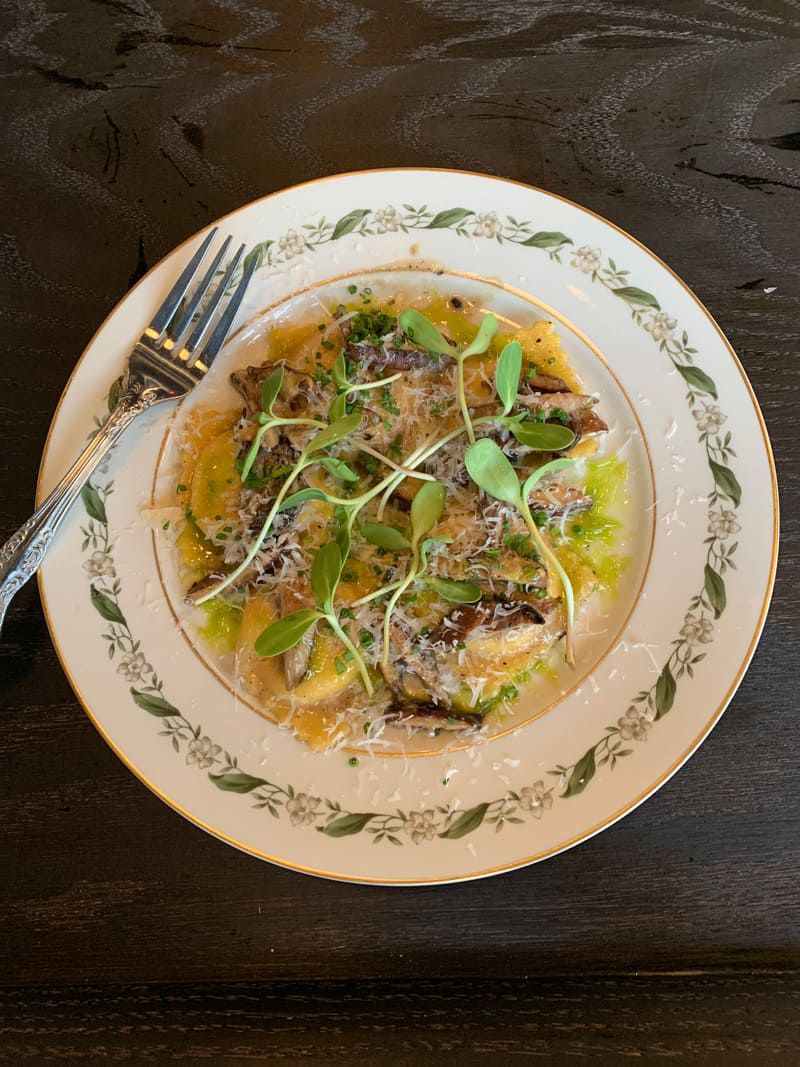 Church Hill's newest gem
The chic atmosphere of Grisette perfectly complements its rich, picture-worthy meals. The menu, which rotates on a weekly basis, consists of upscale, French-inspired dishes and a large array of chef-selected charcuterie and cheeses to couple up or enjoy á la carte. The restaurant boasts enormous, wall-size windows looking out into the quiet Church Hill corner where Grisette sits, a peaceful landscape that pairs perfectly with one of their specialty cocktails, wines or draft beers that "rotate based on the weather and the food menu." ~ RM
3119 E. Marshall St., Richmond
---
ORGANIC KRUSH
New healthy option in Short Pump
The new-to-Richmond eatery serves healthy dishes made with organic ingredients. Besides daily specials, the menu includes all-day breakfast; wraps, salads, bowls and tacos (lots of options for building your own); açai bowls; bone-broth bowls; juices; and gluten-free baked goods. Although the chain began in New York, co-founder Michelle Walrath graduated from the University of Richmond (but no spiders on the menu). ~ AT
3406 Pump Road, Henrico