Where Are They Now? Doris Day
| February 9th, 2016
The famous actor discusses the unlikely perks of being, well, a famous actor.
---
TINSELTOWN TALKS BY NICK THOMAS
A hugely popular singer and actress throughout the '50s and '60s, Doris Day first became interested in animal issues on the set of a 1956 Alfred Hitchcock film.
"One of my first profound experiences working with animals in my films was in Morocco on the set of The Man Who Knew Too Much," recalled Day recently from her longtime Carmel, Calif., home.
"I was never one to make waves when working on my films but was appalled at the condition of the local animals used in this film and refused to continue until we made sure they were all well-fed, well-treated and happy."
GET A TABLE OR IMPROVE THE WORLD
It was a moment, she recalls, when she realized her fame could help improve animals' lives.
"Someone once said that you can use your celebrity status either to get a good table at a restaurant or to do something meaningful to help improve the world. I believe we all – not just celebrities – have a responsibility to do the latter, however that may be."
So in 1978, she founded the Doris Day Animal Foundation (DDAF), initially a small grass-roots organization.
"Since evolving into a grant-giving charity, we've been able to have a much greater impact on both a local and national level, supporting programs and other nonprofit organizations that share our vision. It's all there on our website, www.ddaf.org."
The foundation, however, isn't restricted to helping pets. It came to the aid of stranded baby sea lions along the California coast early last year. "Marine rescue organizations were scrambling to rescue, house, feed and rehabilitate them until they were strong enough to be released back into the ocean," she recalled. "It was a dire situation, but DDAF was able to provide the necessary funding to these organizations and help save those precious babies."
Day, who turns 94 in April, still takes an active role in the foundation.
"I make it a priority to stay on top of all DDAF activities. We have a very small, caring staff and board of directors, so that donations go directly to help the animals instead of administrative expenses. My wonderful group keeps me apprised of all the grants we are considering, the donations we receive and the 'happy endings' reports from our grantees."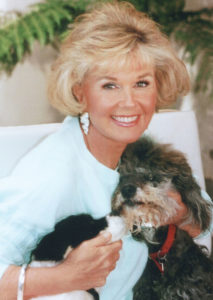 SAYING GOODBYE TO HOLLYWOOD
While her big screen presence declined after the '60s, Day had no regrets bidding farewell to Hollywood.
"I enjoyed my career and had a great time working in Hollywood," she recalled. "But after decades of nonstop films, recordings and television, the time seemed right to start a new chapter – concentrating on my animal welfare work."
But fans from her Hollywood days still keep in touch.
"I've been blessed with good health and keep busy with the foundation and going through all the mail that comes in, especially around the holidays. I get such lovely letters from all over the world, including from young people whose parents and grandparents introduced them to my films and music. I'm floored when they tell me how much my work has meant to them – let alone that they even know who I am!"
Over the years, many animals have passed through the Day household and several still call it home.
"I currently have several cats and three dogs, fewer than I'm used to. I can't even think about all of the sweet four-leggers I've lost over the years. But I always say, although they can never be replaced, the best way to honor their memory is to save another life from the shelter. My current crew is keeping me on my toes and laughing at their antics – I don't know what I'd do without them."
Nick Thomas teaches at Auburn University at Montgomery, Ala. His syndicated features and columns have appeared in more than 400 newspapers and magazines. He can be reached at getnickt@yahoo.com. 
DORIS DAY: THE BIGGEST STAR
1945: 1st recording, "Sentimental Journey" with Les Brown and His Band of Renown, reaches No. 1 on Billboard, would be inducted into Grammy Hall of Fame in 1998. Followed by another No. 1, "My Dreams Are Getting Better All the Time." 1947-67: solo career with more than 650 recordings.
1948: recording of "Love Somebody" reaches No. 1.
1948: appears in Romance on the High Seas, first of 39 films over 20 years.
1951: recording of "A Guy Is a Guy" reaches No. 1.
1951-66: ranked in nation's Top 20 of box-office stars for 16 straight years.
1954: recording of "Secret Love" reaches No. 1, would be inducted into Grammy Hall of Fame in 1999.
1956: recording of "Que Sera, Sera (Whatever Will Be, Will Be)" peaks at No. 2 in U.S.
and No. 1 in U.K.; song later becomes Day's TV theme song, is inducted into Grammy Hall of Fame in 2012.
1960, 1962, 1963, 1964: ranked No. 1 box-office star; only woman in Top 10.
1968: makes last film, retiring as top-ranking woman box-office star of all time. Ten movies grossed more than $100 million in the U.S.; three, more than $200 million.
1968-73: hosts The Doris Day Show on CBS.
1971: co-founds Actors and Others for Animals. 1978: founds Doris Day Animal Foundation. 1985-86: hosts Doris Day's Best Friends on CBN. 1989: receives Lifetime Achievement Award at Academy Awards.
2004: receives Presidential Medal of Freedom from George W. Bush for achievements in the entertainment industry and work on behalf of animals.
2008: receives Grammy Lifetime Achievement Award.