Wreaths Across America for Soldiers Across America
| November 27th, 2019
Honor American heroes this holiday
---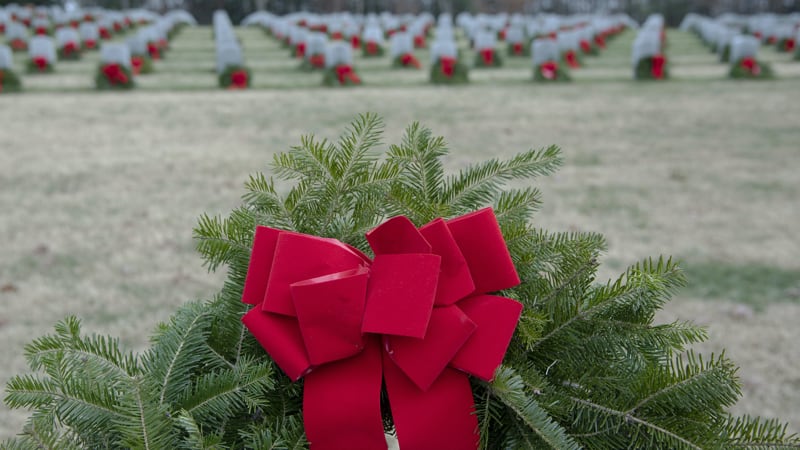 Wreaths Across America began with a surplus of holiday wreaths and one very patriotic idea.
In 1992, a wreath maker from Worcester Wreath Company in Maine donated his excess Christmas wreaths to Arlington National Cemetery. They were placed on less-visited gravestones of soldiers in the cemetery, a simple yet eloquent way to honor our fallen veterans during the holiday season. This tradition continued quietly in Arlington, until an image of the wreaths went viral in 2005. From there, other cities began this practice in their own military cemeteries; and today, Wreaths Across America is a nationally recognized day with 1,600 participating locations throughout the country.
This year, Richmond's own Wreaths Across America commemoration will take place at Sunset Memorial Park Cemetery, led by the Gold Star Mothers Richmond Chapter. Gold Star Mothers, an organization of mothers of fallen soldiers, hosts various projects throughout the year to honor veterans and others currently serving in the military.
But you don't have to be a Gold Star Mother to participate: the organization is seeking sponsors – people to help purchase enough wreaths for every gravestone (in honor or memory of a veteran, if you'd like) – and volunteers – to assist in laying all 1,000 wreaths throughout the cemetery.
---
Saturday, Dec. 14 at noon 
Sunset Memorial Park Cemetery
2901 W. Hundred Road, Chester