One Gen Zer's Middling Aspirations
| September 24th, 2021
A retirement speech from somebody too young to retire
---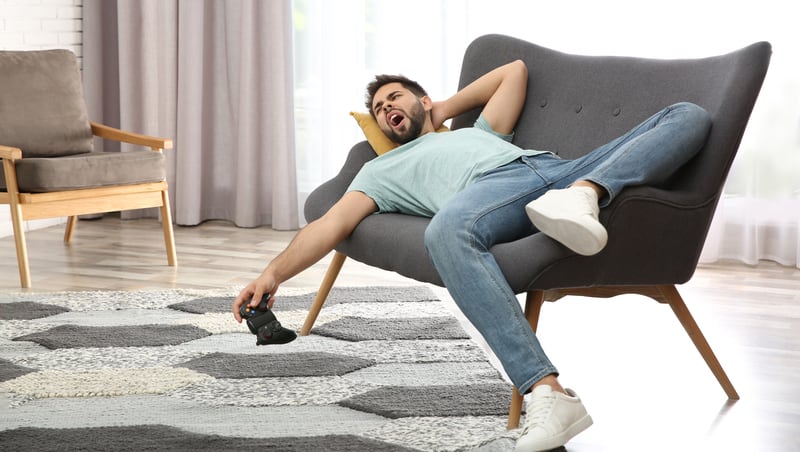 In this installment of 'Humor Hotel,' comedian Greg Schwem offers a baby boomer's take on a Zoomer's future, as a member of Generation Z writes his retirement – or 'recalibration' – letter.
---
Hi, Instagram! It's Andrew. I have some, how should I say, personal news. But before I get into that, please "like" my page" and also follow me on YouTube, Twitter, Snapchat, and TikTok. Oh, and I'll have more details about this announcement on my podcast; so check that out, too.
OK, here goes. As many of you know, I've been in the workforce for nearly six months. Well, if you don't count the nine mental health days I took, then, yes, six months. And even though my company instituted a four-day work week and allows paid time off for dog grooming visits, I needed those days. Seriously, when my supervisor told me I had to be part of FOUR Zoom calls in a single day, well, that was just too much. And that's why I'm live streaming this announcement.
Drum roll, please
As my 24th birthday dawns, a little voice inside my head has been getting louder. And it's saying, "Drew, there's more to life than work." Now it's time I start listening to that voice.
I mean, I've already accomplished all of my professional goals. I've made enough money to move out of my parents' house. Well, I almost did, then COVID hit. So, yes, I'm still here, but living in my childhood bedroom, surrounded by my high school trophies, has made me realize that life is short. I don't want to wake up when I'm 30 – hopefully in my own place – and realize how much I've missed.
So, I've made the decision to take some Andrew time. I'm not retiring. I'm just … recalibrating. And everybody has been so supportive, maybe with the exception of my dad who said, "What the hell does that mean? I'm 58 and you don't see me re-whatever. I haven't even calibrated yet."
I can't believe my dad still works. He could have retired by 30 if he just had the same values and goals as my generation.
The options are endless to monetize my inertia
It's not like I won't be making money. I can always become an influencer, monetize my YouTube channel, or develop an app. My college roommate Darren created this AWESOME app that suggests which cannabis-infused edibles go best with microbrews. So, like, if you're sipping a Belgian IPA, you just point your iPhone at the glass and the app tells you that a watermelon sativa gummy would go great with it.
It's amazing! Darren submitted it to Apple 15 months ago and he's still waiting to hear back; but when he does, he and I are going to be partying in Belize. First class, baby! Is there any other way to travel?
Plus, Dad doesn't know anything about cryptocurrency. When is he going to learn that the only thing you need for financial independence is a decent internet signal and a Reddit account?
---
"Heck yeah, I'm an 'OK boomer'!"
---
So, next Friday will be my last day. I've already told my co-workers that I don't want a big party. Or a big virtual party, since we're all still working from home. I submitted my notice and the messages on my company group chat have been SUPER positive. Wait, here's one now. I'll read it aloud:
"Remind me again. Who are you?"
Um, that probably came from somebody who was hired after me. But see, this is my point. Once I've extricated myself from the workforce, I won't have to respond to group chat messages. If I must work from home on my laptop at the local Starbucks, I want it to be work that fulfills ME, not somebody else. I've given my heart and soul to this organization ever since the day my dad's golf buddy hired me. Those days are over.
So, that's it. As of next week, I'll be off the grid for a while. I plan to travel. Maybe hike or camp or just do something that feeds my soul. As long as Dogecoin stays stable, I'll be fine.
Bye for now. Please like and subscribe.
---
Greg Schwem is a corporate stand-up comedian and author of two books: Text Me If You're Breathing: Observations, Frustrations and Life Lessons From a Low-Tech Dad and the recently released The Road To Success Goes Through the Salad Bar: A Pile of BS From a Corporate Comedian, available at Amazon.com. Visit Greg on the web at www.gregschwem.com.
© 2021 Greg Schwem. Distributed by Tribune Content Agency, LLC.

---
Like laughing? Check out other Boomer articles on laughter or the baby boomer humor of Randy Fitzgerald.
---
As an Amazon Associate, Boomer Magazine earns from qualifying purchases of linked books and other products.