My Pet World: Shy Cat Needs Time to Build Trust
| August 5th, 2021
Plus housebreaking a 7-year-old Havanese dog and managing a kitty's nips
---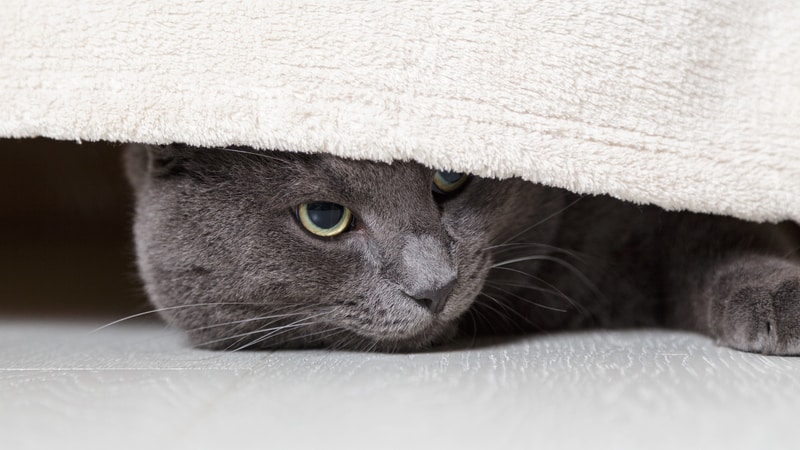 Animal advisor Cathy M. Rosenthal on how to provide a loving home for a shy cat, housebreaking a 7-year-old dog, and managing a biting kitty.
---
Dear Cathy: Nine months ago, we adopted a 2½-year-old cat. She was a stray, so we don't know her background. She still won't let us pick her up but loves cuddling, snuggling in bed, and being petted.
My issue is twofold. Whenever a stranger visits, she hides under the bed and won't come out until they're gone. No coaxing, treats, or toys will bring her out. We would love for her to become less afraid.
My second issue is that we're going on an eight-night cruise and will be gone for nine days. Our housekeeper will feed her and clean her litterbox daily, but we're concerned she will have no human contact or anyone to play with during that time. We don't want her to become lonely and even more scared.
I learned about plug-in pheromones in your column. Do you think they might make her less fearful? Any suggestions would be most appreciated.
– Jan, Las Vegas, Nevada
Dear Jan: It's fairly normal for a cat to leave the room when a stranger visits and not return until they are gone. If her background is as a stray, though, she might be a little more skittish and afraid of strangers than normal. She may benefit from spray or plug-in pheromones. It won't change her personality, but it might help her relax more.
As for your vacation, two weeks is a long time to leave a cat alone with just someone to feed her. You can take her to a kennel, but that might be more stressful for her based on her personality. Would your housekeeper or a friend be willing to stop by to watch a TV show or movie while you're away? She won't likely come into the room, at least not at first, but the sound of someone in the house might ease any loneliness. At least ask the housekeeper to leave the TV on so she has something to listen to while you're gone. Leave toys scattered around the house for her to play with.
She may never like to be picked up or like it when strangers visit. That's just her personality. As long as she has great places to hide and an owner like you who knows how to communicate with her, she will learn to trust her environment over time and will be happy in your home.
---
---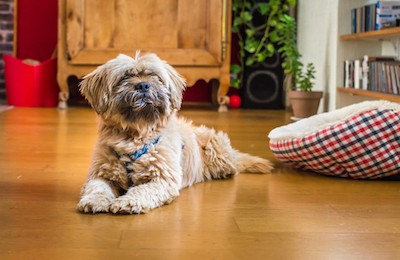 Dear Cathy: I have a 7-year-old male Havanese dog that I am having trouble training to go outside to do his business. I started with wee-wee pads and took him outside frequently, but he still does his business anywhere he pleases. When I scold him, he runs around the house and hides. When he goes out, I praise him and give him a treat. I am getting very tired of cleaning up messes. Do you have any suggestions?
– Tee, Commack, New York
Dear Tee: Those training pads sometimes backfire since they basically communicate to the dog it's OK to go in the house as long as they find the right spot. Make sure he is neutered. Unneutered male dogs tend to "mark" things, and neutering them can often reduce or eliminate the behavior entirely. Also, treat him as if he is a puppy and start training again. Take him out immediately after he wakes up, eats, and plays. When he goes outside, say "go potty" as soon as he begins to urinate. Then say a reward word like "bingo" to mark the desired behavior, followed by giving him a treat. If you are persistent and consistent, your 7-year-old dog will eventually get housetrained.
---
On Dave Barry's "Lessons from Lucy: The Simple Joys of an Old, Happy Dog"
---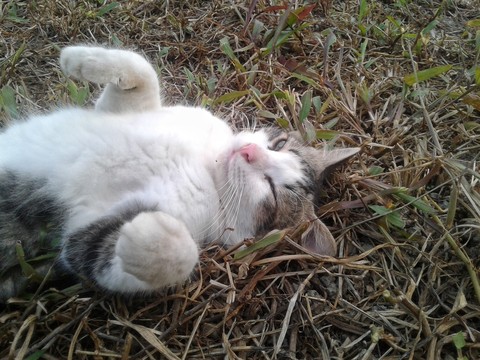 Dear Cathy: We adopted a 1-year-year old male neutered rescue cat from a reputable shelter. He is active, friendly, and a fun cat to have in our house. He enjoys being petted and often will roll onto his back exposing his belly when he wants to be petted, but then he will then nip at our fingers. We know this is how kittens play together but can we stop this biting behavior? Currently, we disengage as soon as he starts that. What else can we do?
– Gary, Plainview, New York
Dear Gary: In addition to disengaging, don't pet his exposed belly since the response will always be to go after your hands with his mouth and claws. Instead, get a stuffed sock to rub your cat's belly with so he can play without hurting you. He will love it, and your hands will be safe.
Cathy M. Rosenthal is a longtime animal advocate, author, columnist, and pet expert who has more than 25 years in the animal welfare field. Send your pet questions, stories, and tips to cathy@petpundit.com. Please include your name, city, and state. You can follow her @cathymrosenthal.
© Tribune Content Agency, LLC.
Products linked from Boomer to Amazon have been vetted and recommended. As an Amazon Associate, Boomer Magazine earns from qualifying purchases.