Adventures on the Blue Danube
| December 21st, 2021
A memorable cruise along the historic European river
---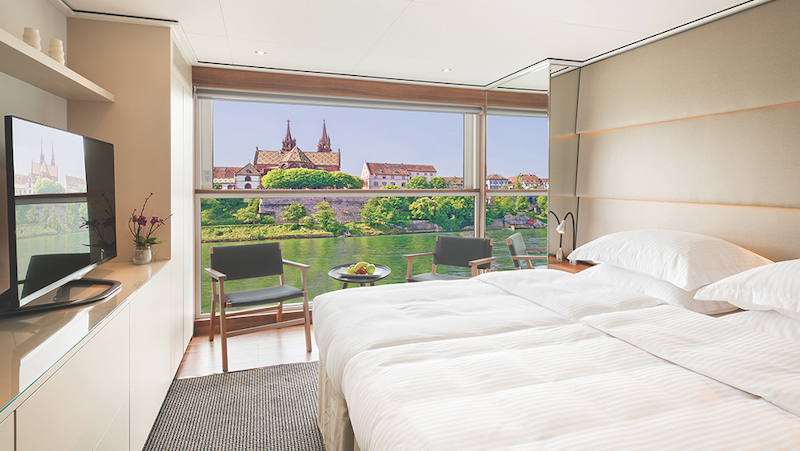 Imagine being lulled to sleep by the soothing sound of rippling water and then waking up at sunrise to see a centuries-old city emerge slowly, eerily through the early morning fog. Welcome to Emerald Cruises' Danube Delights, a luxurious foray along one of the world's most storied rivers. This fall Peter and I journeyed through Germany, Austria, Slovakia, and Hungary on an eight-day cruise aboard Emerald Destiny. Join us for a once-in-a-lifetime adventure with one of the world's leading cruise lines. All aboard!
Lively university city on the Danube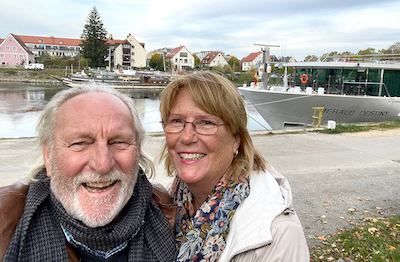 After we arrived in Regensburg, the crew of the Emerald Destiny greeted us warmly, and soon we were unpacking our things and enjoying the view from our cozy Panorama Balcony Suite. That afternoon we took a stroll through this lively university city filled with shops, cafes, restaurants, and gathering places.
Turns out it's brimming with history, too, as we discovered the next day on a guided walking tour – included with our cruise. Regensburg is home to a variety of architectural styles, including lofty patriarchal towers rising up like sentries throughout the old city. Don't miss the beautiful stone bridge constructed in the 12th century, one of Europe's oldest surviving bridges, and St. Peter's Cathedral, a Gothic masterpiece with two spires that seem to reach to heaven.
Anyone who's ever been on a cruise will agree that meals are a highlight, and Emerald Cruises didn't disappoint. Every day delicious options awaited at breakfast, lunch, and dinner, served by polite, attentive servers. Often the chef, who hailed from the UK, would include local specialties on the menu, such as crispy schnitzel in Germany and hearty goulash soup in Hungary.
At the morning buffet, just-baked bread and pastries awaited along with a variety of fruit, cheese, and meat. You can also get eggs your way at the egg station or choose muesli and yogurt. The lunch buffet offered fresh salad greens and a tempting pasta station or you could order from the menu. Three-course dinners provided the perfect finale to our busy days with multiple options, including the chef's recommendation – always a crowd pleaser.
Exploring history along the Danube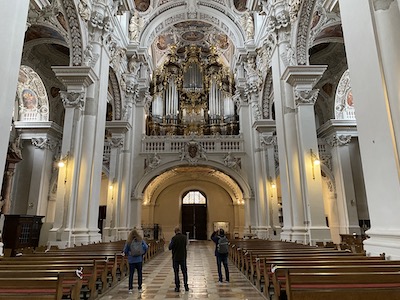 Speaking of busy days, be prepared for an active itinerary on the cruise. Besides city tours, there are EmeraldACTIVE options for passengers – like me – who want to work off all those extra calories!
In our second port, Passau, we met our guide for an informative tour of the city Napoleon described as Germany's most beautiful. Its centerpiece is St. Stephen's Cathedral, built in the Baroque style featuring colorful frescoed ceilings and gilded statuary. After the tour, Peter took off to explore Passau, but I joined an intrepid group of fellow passengers led by Drazen, the ship's activity manager, for an EmeraldACTIVE hike to Veste Oberhaus, high up on a cliff. The view from the top? Simply amazing.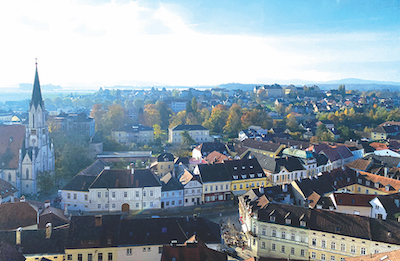 Our next stop was Melk, a charming Austrian town, and Melk Abbey, an imposing monastery, home to 27 Benedictine monks and an active secondary school for 900 boys and girls. In an inner courtyard, we met our guide, who shared tidbits of the monastery's history, as we wandered through a few of the 497 rooms.
Members of the Royal Hapsburg family often stayed at Melk Abbey, which became a favorite of Archduchess Maria Theresa, who ruled the Austro-Hungarian empire from 1745 until her death in 1780. The mother of 16 children, including the ill-fated Marie Antoinette, the archduchess introduced reforms that improved the lives of her subjects, including compulsory education.
The Abbey Church is richly ornamented and features a high altar that shines in gold and silver. Tucked into nooks in the church's side walls, an eerie sight awaits the curious: two glass sarcophagi, each holding a skeleton, the remains of two "catacomb saints." I couldn't believe my eyes – how macabre – especially since one of them was holding a green feather and looked like he was smiling.
Majestic mountains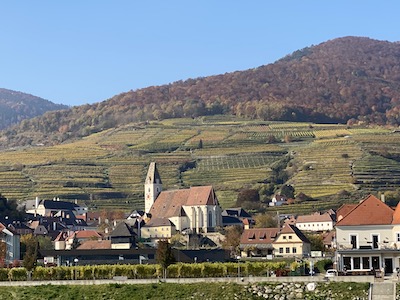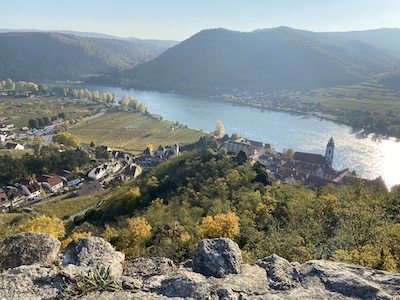 That afternoon we journeyed from Melk to our next stop, Dürnstein, cruising through some of the prettiest scenery in the Wachau region of Austria. Passengers gathered in the lounge and on the open-air deck to ooh and ahh as we floated by beautiful mountains, colorful towns, and stone castles perched halfway up to the sky. Our genial cruise director, Alex, a native Austrian, provided a running commentary.
Before long, we landed in the little village of Dürnstein on the Danube River, where passengers could opt for another hike. This one was a doozy, a steep ascent up to the ruins of a castle where legend says Richard the Lionhearted of England was imprisoned. We made it to the top, albeit breathlessly, and were rewarded with spectacular views.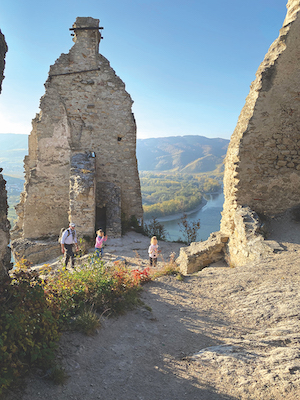 Beside us vineyards cascaded down mountain slopes, and below the colorful town of Dürnstein looked as if it came straight from a Grimm's fairytale. Snaking lazily from west to east, the Danube flowed like a silver ribbon through the pastoral scenery. Across the river, majestic mountains seemed to march toward the horizon.
Later that afternoon back on the ship, I headed down to the pool area to write in my journal. As I relaxed in a comfy chair, the pool sloshed gently to and fro while Tony Bennett crooned on the sound system. Every so often I paused to watch the sky change color from orange to pink to silver, like a painting in motion, as the ship cruised toward our next port of call.
Café society
On Day 5 we landed in Vienna and joined our guide after breakfast for a tour of the city, including an overview by bus of the Ringstrasse. Vienna's grand boulevard is known as a marvel of urban planning and home to palatial museums and government offices that celebrate the glory of the Hapsburg Empire. Our guide said, it's like "a necklace of beautiful buildings and important parks."
Soon after our walking tour commenced, a small group of Lipizzaner horses ridden by their trainers pranced by. The Spanish Riding School, home of the famous stallions, is based in the Hapsburg Palace in the city center, so daily walks in the local park provide exercise for the horses. Next our guide led us past Art Deco buildings, down the shopping street, and finally to St. Peter's Cathedral, a stunning Gothic masterpiece, which unfortunately suffered extensive damage during WWII. Today it's completely restored and definitely worth seeing.
After a quick peek, Peter and I stopped in one of Vienna's charming cafés, not far from the cathedral, and ordered coffee and apple strudel, the city's specialty. I think we were the only tourists there. The vibe was laid back, and we would have liked to linger longer, but after our tasty strudel, the streets of Vienna beckoned.
While some fellow passengers hopped on the metro to Schönbrunn Palace, the lavishly decorated summer home of the Hapsburgs, Peter and I visited the MAK or Museum of Applied Art, where you can marvel at everyday objects transformed into works of art – from furniture and carpets to tableware and lamps.
The MAK Design Lab featured an exhibit focused on sustainability and design. Did you know you could create beautifully designed coffee cups from coffee grounds? With its creative, eco-friendly versions of objects we use every day, this exhibit inspired us to buy a gorgeous pepper mill in the gift shop. Made of acacia wood, it will remind me to embrace art in my daily life.
Music and more on the Danube Delights cruise
That evening after dinner we attended an intimate classical concert presented exclusively for Emerald Destiny passengers. While many excursions are included, this DiscoverMORE option required an additional cost.
The concert setting was a small music hall with excellent acoustics and a rich history. The small orchestra played Strauss' "A Night in Venice," Mozart's "The Turkish March," among others. Of course, the grand finale was – wait for it – Strauss' "The Blue Danube Waltz." We loved the evening's performance – a highlight of the cruise.
Emerald also offers two onboard concerts during the Danube Delights cruise. One night we were treated to a traditional Bavarian "Oompah" band complete with men in lederhosen, singing and yodeling. Another evening we enjoyed Hungarian folk music and dancing. Both concerts were a treat, adding local flavor to the cruise.
Next stop: Bratislava, the capital of Slovakia. On a crisp fall morning, we met our guide for a tour of the city's quaint old town. As we strolled, our guide talked about the period of "normalization," when the Communists controlled Slovakia, and said nothing was normal: "It was a time of economic stagnation." Today Bratislava has a lot to offer visitors – from museums to art galleries to wine cafes.
As part of the cruise line's included EmeraldPLUS offerings, passengers can visit private homes and learn about everyday life in Bratislava. Peter and I joined about a dozen other passengers for a visit to a family vineyard in a nearby village. Martin, a sixth-generation winemaker, welcomed us warmly and showed us around his property. A former IT manager, he realized he "had a strong relationship with the family business and the house," so he left his job to devote himself, with the help of his uncle, to making delicious local wine.
After a brief talk, we descended into a 500-year-old stone cellar to a tasting room, where Martin let us sample his family's wines. They were incredible, and I left with two bottles of cabernet franc and great memories of how one family's love for winemaking has lasted through the centuries.
Stylish flair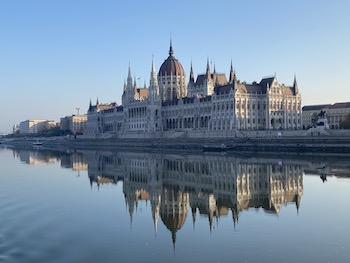 Early the next morning, as the boat cruised down the river, Peter and I watched the beautiful city of Budapest, Hungary, come into view. After docking, we climbed into buses for a tour of its many highlights. Our guide told us "the rich and famous" live in Buda, on the hilly side. Across the river, Pest is "for everyone else." The two cities united in 1873, and today Budapest has become one of Eastern Europe's most desirable destinations.
The bus zigzagged through Pest first, and I was struck by the stylish flair of the city, almost as grand as Paris. In fact, Budapest is known as the shopping capital of Europe, and the main boulevard, Andrassy Ut, is lined with designer stores. At the boulevard's end, Heroes' Square is home to the Millennium Monument, built in 1896 when the city celebrated its millennial, the thousand-year period since the first Hungarians arrived.
Budapest was devastated in WWII, our guide explained. Today the rebuilt city is gorgeous, and we couldn't wait to explore further. After the tour concluded on the Buda side, Peter and I wandered around before finding a sunny café, where I ordered – what else – a hearty goulash soup. Later that day we visited the city's huge market in Pest and bought paprika to bring home.
---
A mother-daughter culinary trip to Budapest
History and revival in Belgrade, Serbia
A grandmother-granddaughter cruise down the Danube
---
Our cruise was nearing its end, and Peter and I were sad to say goodbye to Alex and Drazen, as well as the friends we had made on the ship. Our first river cruise had been amazing, and Emerald Cruises proved to be the perfect choice. We loved everything about it: the meals and activities, the cities we visited, our cozy cabin – especially the view, and most of all, the impeccable service from the ship's friendly staff. We can't wait to join Emerald Cruises again for another river adventure.
Safety
Emerald Cruises is committed to ensuring the well-being of its passengers and crew. Safety precautions, including pre-board PCR tests, wearing masks while walking on the ship, and using disinfectant and hand sanitizer, ensured a safe environment, and a passenger count of fewer than half the ship's capacity meant there was plenty of room.
Plan your own river cruise with Emerald Cruises
Bookings are now available for 2022. Get the latest offers and deals for 2022 river cruises at www.emeraldcruises.com.