Avery's Branch Farms
| August 13th, 2018
Growing a farm and a family
---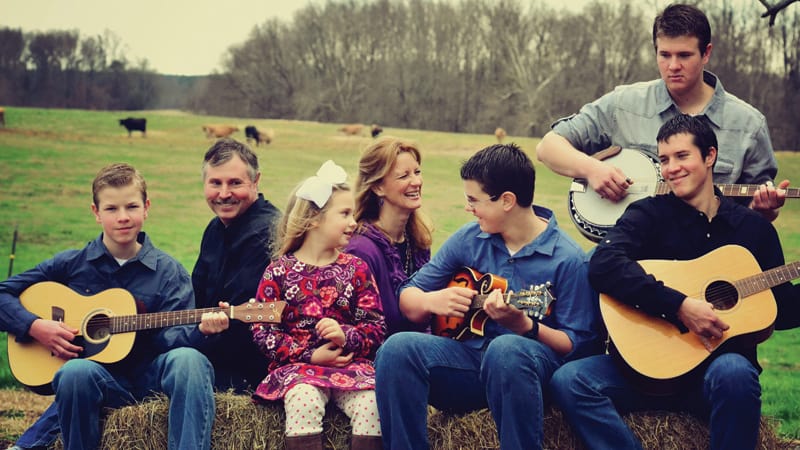 Most families interested in instilling a strong work ethic and a connection to the earth give their kids chores, encourage a summer job and maybe plant a garden. They don't sell everything and start a farm. Most families aren't the Alexander family of Avery's Branch Farms in Amelia. Tim and Joy Alexander are high school sweethearts whose commitment to their faith, family and community has guided them in their lives together since 1984.
In 2007, after 23 years of marriage and six children, Tim and Joy began their farming journey almost by accident. Tim worked long hours in the construction field, and Joy stayed home with the kids, home-schooling all of them. As their four sons grew, they took an interest in agriculture, and Joy felt they needed more time with their dad. The family sought a way in which Tim could be home more. They thought the answer was home building but it was the beginning of the financial crisis and real estate was flat.
Around the same time, they developed an interest in obtaining raw milk for the family, but buying and selling unpasteurized milk is illegal; instead, they went in search of a cow-sharing opportunity (people own a "share" of a cow to obtain raw milk legally). When they reached out to see whether others were interested, the response was overwhelming and their new life began to take shape.
"I had never touched a cow," Joy insists. "We are from suburbia. This is not something we ever dreamed of doing. We just wanted to work together and teach our children."
They began their farm on a small amount of acreage with only two cows but quickly outgrew it. Two years later, in 2009, they found an abandoned farm in Amelia that was just the right size, though it needed lots of work to get it up and running. The family downsized their living space in the move, but they were willing to make the sacrifice. "It's the most rewarding, fulfilling thing I've ever done," says Joy enthusiastically.
Today they run a thriving organic farm that offers all-natural meat and dairy products. Producing all-natural organic foods was a priority for the Alexanders from the start. "Organic farming is more labor intensive than conventional farming," she admits. "We are farming in ways that were done 100 years ago." However, they are committed to producing "life-giving, healing food."
Joy insists that their success is a collaboration – not only within the family but also between their family and the community. "Local farming has become more dependent on building a relationship between consumer and farmer. We are dependent on the consumer supporting the work we are doing to provide organic foods. The community has truly supported my family. They have given me the opportunity to raise these children and walk alongside my husband. I so wish to thank them. If they hadn't chosen us to be their local farmers, none of this would be possible."
---
For more information or to visit Avery's Branch Farms, go to AverysBranchFarms.com. Joy recommends paying a visit during the 4:30-6 p.m. milking.
---
See more of the Faces Behind the Food!
---
Erin Mahone is a wife, mother of three and the author of the soon-to-be-released book #IfYouCouldSeeMe: Life, Motherhood, and the Pursuit of Sanity. IfYouCouldSeeMe.com