Chesterfield Berry Farm
| August 13th, 2018
Growing food and memories
---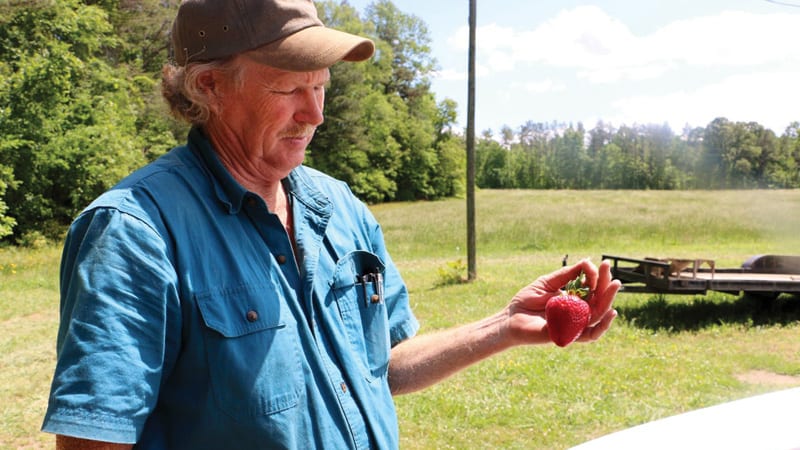 It's difficult to pinpoint the exact beginnings of the Chesterfield Berry Farm. The family-owned farm began pick-your-own produce in the fall of 1983 with their now-signature pumpkins. Immediately before it became the berry farm it was a dairy farm, but the last herd was sold in 1984. Aaron Goode, owner and proprietor, says, "Our roots run really deep in farming." His people have been farming in the region for 10 generations. Unlike newer farms, spawned by the wave of interest in organic and local foods, the Goode family farm has weathered the ups and downs of an ever-evolving industry for over 200 years.
Chesterfield Berry Farm has changed significantly in the 35 years since it opened. In the beginning, says Goode, people bought bushels of apples and strawberries; now they buy in pounds. Once upon a time, people canned and froze berries and other fruit for year-round use; now, customers come to "pick-your-own" days mostly for recreation.
Today his business is about helping families make memories. The farm off of Route 360 is close enough to town to make it convenient but just far enough away to feel like you've gone somewhere. "People come out to take pictures. If you can make it fun for the little kids, that's 90 percent of it. Chesterfield doesn't have a lot of agriculture left so we would like to preserve that." They continue to see second and third generations of families return to the farm each year to pick pumpkins and strawberries but also to participate in hay rides, the animal corral, paintball and other kid-friendly activities throughout the year.
Acting on generations of experience in understanding and adapting to market changes and consumer needs, the Chesterfield Berry Farm has managed to remain a standard bearer in the local farming community – and the Richmond community in general. In talking to Goode, you may note the innate matter-of-factness in his tone. He is a farmer; he doesn't need to spend a lot of time talking about what that means or how he sees things. He just needs to do his work and understand the 365-degree picture of his business. And it is a business he clearly understands.
A farmer must be equipped with a unique and diverse skill set. He or she must understand the specific nature of the land and the products they are bringing to market. Farmers are employers who create jobs within the community. Goode employs a team of 13 migrant workers on a daily basis to care for the land, plant and harvest. During busy seasons and on weekends, he employs another 15 to 30 individuals to operate the retail aspects of the business. A successful farmer is patient and hard-working, but he or she also must be open to continuous learning, understand the big picture and have an eye for detail. Goode and his team are ever evolving to ensure that Chesterfield Berry Farm remains for generations to come.
---
See more of the Faces Behind the Food!
---
Erin Mahone is a wife, mother of three and the author of #IfYouCouldSeeMe: Life, Motherhood, and the Pursuit of Sanity. IfYouCouldSeeMe.com