Back to the Past at Westwood Fountain
| September 8th, 2022
Eating up the nostalgia at a restaurant, pharmacy, and retail store
---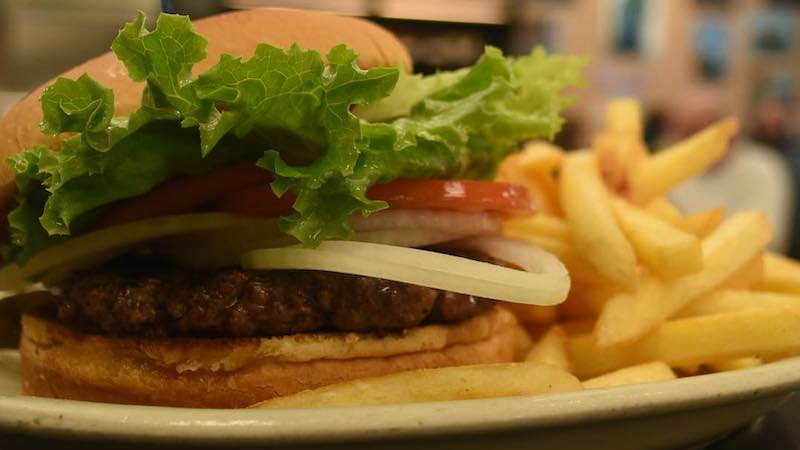 Richmond-based food and travel writer Steve Cook carries us back in his time machine to a traditional fountain-slash-restaurant: Westwood Fountain in Richmond's West End, serving classic homemade meals for breakfast and lunch.
---
I hopped into the DeLorean this week and traveled about 50 years or so back to the past for a pleasant lunch at Westwood Fountain at 5823 Patterson Ave., just west of Libbie Avenue.
The fountain-slash-restaurant is attached to Westwood Pharmacy. I'm not even going to bother giving you the pharmacy's website because if you need to find out what the pharmacy is like, the website would be the last place you should go. I'm sure they offer a valuable service as a correctional pharmacy. But just actually go to the place, wander through the retail part of the pharmacy, and then, if you must, look at their website.
The retail section is chock full of some of the most fascinating wares from '50s-era toys to ladies' handbags and jewelry to boutique children's clothing to delicious gourmet chocolates. On the pharmacy's website, one of the most prominent images displayed is a lovely pair of handcuffs.
Meanwhile, back at Westwood Fountain
However, this is a food column, so let's talk turkey. That's what my wife ordered at Westwood Fountain – an open-faced turkey sandwich smothered in gravy with mashed potatoes. Because I was watching my WW points, I only had the garden salad. Okay, I'll admit that while we were looking over the menu, my wife and I shared a plate of French fries. They were very good, especially when you bathe them in a ketchup/mustard mix. They were thick, but still moist inside. I think Goldilocks would have found them just right.
I also stole a taste or two of my wife's turkey. I thought it was quite good. This is not gourmet food, but the nostalgia of dining in what looks like an expanded version of the old soda fountains that many of us used to frequent as children is what makes this a go-to spot for West Enders and a spot that I am anxious to revisit very soon.
I remember G.C. Murphy and F.W. Woolworth back in the day. They both had really cool luncheonettes downtown.
Many of the drug stores offered something similar. From ages 5 to 10, when I lived in Franklin County, Virginia, my favorite spot was the fountain at Wood's Drug Store in Boones Mill. I used to love the way they would spin milkshakes in those milkshake-making mixers. And then they'd pour the milkshake into a tall glass. The metal cup that was used to mix the frozen concoction that helped 9-year-old Steve hang on held more than the milkshake glass, so it was always exciting to know that even when I finished my milkshake there was still more milkshake.
How, I miss those happy golden days of yore, and so, when my wife suggested we try Westwood Fountain, the adrenaline kicked in. Although the lunchroom has been there for a couple of decades, I had never been. This truly was an experience for the ages.
We entered through the pharmacy. If you look hard enough, you can actually find a prescription counter as well as an aisle or two of over-the-counter medicines and the like. But, as I have already mentioned, there is so much more. It's well worth the visit.
But, now back to the food. My garden salad was exceptional, at least as far as a garden salad can be exceptional. First of all, it was huge and there were plenty of the good things like red, ripe tasty tomatoes, kalamata olives, and thin-sliced onions. The balsamic vinaigrette dressing was delicious. Even the lettuce was crisp. That's about the best thing I could ever say about lettuce. It's funny how when you're trying to diet, the little things that you can eat are so much more important to you.
No, I didn't try the hamburger or the Reuben. They were my first choices, but my self-control won out. I asked the server about the meatloaf. He replied, "I don't like meatloaf, but when I ask those who order it what they think, their response is typically, 'Eh, it's average.'" I appreciated his honesty and opted not to be ordering the meatloaf.
But even if the food, in general, is average, that's a step above many of the places where I have spent a lot more. The atmosphere is not only above average, it's totally unique. This place brought back so many memories of those innocent years, when just about the only thing that caused me the any real concern was when the chain kept coming off the sprocket on my bike.
Take a look at the Westwood Fountain menu online. For lunch, you'll find hamburgers, classic sandwiches, wraps, gyros, and so much more. And if that isn't enough, ask to see the daily specials menu. On the day of our visit, the specials included a homemade Hanover tomato pie, lox and bagels, fried oysters, a crabcake sandwich, liver and onions, and I'm just getting started. By the way, the fountain opens daily for breakfast and lunch.
I haven't had enough of a sampling size to really give the food at Westwood Fountain a grade. But for sheer pleasure, a dose of nostalgia, and a blast from the past, this place gets an A+.
Westwood Fountain, 5823 Patterson Ave., Richmond, Virginia
---
Steve Cook has lived in the Richmond area for most of his life, working as a writer and editor and in marketing and radio. He loves to keep abreast of the local restaurant scene and researches the subject voraciously. "I used to think I was a foodie," he says, "but then I realized I just like to eat a lot." He once co-hosted a local Richmond restaurant radio program with BOOMER editor Annie Tobey. Steve completed his first novel in 2017 and says he hopes to read another one this year.
Dig in to more restaurants and other recommendations from Steve Cook