Baking Bread from Beer's Spent Grains
| October 17th, 2016
---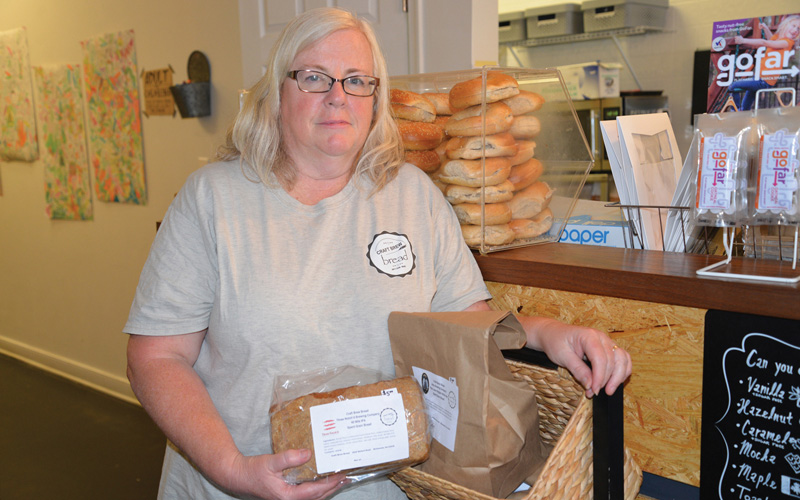 "I could've opened any kind of a bread bakery," Kathi Genett of Craft Brew Bread told me, "but instead I think of this as a concept bakery, meaning it's something you're not going to get somewhere else." Indeed, bread made from a local brewery's spent grain (the barley, wheat, etc. that's leftover after the mash), is rare, and Genett takes the concept a step further.
Genett grew up baking with her mother and grandmother. After her youngest son began middle school, she took a career redirect and earned her baking and pastry arts certification from University of Richmond. In addition to baking wheat bread, rye bread and pastries at Perk! Coffee and Lunchbox in Bon Air, she uses Perk's commercial kitchen during off hours for baking Craft Brew Bread.
Baking with spent grains after home brewing is not new, but Genett deliberately pairs her bread with one specific commercial beer. She gets the grain from the brewery, freezes it till just before the beer's release date, and then bakes the bread and releases it simultaneously with the beer. "I get their tasting notes for what that beer's going to taste like when it's done and make sure [those notes are] in the bread."
I tried my first taste of Craft Brew Bread at Isley Brewing in Scott's Addition, pairing Isley's Stunt Dubbel Pumpkin beer with Genett's Stunt Dubbel bread – an ideal complement of flavors, the fall spices and pumpkin flavors dancing between the beer and the bread.
Next I tried Three Notch'd 40 Mile IPA bread, highlighting a crisp, malty beer flavor. Since brewers add hops after discarding the grain, Genett uses other ingredients (which she won't reveal) to mirror a beer's hop flavors.
Kathi Genett's Craft Brew Bread is currently available at Growlers to Go in West End (used in the sandwiches) and on an occasional basis at Perk, Isley Brewing and farmers' markets. Other locations as well as subscription and pick-up locations are in the works. Follow her on Facebook (Craft Brew Bread, LLC) or visit CraftBrewBread.com.
Interested in making your own spent grain bread? The American Homebrewers Association offers tips for making bread with spent grains as well as recipes for bread and dog treats.