'Becoming Thelma Lou'
November 14th, 2022
Posthumous book from Betty Lynn
---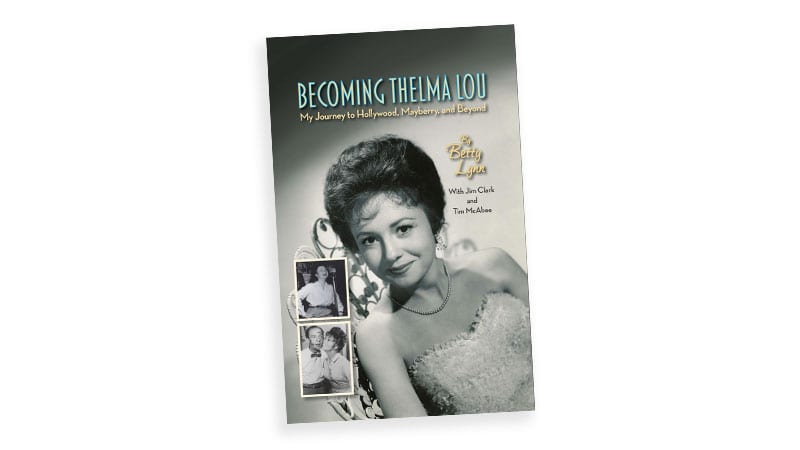 Many of us knew and loved Betty Lynn as "Thelma Lou," the ever-patient sweetheart of Barney Fife on "The Andy Griffith Show." But the Kansas City native lived a life filled with interesting adventures and fascinating people, before and after Mayberry. Those adventures come to life in a book, "Becoming Thelma Lou."
In her own words and through 140 rare photos, Betty Lynn shares the sometimes bittersweet, often surprising, and always inspiring story of her life – including Mayberry and the return to Mayberry. From her wartime service in India and Burma to sharing the spotlight with entertainment royalty from New York to Hollywood, Betty always remained grounded in her Midwestern values and strong faith.
After Mayberry, she appeared in some 20 films and over 40 other TV shows, including many Westerns.
"I enjoyed Westerns, but filming in the hot Californian summers wearing long dresses and petticoats was rough," she told Tinseltown creator Nick Thomas.
She held recurring roles on "Family Affair" (1966) and "My Three Sons" (1960) and guest parts on several shows, including "Little House on the Prairie" (1974). She and the other fictitious Mount Airy characters had a reunion in the TV movie "Return to Mayberry" (1986), when Thelma Lou and Barney Fife finally tied the knot. That same year, Andy Griffith hired her to play his secretary in a handful of episodes for "Matlock" (1986).
---
Boomer presents:
A Tinseltown conversation with Betty Lynn  
Reflections from Mandalay to Mayberry 
---
She moved to Mount Airy, North Carolina, the primary inspiration for fictional Mayberry, and made occasional appearances at the Andy Griffith Museum. She lived in a retirement community in Mount Airy until her death on Oct. 16, 2021, at the age of 95.
Yes, Betty Lynn will forever be Thelma Lou to millions of us, but, as you will discover in "Becoming Thelma Lou," there is also much more to love about this extraordinary woman.
Lynn died in 2021, about a year before the August 2022 release of her book.
"Becoming Thelma Lou" (released Aug. 30, 2022)
BearManor Media