Belle Isle Transfusion Cocktail
| July 23rd, 2021
An RTD cocktail inspired by a golf course tipple
---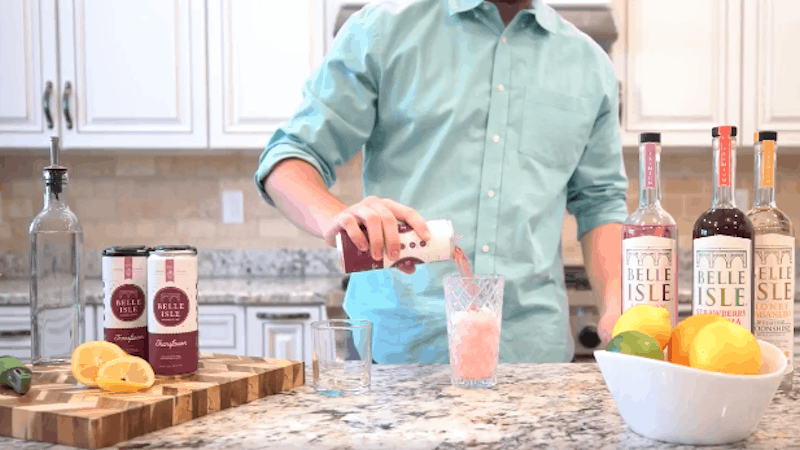 At some golf course somewhere, probably in the United States, a fizzy, purplish-red cocktail appeared. With its rich hue and a sweet, refreshing taste, the Transfusion quickly hit a hole-in-one. Over the years, it spread to other golf course clubhouses, eventually becoming a preferred cocktail at 19th holes from coast to coast.
Golf player Dwight D. Eisenhower was said to fancy a Transfusion at El Dorado Country Club, his chosen post-retirement club in Palm Desert, California. One Transfusion backstory even says that the general and retired president claimed to have invented the Transfusion at El Dorado's Locker Room bar.
Typically made from Concord grape juice, ginger ale, and vodka, with a lime garnish, the refreshing drink can be appreciated at a golf clubhouse or anywhere else – lakeside, beachfront, mountaintop, front porch … wherever you crave a light, refreshing tipple. But if it's refreshment that you crave, convenience helps, too. Which is where the new ready-to-drink Transfusion from Belle Isle Craft Spirits can act as your bartender, cabana boy, or caddy.
Let Belle Isle mix up your next cocktail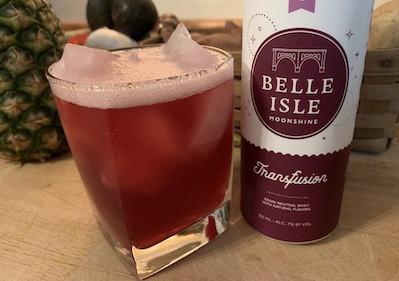 The Belle Isle Moonshine Transfusion starts with the quality ingredients that the Richmond-based business has used from the beginning. The distillery opened in 2014 with its triple-distilled premium moonshine, made from 100% organic corn. The unaged spirit was both sippable and mixable, not harsh or burning. Belle Isle slowly added flavored shines: Ruby Red Grapefruit, Honey Habanero, Blood Orange, and Cold Brew Coffee. More recently, the distillery has added Lemon Lavender, Strawberry Matcha, Pineapple Coconut, and Peppermint Patty.
In 2019, Belle Isle Moonshine got a jumpstart on the RTD (ready-to-drink) cocktail movement. It began blending its moonshines with fruit juices and sparkling soda water and pouring them into slim 12-ounce cans, for a premium cocktail waiting just beneath the pop-top. Choose from Honey Hab & Pineapple, Blood Orange & Soda, Ruby Red & Soda, and Honey Hab Lemonade.
In April 2021, Belle Isle released its version of a Transfusion. The cocktail varies a little from the basic recipe … in all the right ways. Rather than using ginger ale (often made with unhealthy high-fructose corn syrup), Belle Isle makes its golf-inspired drink with fresh ginger, plus organic moonshine, real Concord grape juice, and a squeeze of lime.
The 12-ounce can makes it a perfect partner on the golf cart, beach chair, or deck lounger. At 7% ABV (alcohol by volume), the gluten-free sipper provides a friendly option. It even has less sugar and carbs than a typical Transfusion. Belle Isle Craft Spirits' products are available in more than 40 states, including Virginia ABC stores, and online.