It's Saga Time!
| May 25th, 2021
Lengthy tales for summertime reading
---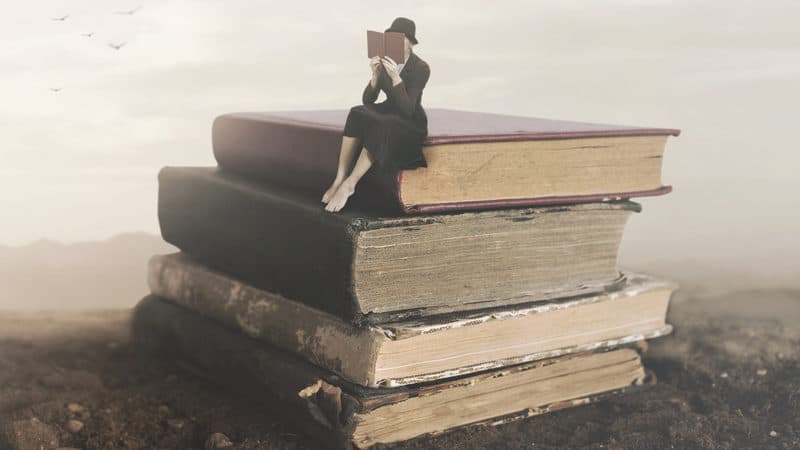 Author Melissa Powell Gay offers her book recommendations for summertime reading – grand narratives from modern-day writers.
---
Summer is here. Time to pull out that thousand-page book you've reserved for lazy days on the beach or under a backyard tree.
By definition, a saga is a Nordic story, tale, or history. The original sagas were written between the 12th and 15th centuries, recounting adventures of Nordic gods.
The modern version of this story form chronicles the lives of a family or a number of related or interconnected families over a period of time, usually generations. In the 20th century, authors like James Michener and Edward Rutherfurd wrote lengthy prose, which incorporated basic elements of the Nordic saga: history of place and hearty characters. (Rutherfurd's latest, China, was published on May 11, 2021.)
Authors in the postmodern age have cross pollinated the saga format with other genres. They've incorporated romance, fantasy, and fictionalized alternatives with historical events. In Ken Follett's Century Trilogy (Fall of Giants, Winter of the World, and Edge of Eternity), the family members interact with actual historical figures such as Winston Churchill and Robert F. Kennedy. Our historical figures have replaced the Nordic gods in the modern saga.
Primary characteristics of the modern saga are:
Adventurous locations
To go along with the sweeping story line, a modern saga has epic scenery, like the western plains of America or lush savannas of central Africa. Try Larry McMurtry's Lonesome Dove or Wilbur Smith's When the Lion Feeds.
Strong characters
Archetypes are the backbone of a good saga. Like the Nordic gods, the central characters are larger than life and strong willed, performing mighty feats. They are family matriarchs or patriarchs, rebellious or vengeful siblings, and the courageous family members who fight injustice. In the postmodern era of fiction writing, some authors have taken an introspective view of the saga's journey. Their characters discover grand revelations within their family's dysfunctional interrelationships. Try Joyce Carol Oates' We Were the Mulvaneys and The Corrections by Jonathan Franzen.
Series, sequels and prequels
The popular series-based format has become today's saga. Authors and publishers divide seemingly endless content into multiple volumes to allow them to sell more books and to carve a verbose narrative into manageable, bite-sized reads. Imagine the tale A Game of Thrones by George R. R. Martin being one book. Game of Thrones was inspired by the historical events of Britain's War of the Roses, qualifying it as a saga and not just pure fantasy genre.
Here are some suggestions for a summer Saga Time!
Kristin Lavransdatter by Sigrid Undset. The Norwegian writer won the 1928 Nobel prize for literature. The Wreath (early translation known as The Bridal Wreath), The Wife (earlier translation under The Mistress of Husaby), and The Cross, which make up this grand saga, follow the life of strong-willed Kristin in 14th-century Norway. If you have a choice, pick the original translation by Charles Archer and J.S. Scott rather than the contemporary translation by Tiina Nunnally.
A 20th-century classic, Pearl S. Buck's House of Earth Trilogy (The Good Earth, Sons, and A House Divided) gives a view of life during revolution. The Good Earth is the 1932 Pulitzer Prize pick and tells of a Chinese family's struggles while transitioning from rural to urban life.
Alex Haley's Roots: The Saga of an American Family, published in 1976, follows the life of African Kunta Kinte, captured into slavery and taken to America. His descendants include his great-great-great-great-grandson Mr. Haley himself. The story is a mixture of fiction and family history.
James Michener's Chesapeake opens with life on the Susquehanna River eons before the Europeans arrive. It is a beautiful depiction of the Chesapeake Bay and the people who settled on it – indigenous people, explorers, pirates, planters, indentured servants, slaves, and abolitionists. An American history.
One Hundred Years of Solitude by Gabriel Garcia Marquez was published in 1967. Tagged as the most significant work of the modern Hispanic literary canon, the story follows seven generations of a Columbian family.
Ranked by Good Reads at number one in the family saga category, Colleen McCullough's The Thorn Birds is an excellent example of a romance saga. Slip away to Australia and live in the world of a castaway Catholic priest and a young girl and her descendants.
There are hundreds of others out there in your local library, online, and at the bookstore. Escape this summer by getting lost in another world, complete with a large cast of characters and adventurous places.
Melissa Powell Gay is the author of the novel Talking to Herself and the Mt Pleasant series – When Are You Leaving and Every Now and Then. She lives in Glen Allen, Virginia, and is busy at work on the third book of the Mt Pleasant series.